Reviewer
HW Reviewer
Senior HTF Member
Joined

Oct 5, 2005
Messages

10,897
Location
Real Name

Matt
Jersey Girl Blu-Ray Review
There are directors who are known for their blockbusters, major successes that make them sought after for their box office prowess - Michael Bay, etc. There are also directors who make arthouse films that may not make major box office, but are well respected for their artistic merit and meaning,from Woody Allen, Kathryn Bigelow, etc. It's a very rare director that falls into both camps, blockbusters with critical appeal.. the Steven Spielberg of the world.Kevin Smith doesn't match any of those groups; his first work "Clerks" was a rousing success based on it's low budget but also his writing, the ability to take a scene and make it feel real even while stuffing characters full of monologues. Clerks won Smith quite a bit of praise, and made sure he stayed employed. While Mallrats wasn't a success, Chasing Amy recaptured that underground feel that Smith had and brought most of his audience home.After Chasing Amy, Dogma, and Jay & Silent Bob Strike back, Jersey Girl became Smith's first real attempt at a mainstream film and his first non-R effort rated effort.

Studio: Miramax
Distributed By: Echo Bridge Home Entertainment
Video Resolution and Encode: 1080P/AVC
Aspect Ratio: 2.40:1
Audio: English 5.1 DTS-HDMA
Subtitles: English
Rating: PG-13
Run Time: 1 Hr. 42 Min.
Package Includes: Blu-ray
Disc Type: BD50 (dual layer)
Region: A
Release Date: 5/7/2013
MSRP: $14.97



The Production Rating: 3/5
Jersey Girl
is Kevin Smiths' film completely unassociated with the Jersey Askew Universe. This is somewhat a matter of necessity, as a comic book writing Affleck simply wouldn't have made the script work. Ben Affleck plays Ollie Trinke, a PR Flack representing a lot of acts within the music industry, we hear him discussing George Michael "He's all about the women", and other acts. At a Christmas party, he meets his soon to be wife - Jennifer Lopez playing Gertrude.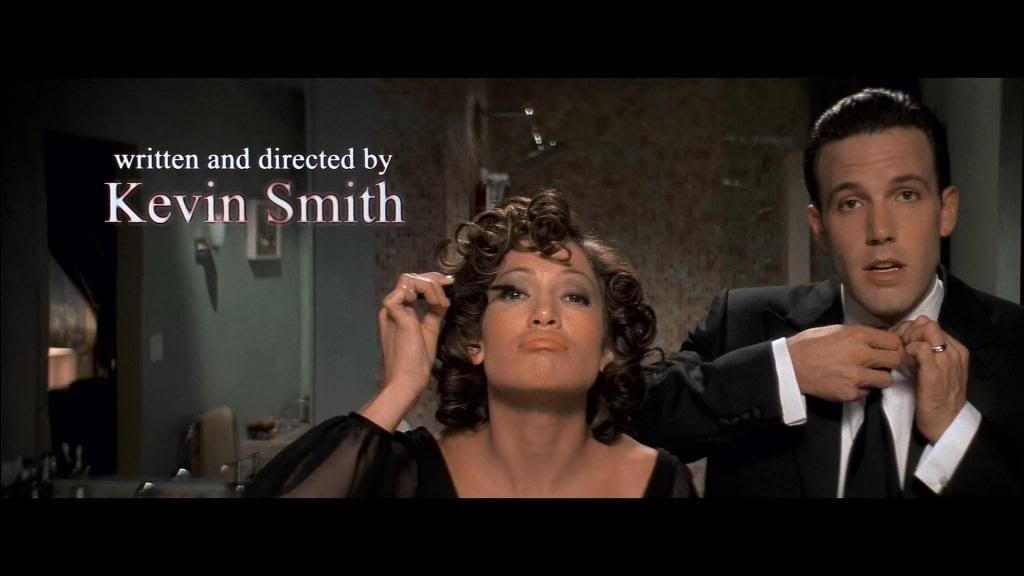 As time goes on, their relationship grows and he proposes. Before the opening credits are finished, they are married and expecting their first child. It's easy to forget, but once upon a time.. before a series of bad films, Jennifer Lopez and Ben Affleck were THE buzz couple; stories about them hanging around and booking their films together were a big deal. That is, they were a big deal until both Jersey Girl and Gigli died at the box office, as well as in their films, as happened here.
Gertrude makes her way to the hospital to give birth to their first child, and the procedure doesn't go according to plan. The child is born and is in fantastic health, but Jennifer Lopez character, Gertrude dies during child birth. Struggling to deal with this new reality, Ollie uses his father - played by George Carlin - to help manage the newborn child while he balances his job.Stressed and worried about coming to work, Ollie's first big announcement comes with a little known music act. Will Smith - or as he calls him "The Fresh Prince" is giving away a model house that appeared on one of their albums. The Fresh Prince, Ollie thinks, has a music career that is stalled, and as a music flack he doesn't understand why he's being bothered with it.. he's a non-factor. Informed that he has a film coming out called "Independence Day", he tries to pan the project off on the film division in his PR firm but is told that Smith wants his music and film careers to stay separate.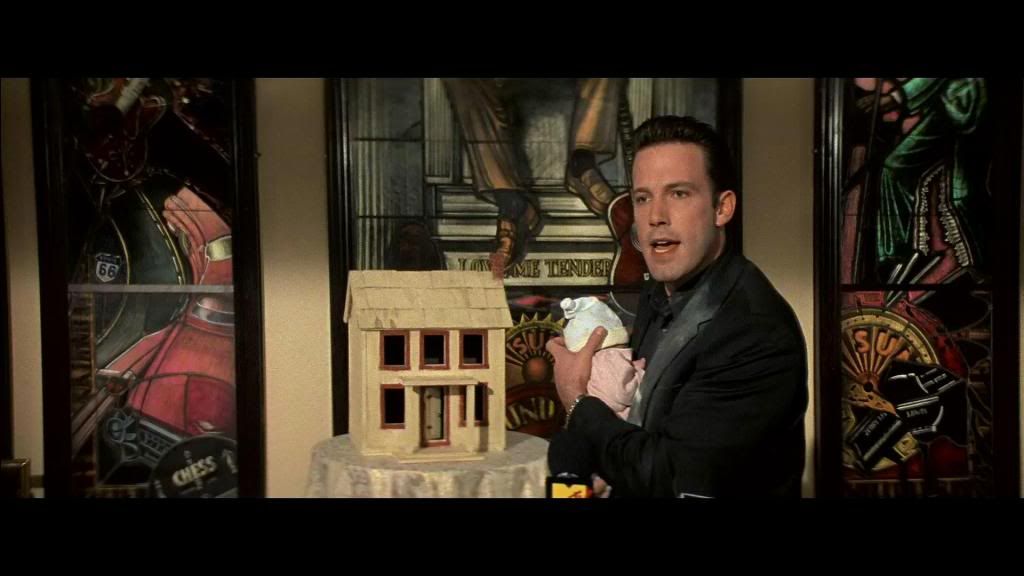 On the day of the big presentation for Smith at the Hard Rock Cafe, Ollie's father announces he's "had enough" and that he must straighten out his life and put his child first.. stressed with a child and career, Ollie melts down in the Hard Rock, insults the press and his client and finds himself without a job.
At this moment, at least for me, the film loses all of it's momentum and becomes a series of implausible outcomes, bad to horrible advice and cliches that simply don't make much sense.To sum the film up into short segments: Ollie becomes poor. Ollie moves in with Father. He becomes a street worker (I guess his education worthless and he had no money saved and no life insurance on Gertrude), raises a daughter, renounces sex for the next seven years until he meets Liv Tyler in a video rental store. A relationship blooms but he still can't give in. He gets offered a chance at a high paying job to go back to what he was doing as a PR broker.. and decides it's not worth it if it will take him away from his kid and returns to be a street crew worker.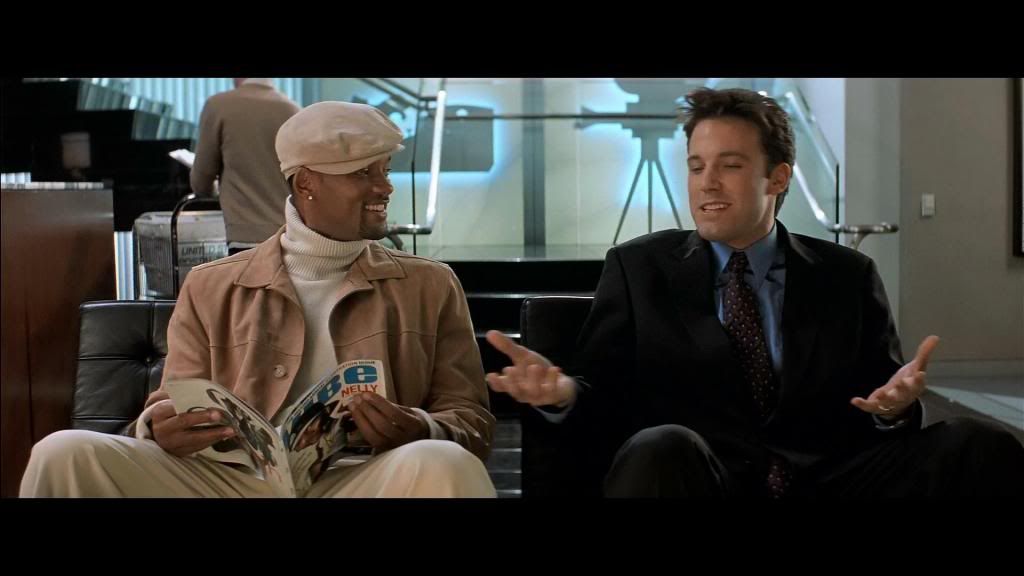 It is hard, at times, for me to sum up how much of the storyline is simply wrong; their are assumptions made here as to what makes a "good" parent that are completely at odds with reality. Ollie points out that getting back his old job and career would mean he could pay for college for his daughter, good schools.. but in the end, it's the time away from her that he can't give up, so living poor and in his fathers home is more amenable.That said, the film has some great moments, and all of those seem to flow from Kevin Smith's unique writing style that is often absent. Affleck and Tyler have some solid moments and the final production of "Sweeney Todd" as performed for an elementary school is a blast.
But this uneven production never really finds its legs and it is easy to see why so many view this as one of Kevin Smith's lesser works. This film was designed to be a "multi-quadrant" film that would attract daters and others and drive up box office. It is different from other Smith works in that it played relatively safe with all of the choices. But as a result, it lacked anything to make the film really special or memorable.

Video Rating: 4.5/5 3D Rating: NA
Video is presented in 1080P AVC at an AWBR of 25Mbps, framed at 2.40:1. This is a surprisingly effective presentation of the video, and in comparison to the previously released DVD a SUBSTANTIAL upgrade. If you are a fan of this film or a Kevin Smith completist, this is finally the way to own this film. Blacks are presented with solid depth, and colors look very good. There is a natural film grain to this film that looks right on the blu-ray where on the DVD it simply makes the picture blurry and poorly presented.It's hard to ask more of a video transfer than to faithfully present the work, and this is the best I've seen Jersey Girl look.


Audio Rating: 4.5/5
Audio is presented in DTSMA 5.1 and effectively delivers the film. There aren't a lot of moments that truly engage the surround channels, but musical cues, ambient noises are well presented - and in the few moments where surrounds do play a role they sound great doing it.In comparing the Blu-Ray to the prior DVD release the audio again has a significant improvement; dialog is crisp and easy to listen to and the music when it matters sounds good. This is a much better sounding mix than the prior DVD release.

Special Features Rating: 2/5
I have almost no idea what to say on the extras. If you have the DVD, you have the extras. In fact, you have MORE extras. The Bluray includes the Ben Affleck / Kevin Smith from Mallrats to Jersey Girl segment (480I, MPEG), Kevin Smith Roadside (1 segment instead of the four on the DVD) and commentaries are also included.I have thought about how to rank this.. I can't give it a "zero" because the commentaries and the segments are quite good, but they add absolutely nothing to someone who already have the DVD. Removing some of the items that were on the DVD release also seem ridiculous considering there is plenty of room left on the disc in light of the fact they were moved wholesale as MPEG.This is a major let down to a lot of the fans of Jersey Girl who may have wanted more - but at this price point, I don't know if you could expect more.

Overall Rating: 4/5
If you are a fan of
Jersey Girl,
this is going to be a must buy. This is a significant improvement over the DVD edition and you will feel as though you got your value on just that alone. The presentation is as clean and as solid as I have ever seen it. On the other hand, those who have followed and listened to Kevin Smith for years may feel a bit let down; when the original was released on DVD, Smith and others had no problem discussing how a longer cut was the original intent.. about 20 minutes longer, which fleshed out the relationship between Gertrude and Ollie, and gave us more reason to care about these characters. When Smith would discuss Jersey Girl in his discussion forums, he had said that either it was misunderstood, or they would discuss the longer cut.Years ago, I had the chance to attend a Kevin Smith tour event and the question came up both before and after - if he could do it over again.... and I think that is what makes seeing
Jersey Girl
in this format somewhat less than it could be. There is no doubt about it, this is probably the best presentation the film will receive in a High Def format, and if you are a fan of this film, by all means pick it up; but for those of us who held out some hope that a longer cut would be out there that might help redeem this film, it looks as though that is a special feature that is unlikely to ever happen.

Reviewed By: MattCR

Support HTF when you buy this title: