Reviewer
HW Reviewer
Senior HTF Member
Joined

Oct 5, 2005
Messages

10,897
Location
Real Name

Matt
Captain America Special Edition (1990) Blu-Ray Review
In 2013, our box office is full of fantastic films with amazing budgets that take place in the world of Marvel Comics. Super hero films draw major stars, major effects and a lot of fans. It's not just the fans alone who go to see them - they have become staples of our culture, good date films, decent nights out with friends and Marvel has turned their success into an empire.But it wasn't always this way. In 1990, Marvel attempted to make a film version of "Captain America", and let me just say that even SyFy Channel Saturday afternoon movies look like masterpieces in comparison.. but I found that even with the low budget, bad acting, wildly out of control plot I enjoyed myself far more than I should have.. no, not because the film was good or great - but because the camp value was just too high

Studio: MGM
Distributed By: Shout! Factory
Video Resolution and Encode: 1080P/AVC
Aspect Ratio: 1.78:1
Audio: English 2.0 DTS-HDMA
Subtitles: English
Rating: PG-13
Run Time: 1 Hr. 37 Min
Package Includes: Blu-ray
Disc Type: BD25 (single layer)
Region: A
Release Date: 05/21/2013
MSRP: $14.97



The Production Rating: 2/5
It's hard to really consider a production like Captain America (1990) in the same realm as the newer film versions. If you are familiar with the Captain America story, you know most of it. Sometimes, the best way to really understand a production is to compare it with the newest incarnation.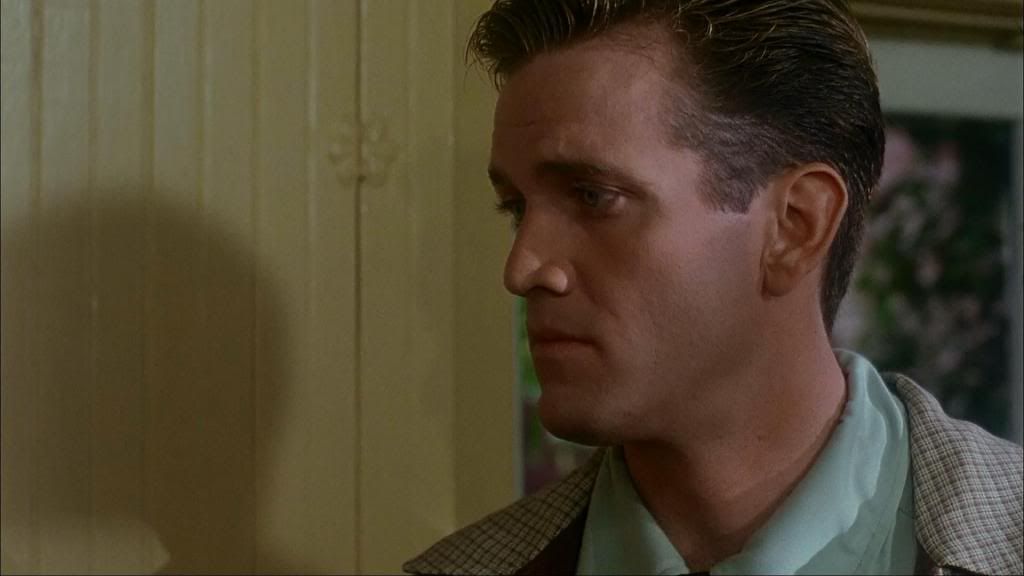 Matt Salinger (JD Salinger's son of all things) plays Steve Rogers, a young man who wants to help out the war cause. He just isn't equipped for it, but thanks to new government research, he is transformed into a one man army. While the new incantation of Captain America spends most of its time in the WWII era, in the 1990 edition, Captain finds himself suddenly thawed and living in 1990s America. Confused and not understanding how the world has changed, it makes the largest portion of the film about not only his attempt to thwart the bad guy, but also about his adjustment to a new world.I wish I had a way with words to frame this better, but I found myself laughing when Rogers was confronted with the news of how his world had changed, his girl had moved on.. and took a big gulp of milk.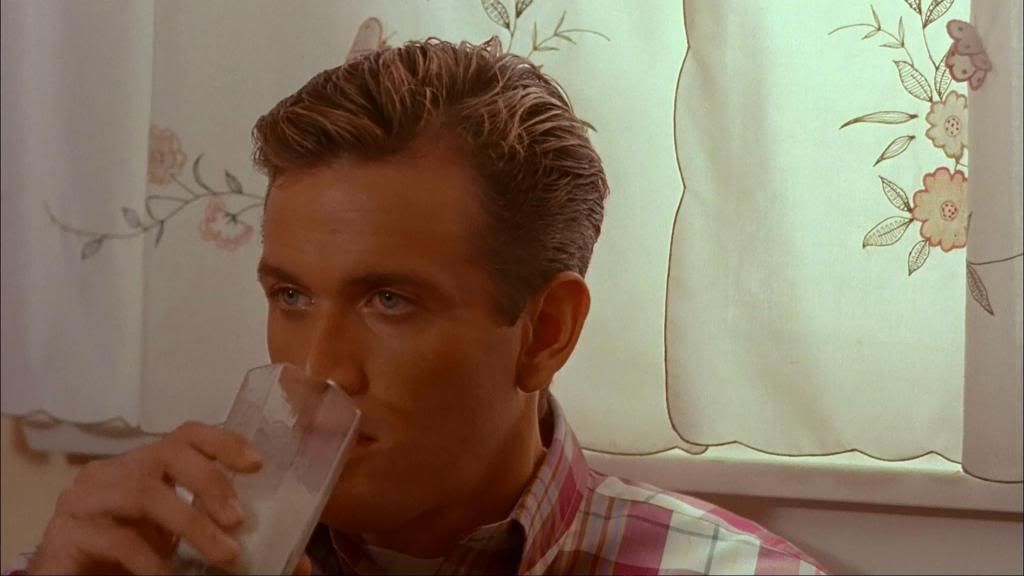 I don't know if it was intended to be campy/goofy, but it is one of the few moments where I found myself outright laughing at the goofiness of the confrontation that the world had changed, and gulping down a frothy glass of Vitamin D.Salinger isn't a perfect candidate to play Rogers, as the constraint in budget means his physical look makes very little transition from Rogers to Captain America. That said, the film plays it straight in a very earnest, almost Hallmark Movies like sentimentality to the story which I quite like. It doesn't hide the failure in production values, the cheap sets and the not-so-great acting, but it reminds me of the kind of production real fanboys would mount on a small budget with very real reverence for the work they are creating.I think this is part of why this film, which was not released in the US until 2011, as a tour before the new Captain America has somewhat of a following. It's goofy, but it has heart.. far more heart then better production value films like "Elektra" and "Punisher".Even if you grade the film on a curve based on the budget, it's hard to overlook the goofiness. There are some great bit parts here, but the production values are very uneven. If you are not someone who appreciates camp films, this is just going to come across as.. bad. And at times, REALLY bad. People walk on each others lines. Actors move aimlessly. Makeup and costumes are horrible.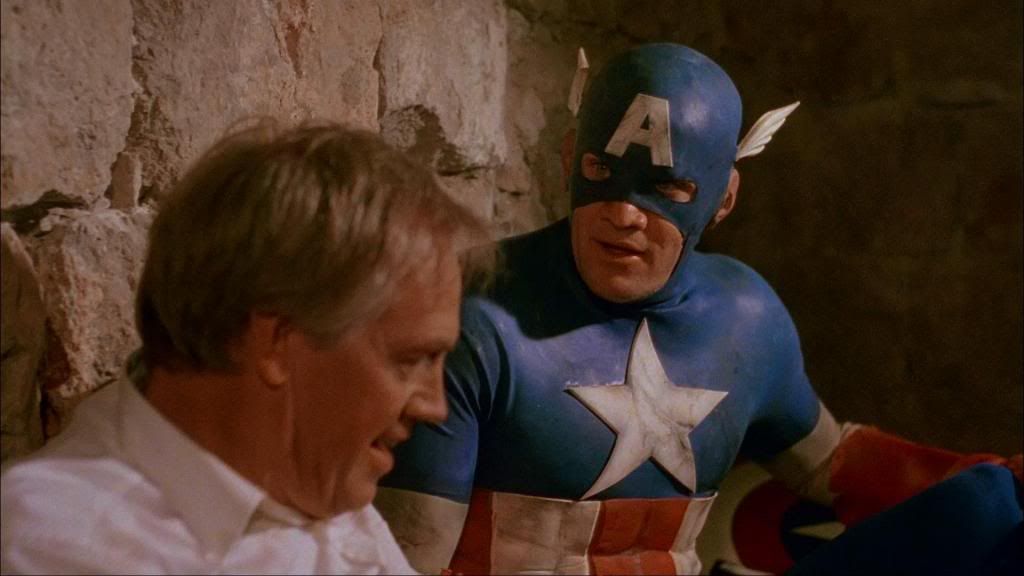 I'm giving this a 2.5, only because for some, the camp value will be a real attractor.. but for others, I imagine they will turn it off early on. And, as goofy as the acting in, Ronny Cox and others turn in great camp performances in a film that flew under the radar.

Video Rating: 3.5/5 3D Rating: NA
Encoded in MPEG4 at an AWBR of 23Mbps, with a peak of 34Mbps, this is probably the best possible encode of the original product. That said, the original product was probably not very good. As a result, the film has issues with how it comes across; at times grainy and murky, at others overly bright the camera work, framing, and general direction here come across like a cheap TV film.The goofball effects and flaws though do add their own charm, but it's nothing worth writing home about.


Audio Rating: 3/5
Audio is presented in DTSMA-2.0 (Stereo) audio. The audio is OK, but dialog is occasionally lost or difficult to understand. Scenes which take place in a plane as he begins to jump are VERY difficult to quickly understand, and cut scenes - almost like you are coming back from a commercial break seem to make the audio uneven in it's volume level.

Special Features Rating: 1.5/5
Included as an extra is a 20:06 extra,
"A Look Back at Captain America"
the director discusses the realities of dealing with Marvel in 1990.. we start out with a bang on this extra, as the within the first minute, we are told what Marvel would and wouldn't do, casting control... the entire extra is a great look at the Marvel that was and a great way to realize how much Marvel has changed in evaluating its product. The notes by a director of how cheap, low budget this was, and how they regretted having the budget cut repeatedly.. telling stories about how on the set in Yugoslavia money kept disappearing on them.There are no other extras included.

Overall Rating: 2.5/5
Let's cover the bases quickly. There are almost no extras.. but one good one. The movie is of poor production values, the plot is a mess, and the effects and sound effects are laughable. The video production isn't much to write home about, and you are far more likely to snicker about it than praise how fantastic it is. In every category, the production itself, not this presentation on Blu-Ray is the problem.But all of that said, for a certain audience, the 2.5 rating I'm giving it here as a total is enough to go out and snag it. If you are a Marvel Universe completist, this is a must have. If you are someone who enjoys remembering the era where superhero films and the like were goofy fodder, than this is definitely for you. I think about Captain America in probably the same way I think about the 1966 Batman Movie.. it's camp, it's goofy.. and yet damn fun if you go with it.For $14.95, this may be a real value for quite a few collectors who will want to own it for just what it is.

Reviewed By: MattCR

Support HTF when you buy this title: