Bachelorette Blu-Ray Review
Hollywood is a big fan of pulling out multiple films that follow a single concept. Armageddon and Deep Impact. Volcano and Dante's Peak. More recently Olympus Has Fallen and White House Down. If a concept seems to work, why not repeat it? So, when Bridesmaids turned successful, it wasn't that surprising that a film would nip at its heels with a similar structure. Bachelorette follows our female protagonists as they lament their lot in life and try to provide a celebration for their bride to be. Rebel Wilson had her big breakout role in Pitch Perfect, which overlapped Bachelorette seemingly, but her performance here never found that same broad audience. It would be easy to say this film was overlooked...but unfortunately, there were good reasons for its quick theatrical exit.

Studio: Anchor Bay
Distributed By: N/A
Video Resolution and Encode: 1080P/AVC
Aspect Ratio: 2.39.1
Audio: English 5.1 DTS-HDMA
Subtitles: English
Rating: R
Run Time: 1 Hr. 22 Min.
Package Includes: Blu-ray
Disc Type: BD25 (single layer)
Region: A
Release Date: 03/19/2013
MSRP: $29.99



The Prod. Rating: 2.5/5
It's hard sometimes to develop a storyline that really works. Every year at the Academy Awards, they honor people who manage to create unique, detailed stories that can leave us thinking about a subject differently, laugh, cry or draw us into the lives of characters. On the other hand, a paint by numbers strategy basically says take a few elements from several films that made money, smash them together in a blender, and hopefully people will find the smoothie output enjoyable enough that they will pay money for it. That's pretty much what you run into with
Bachelorette.
That doesn't mean the film is terrible - there are a few scenes that have legitimate laughs. What it does mean is that the film never has the feeling of being original or telling us something that is unique. The storyline seems to move from one instance you've seen in movie A to the next scene which is lifted from movie B. As a result, the film feels amazingly thin, as though
Bridesmaids
and
The Hangover
had somehow been merged together on about 1/8th the budget and about 1/5th as funny.Kirsten Dunst fills her role as a bitchy bridesmaid who feels let down that it is not her getting married first. But as I watched the film, I kept wondering how her health was holding up, as she looked terrible throughout this entire film, which is shocking considering how well she looked in
Melancholia
. But part of my feeling on that is related to the way the film comes across. Unlike
Bridesmaids
or
The Hangover
,
Bachelorette
comes across as cynical and mean-spirited, and as a result all of the characters seem terribly unattractive.

Video Rating: 4/5 3D Rating: NA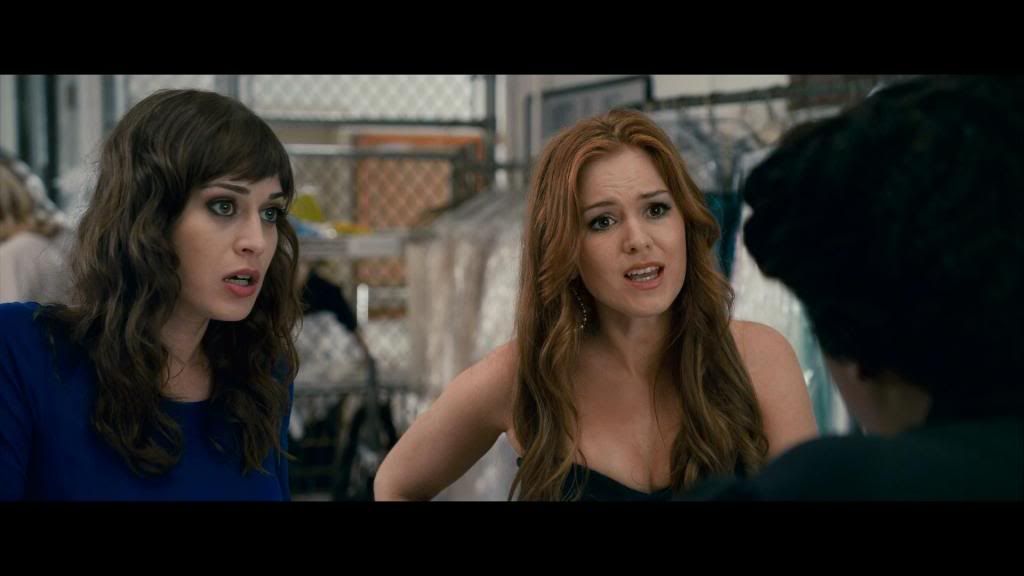 In comparison to the storyline the video quality here is quite good. Skin tones and settings look quite good.
Bachelorette
was shot in digital on the Red One MX camera, and it definitely works for this production. The entire film has a very clean, digitally shot look to it that gives it a unique look that works quite well.One of the things that always makes my wife and I comment about a film like this on Blu-ray is how well developed women's hair is in comparison to DVD. This sounds laughable, but fly aways and women with long hair really stand out in Blu-Ray as so much more life like looking than a DVD presentation; if you have a similar tastes for fine details, this disc really gives you some great breakaway shots of small moments that help show off the encode.Done in AVC with a VBR encode of with a total bit rate of 30.2Mb/s (video encode rate est. at 25.6), the presentation works. But while the films look and clean presentation are very well done, the aspect ratio - correct to the theater of 2.39:1 - seems really out of place in a low budget comedy.


Audio Rating: 3.5/5
Audio in
Bachelorette
is presented in DTS-MA 5.1. The presentation stays almost entirely in the front, with very little use of rear channels. Dialog is crisp and clear and always easy to understand, which as I noted isn't always to the films benefit.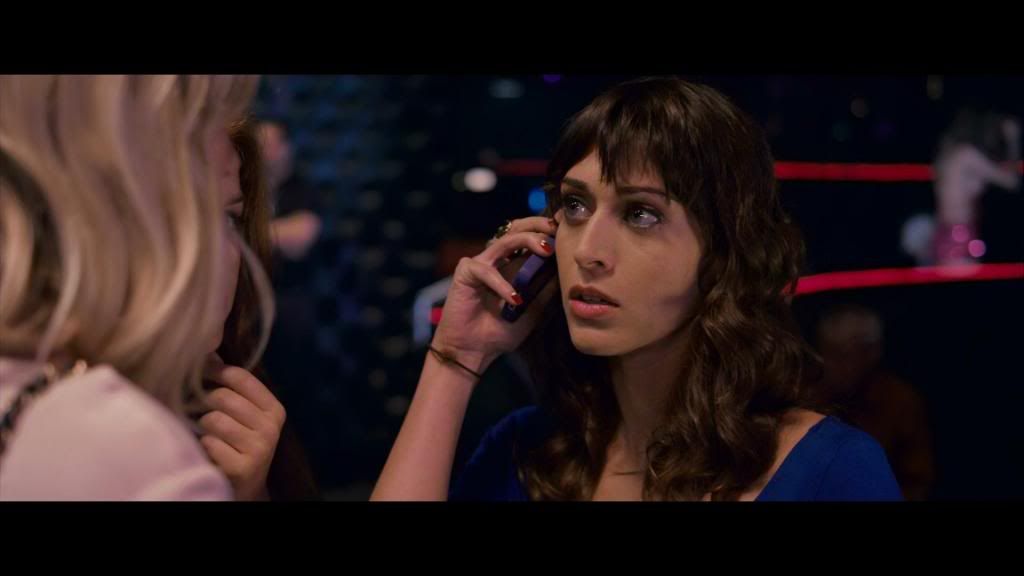 In a few scenes, notably a strip club and at a party the rear channels do come alive...but this effect seems to overwhelm the overall presentation and doesn't really fit with the way the rest of the film is presented. While many films have moments where rear channels may be more or less involved as a relation to action or setting,
Bachelorette
seems to go long segments with little to nothing, and then an overwhelming approach of having a great deal of the audio behind you.Again, this appears to be the intentional choice of those who filmed those scenes, but it still makes the audio presentation as a whole come off as wildly uneven.

Special Feat. Rating: 1/5
Outtakes
- 1:53 - 1080P AVC Dolby Digital 2.0 - This is one of the shortest and least interesting outtakes I've ever seen. At least it's over quickly.
Behind the Scenes & Red Carpet
- 4:33 - 1080P AVC Dolby Digital 2.0 - A very short behind the scenes that explains why the actors chose the roles. Very self congratulatory, though Kirsten Dunst comments at least on "we did this for no budget", which may be a great excuse.

Overall Rating: 2/5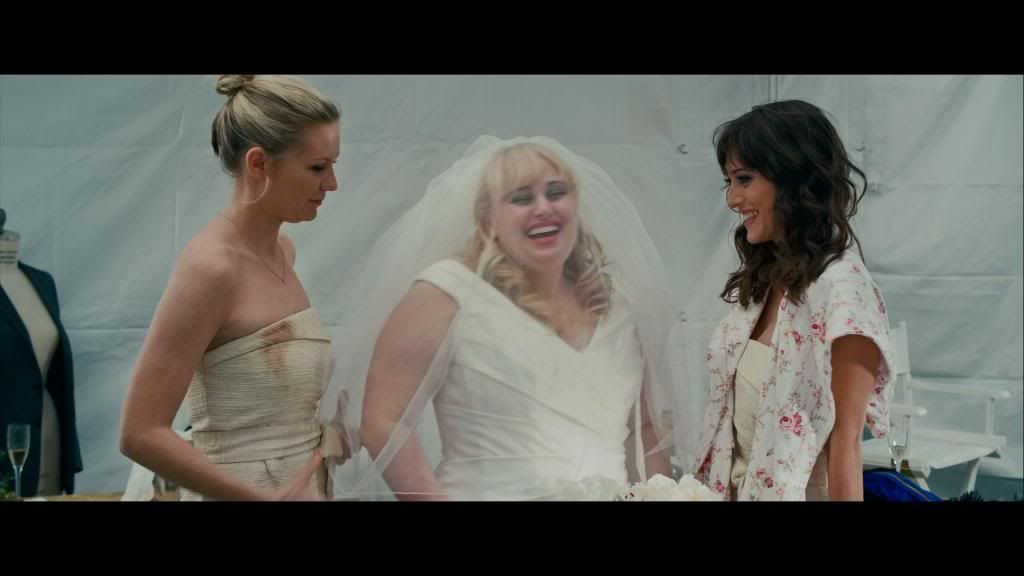 It's hard to come up with a review that gives a rating that defies the quality of the film. While the video quality here is quite good, the film itself just isn't. More than that, there is simply no compelling reason to buy this film on Blu-ray in light of the complete absence of any real extras.
Bachelorette
is the kind of film that I would strongly advise you rent first and decide whether or not it is the kind of film you'd actually spend money to own as part of your collection.

Reviewed By: MattCR

Support HTF when you buy this title:

Click here to view the review