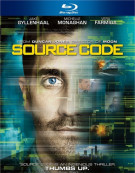 SOURCE CODE Blu-ray
Studio: Summit Entertainment
Year: 2011
Rated: PG-13
Film Length: 1 hour, 34 minutes
Aspect Ratio: 1080p High Definition Widescreen (1.78:1)
Audio: English DTS-HD Master Audio 5.1, Spanish Dolby Digital 5.1
Subtitles: English SDH, Spanish
Release Date: July 26, 2011
The Movie
Source Code
is the story of Captain Colter Stevens(Jake Gyllenhaal), a soldier on a mission through time to stop the bombing of a commuter train in downtown Chicago. Stevens finds himself repeatedly inhabiting the body of another man on the train romantically involved with Christina(Michelle Monaghan). Stevens' efforts repeatedly fail but each successive attempt gives him more information for the next try. Stevens is guided remotely in his travels by fellow soldier Goodwin(Vera Farmiga).
What is Source Code? Project scientist Dr. Rutledge(Jeffrey Wright) describes Source Code as a combination of quantum physics and parabolic calculus: "Source Code is not time travel. Source Code is time reassignment."
Source Code
is ultimately a variation of other examples of the time travel genre, especially
Quantum Leap
.
To their credit, the creators of Source Code do not deny the influence of Quantum Leap and other time travel films and TV series. Look for Scott Bakula(Quantum Leap) in a minor role as the father of Gyllenhaal's character, which is appropriate since Bakula's Dr. Sam Beckett is the conceptual father of Captain Stevens.


Source Code
is directed by Duncan Jones(Moon) based on an original screenplay by Ben Ripley(Species III). The repeated variation of events is less like
Rashomon
and more like
Groundhog Day
, as each successive effort by Stevens plays out differently, as opposed to showing different observations of the same identical events. Director Jones succeeds in creating and editing the scenarios in a unique way without making the viewer bored with the repetition of the same events playing out in the film. The device of Captain Stevens knowing no more than the audience, and learning what is really happening at the same time as the viewer, helps us to identify with Stevens and makes us feel that we are living and perceiving these events with him.
Video
The movie is in 1080p high definition in a 1.78:1 aspect ratio. This is a better than average Blu-ray transfer. Film grain is present throughout with excellent fine detail. There is one scene on the train in which Gyllenhaal is in the center in fine focus while train passengers approach the camera on either side of him. The features of the passengers are very waxy looking, and it is hard to say if this is the combination of camera focus and lighting or DNR. DNR is not excessive but shadow detail suffers in a few scenes where dark objects blend into each other. Colors tend to be muted rather than vibrant but deliberately so in keeping with the mood of the film.
Audio
The English DTS-HD Master Audio 5.1 tracks have great directional audio that draws one into the illusion of the film. Ambient train sounds, announcements, explosions, and every other sound complete the illusion of being there with Captain Stevens. Thankfully, the soundtrack rarely, if ever, interferes with audibility of dialogue.
Special Features
The special features include the following:
Audio Commentary: Director Duncan Jones, writer Ben Ripley, and star Jake Gyllenhaal provide a feature length commentary regarding creation of the film.
Access Source Code: This feature, when enabled, presents pop-up information, trivia, and picture-in-picture commentary and interviews during the film.
What's New: This feature allows internet-connected BD players to access trailers for other films released by Summit Entertainment.
A trailer for
The Three Musketeers
(2011) in 3D appears by default in 2D after the disc is loaded and prior to the main menu. This trailer is also accessible in the Special Features menu.
Conclusion
Source Code
is a better than average science fiction thriller that succeeds in immersing the audience in the world of its protagonist, Captain Stevens. Video quality is very good with excellent fine detail for the most part. The DTS-HD Master Audio 5.1 surrounds the viewer and perfects the illusion of immersion in Captain Stevens' world. Special features are not comprehensive but will be of interest to ardent fans of the film.
Source Code
is an entertaining thriller and its receptive audience will not be limited to science fiction fans.