The Weekly RoundUp
The Features
–The Cast (Desperate Housewives – 2004)
–The Cast (The Outsiders – 1983)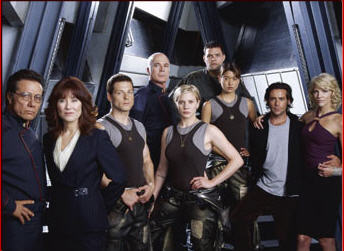 –The Cast (Battlestar Galactica - 2004)
–Chantal Goya (Masculin Feminin – 1966)
The Prices
TITLE
Amazon
BestBuy
CrcCity
Target
Costco
**Adventures of SharkBoy & LavaGirl in 3-D
$16.98
$19.99
$17.99
$16.99
-
After Midnight
$11.20
$12.99
$14.94
-
-
Andromeda: Season 5 Collection1
$27.99
$29.99
$34.99
-
-
An Angel at my Table (CC)
$27.96
$34.99
$34.99
-
-
Barbie…Magic of Pegasus
$13.99
$14.99
$12.99
$13.99
-
Batman: Man Who Would Be Bat
$10.48
$12.99
$12.99
-
-
Battlestar Galactica: Season 1
$41.99
$42.99
$47.99
-
$39.99
Born Into Brothels
$20.99
$19.99
$24.99
$19.99
-
Brothers (2004)
$22.48
$24.99
$24.99
-
-
Crime Story: Season 2
$29.98
$34.99
$34.99
-
-
Desperate Housewives: Season 1
$38.9
$37.99
$39.99
$36.99
$38.99
Die, Monster, Die/Dunwich Horror (DF)
$11.20
$12.99
$14.94
-
-
Dolls (1987)
$11.20
$12.99
$14.94
-
-
Don't be a Menace to South Central…
$13.99
$14.99
$17.99
-
-
The Fallen Ones
$17.98
$14.99
$15.99
-
-
From a Whisper to a Scream
$11.20
$12.99
$14.94
-
-
From the Earth to the Moon
$69.99
$75.99
$64.99
$69.99
-
Ghost/Shell SAC 2nd Gig V. 2 LE + CD
$31.49
$34.99
$39.99
-
-
Ghost/Shell SAC 2nd Gig V. 2
$17.49
$17.99
$19.99
-
-
Gone in 60 Seconds CE
$18.73
$19.99
$19.99
-
-
The House Where Evil Dwells
$11.20
$12.99
$14.94
-
-
**Inside Deep Throat (R & NR)
$19.59
$22.99
$19.99
-
-
It's All Gone, Pete Tong
$18.72
$22.99
$24.97
-
-
James Dean: Forever Young
$14.98
$14.99
$15.99
-
-
James Dean: Sense Memories
$11.23
$12.99
$12.99
-
-
Justice League Unlimited: Joining Forces
$10.48
$12.99
$12.99
-
-
Lady in White
$10.46
$12.99
$14.94
-
-
Lies My Mother Told Me/Widow on Hill
$14.98
$14.99
$15.99
-
-
**The Longest Yard (2005)
$15.98
$16.99
$14.99
$16.99
$18.99
Major Dundee: Extended Edition
$13.96
$16.99
$15.99
-
-
MallRats: 10th Anniversary Edition
$18.87
$16.99
$17.99
$16.99
-
Martin & Orloff
$13.99
$14.99
$15.99
-
-
Masculin Feminin (CC)
$22.46
$24.99
$29.97
-
-
Midnight
$9.98
$8.99
$9.99
-
-
Mindhunters
$20.99
$24.99
$24.99
$19.99
-
Naked (CC)
$27.96
$34.99
$34.99
-
-
Ned and Stacey: Season 1
$27.96
$29.99
$29.99
-
-
Night Visitor
$11.20
$12.99
$14.94
-
-
No Direction Home: Bob Dylan
$20.99
$19.99
$16.99
-
$17.99
**The Outsiders
$18.89
$19.99
$19.99
$19.99
-
Over The Edge
$14.98
$14.99
$15.99
-
-
Panic In Year Zero/Last Man on Earth (DF)
$10.46
$12.99
$14.94
-
-
Penn/Teller's Magic Mystery Tour
$17.49
$19.99
$19.99
-
-
Pinocchio's Revenge
$9.98
$8.99
$9.99
-
-
The Pretender: Season 2
$27.99
$29.99
$34.99
$29.99
$26.99
Pumpkinhead 2
$9.98
$8.99
$9.99
-
-
Ren & Stimpy Show: Season 5 & More of 4
$27.29
$34.99
$34.99
$29.99
-
The Resurrected
$9.98
$8.99
$9.99
-
-
Ring of Fire: Emile Griffith Story
$13.99
$14.99
$15.99
-
-
Scary Movie 3.5 (NR)
$13.99
$14.99
$17.99
-
-
See Arnold Run
$10.49
$12.99
$12.99
-
-
Shackles
$18.72
$22.99
$24.97
-
-
Species Collection (NR)
$25.16
$24.99
$29.99
-
-
Spongebob's Absorbing Adventures
$11.89
$14.99
$12.99
-
-
Taboo: Season 2
$31.49
$44.99
$34.99
-
-
Tales of Terror/Twice Told tales (DF)
$10.46
$12.99
$14.94
-
-
Teen Titans: Season 2 Vol. 1 Fear Itself
$13.98
$14.99
$15.99
-
-
Turtles Can Fly
$22.46
$24.99
$24.99
-
-
Voodoo Island/4 Skulls of Jonathan Drake (DF)
$10.46
$12.99
$14.94
-
-
Wallace & Gromit: 3 Amazing Adventures
$13.99
$14.99
$17.99
$14.99
-
War Gods of the Deep/At Earth's Core (DF)
$10.46
$12.99
$14.94
-
-
WWE Summerslam 2005
$17.47
$19.99
$19.99
-
-
(CC) after a title: a new Criterion Collection release.
(DF) after a title: a new M-G-M Double Feature release.
The Disclaimer
Standard disclaimer: All prices are taken from the websites of each chain, or from their printed advertisements, the Sunday of the week of release (so as to catch any week-of-release sale prices). All prices are subject to change by each chain. Prices and inventory in-store may or may not match the website price. If a price is marked "$_N/A_" in the grid, it means that this title is not shown as available on that chain's website or perhaps in their ads...but it COULD still be in-stores!

$_"LP" means the advertisement says "Low Price", and $_"HP" means the advertisement says "Hot Price". Use of either of these in the Roundup grid indicates that I could not locate a definite price for the item, and the ad is all I have to go on. Retailers use these phrases in advertisements so that they do not violate MAP (Minimum Advertised Price) agreements with the studios. Doing so can cost them thousands or even millions of dollars in co-op advertising funds.

I only include the titles I feel like including (or the ones Dave tells me he's looking for ;o)). In fact, the titles are pretty much the ones I'm personally interested in, with few exceptions. I don't get paid for this, and I don't have time to devote to doing every DVD.

So, please don't complain.

If there is a title not included in the Roundup that you want to see, just look it up yourself, and be nice enough to post and share the results with everyone...like Dave & I do!

Note that Circuit City does not guarantee their sale prices in Hawaii. Also note that I cannot include Wal-Mart/Sam's Club prices in the standard Roundup: they set prices at individual stores based on nearby competition, so there is not a way I can say here what price you'll find at YOUR local Wal-Mart/Sam's Club location. When it comes to Wal-Mart/Sam's Club prices mentioned at all, just remember that "Your Mileage May Vary".

The Specials
**BE EXTREMELY CAREFUL!
The Longest Yard
AND
The Outsiders
are available in
both
OAR and MAR versions...
get the correct one
! Also, it looks as though
The Adventures of SharkBoy & LavaGirl in 3-D
is being released in both 3-D/2-D AND 2-D-only versions…although the price point looks the same. And,
Inside Deep Throat
is being released in
both
R & NR versions…
get the one that's right for you
.
--For anyone who did NOT yet get their copy of Lost: Season 1, Best Buy is offering a deal in which you buy Lost: Season 1 and Desperate Housewives: Season 1 and get $10 off instantly.
Must be purchased on same receipt.
--Best Buy is also giving out FREE EXCLUSIVE 2006 Desperate Housewives Calendars with the purchase of DH: Season 1 at their stores.
--
Don't forget,
if you purchased Lost: Season 1 and got Best Buy's exclusive bonus disc, there is a coupon for $10 off Desperate Housewives: Season 1.
--Some Best Buy RewardZone specials this week:
*RZ Member Price for Desperate Housewives: Season 1 - $34.99
*RZ Member Price for MallRats (10th Anniv. Ed.) - $14.99
*Earn 15,000 bonus RZ points with purchase of either Barbie and the Magic of Pegasus or The Adventures of SharkBoy & LavaGirl in 3-D.
--Best Buy is offering an EXCLUSIVE FREE bonus disc with its copies of The Longest Yard.
On-pack. Includes: The Rookies: Training Camp to the Big Game and Virtual Movies commentary by director Peter Segal. Minimum 25 per store. No rainchecks.
--Not to be outdone, Circuit City is offering a FREE mini-football with purchases of The Longest Yard.
In-store only. While supplies last. Minimum 30 per store.
--At Circuit City, save $5 with the purchase of Desperate Housewives: Season 1 and ANY CD.
In-store only. Purchases must be on same receipt. Savings taken from regular price. Effective 9/20/05 thru 10/01/05.
--Target has an EXCLUSIVE FREE bonus DVD with its copies of Desperate Housewives: Season 1.
With Sorting Out the Dirty Laundry episode. Items are packaged together.
The Appeal
Any visitor to the Weekly RoundUp should be sure to check out the new Main Portal Page of the Home Theater Forum….FOR TWO VERY GOOD REASONS!



First:

Parker & Ron have re-formatted the Portal Page to include exclusive HT industry news you won't find in any place on the HTF!

Second:

You will help support the Home Theater Forum and keep it up and running.

Operating the HTF is not free for Parker and Ron. That is why there is advertising throughout the forum and there has been the occasional membership fund drive. THIS IS AN EASY WAY FOR YOU TO HELP…AND IT'S FREE OF CHARGE…AND INFORMATIVE, TOO!


If you simply link to the Portal Page when you start your visits to the HTF, that act alone wILL bring revenue to the forum. While it would also be nice if you wanted to click on some of the advertisers' links and check out their deals and sales (that form of "window shopping" would bring even more revenue to the forum), the simple act of landing on the Portal Page registers a "hit" or "impression" that creates revenue for the HTF.

So, if you've been "sneaking in" to the HTF through links to your favorite thread or forum, please take an extra second of your time and land first on the HTF Portal Page. You'll see the new Industry News sections AND help out financially. THANKS!
The Markdowns
The latest markdowns according to
DavisDVD
:
EFFECTIVE: September 20, 2005 (Studio/Titles/New SRP)
None to report.