After a long wait, it looks like we are finally getting a Region 1 release of The High Chaparral:
http://www.tvshowsondvd.com/news/High-Chaparral-Season-1/24144
Looking forward to this one, I hope that Shout! will follow through and release all four seasons.
Post Disclaimer
Some of our content may contain marketing links, which means we will receive a commission for purchases made via those links. In our editorial content, these affiliate links appear automatically, and our editorial teams are not influenced by our affiliate partnerships. We work with several providers (currently Skimlinks and Amazon) to manage our affiliate relationships. You can find out more about their services by visiting their sites.
Just pre-ordered this one. Been on my list a long time.
Joined

Jan 7, 1999
Messages

2,410
Location
Real Name

Jeff Flugel
Ooh, all over this sucker. A very good late period western series, with a strong cast...have been waiting for this for a long time. $25 retail is a pretty good price for 28 episodes.

I know this has been released before on Region 2 DVD in Europe (Germany, I believe). Does anyone here know how good the transfers were on those earlier releases? I hope Shout got some decent prints for this set. A lot of this series was shot in Arizona, with some good location work, and should look very nice if treated well.

Cheers for the release date news (and cover image)!
Last edited:
Joined

May 29, 2012
Messages

1,916
Location
Real Name

Lou Antonicello
Nice to see that even in the post-Timeless era , Shout Factory is issuing classic westerns . Usually when SF starts releasing a show they complete it .
Joined

Jan 8, 2008
Messages

4,569
Real Name

Ben Masters
Nice to see that even in the post-Timeless era , Shout Factory is issuing classic westerns . Usually when SF starts releasing a show they complete it .
They did with
Hart to Hart,
and also with
Barney Miller
.
Joined

Jun 17, 2006
Messages

1,461
Real Name

Bob Gudera
THE HIGH CHAPARRAL is being shown on Heroes and Icons and the prints are gorgeous.
Joined

Nov 23, 2007
Messages

2,007
Location
Real Name

Randall
I have the R2 Soul Media (Sweden) complete series release of
High Chaparral
and they do indeed look beautiful...I agree that the Amazon pre-order price of $24.97 is very attractive for season one
https://www.amazon.com/High-Chaparr...qid=1525398205&sr=1-7&keywords=high+chaparral
, and hopefully sales for this encourage Shout to follow on with the rest of the series as fast as possible...just as a reference, the source prints for
High Chaparral
are considerably better (with truly vibrant color like
The Virginian
) than those found on Shout's releases of
Big Valley
, though those look pretty good too.
I agree, it's a very good western, and sometimes brilliant on occasions. With so many of the period's great guest stars. Cameron Mitchell is one of those under rated actors. Leif Erickson, Don Collier and Mark Slade are solid. And Linda Christian, Henry Darrow and Frank Silvera represent a consistently sympathetic portrayal of the old Spanish Desert SW. Along with a balanced and often sympathetic portrayal of Apache, Navajo characters too. For me, another great virtue is the location shooting at Old Tucson, Coronado, Santa Rita, Oro Valley, Superstition and Cochise. It has the same dusty and sweaty authenticity of
Rawhide
because of that. (although
Rawhide
is superior IMHO).
There are quite a few episodes on Youtube, sourced mostly from old Hallmark channel broadcasts. This one here, I believe, is taken from an R2 PAL source. Season 2 Ep 10, "The Buffalo Soldiers" with Yaphet Kotto and Morgan Woodward. Slightly lower res in the uploading, but it at least gives you an idea of the vibrant and unfaded colors of the source film elements. And also the sometimes grand, cinema scale of action sequences on the show. This episode had a much larger cast and extras than usual. But Old Tucson was a movie factory in those days, with tremendous resources to film Westerns. David Dortort of
Bonanza
was one of the producers of
High Chaparral
...And. of course, with great David Rose music!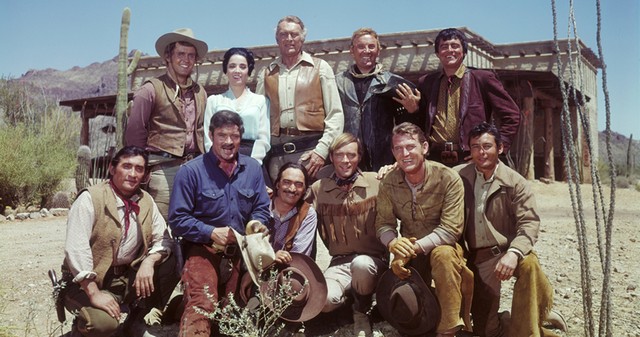 Last edited:
Joined

Apr 22, 2003
Messages

1,996
Well, with all the stalling of Gunsmoke and Bonanza, this is a bit of good news. I always found HC to have some excellent writing and characters on it. Does anybody hope that there'll be extras? Darrow and Linda are still alive, and I believe the actor who played the youngest son might be also.

It would be nice if there was some material contrasting HC with Mr. Dortoff's earlier effort, Bonanza.

James
Joined

Feb 24, 2000
Messages

5,106
Great news I have been waiting for this one forever. I hope they are re-mastered like the other CBS Westerns and not the usual low standard Shout has for their TV westerns with a few exceptions.
Joined

Mar 18, 2009
Messages

407
Real Name

Paul
I've heard of this show but have never seen an episode. I'm looking forward to this, since I've heard good things about it.
Joined

Mar 20, 2009
Messages

1,276
Real Name

Frank
Joined

Jan 28, 2012
Messages

3,606
Location
Real Name

Alex
I loved this show growing up. I've always thought that if TV Western's ever make a return, this would be a great candidate for a reboot.
Mine is scheduled for delivery today . Will post thoughts soon.
Joined

Apr 22, 2003
Messages

1,996
Got mine. Looked at the extras first, and haven't seen the episodes yet. The extras are fine, but I hope they continue with more in future volumes. One talks with surviving tv western stars (Robert Fuller, James Drury) about what it was like to work on them at the time. Very enlightening, but I want more, and sadly no HC people. The second one was with Don Collier. Again very interesting, but he was having some breathing problems. Hopefully, Shout can dig up more interviews for volume 2,3, and 4. I remember hearing there was a tv western convention at some big city years ago, and they were able to get a patched telephone interview with Linda Crystal, who was/in Spain at the time. I hope somebody recorded and kept that.

Hope everybody's enjoying their copies.

James
Have watched the first two episodes (the pilot). Series does not look remastered but does look very good. I had forgotten about the arranged marriage taking place this early in the storyline. I did not remember the ongoing continuity concerning the father/son relationship. I will enjoy revisiting this one. I need to try and ration these so I can David them. Sure hope Shout will release all 4 seasons.