I'm curious about this collection. I wonder what the quality would be. Some of these titles are pretty good. Escape in the Fog is a fun B-Noir. I also wonder about a volume 2.
https://www.amazon.com/Noir-Archive-Volume-1-1944-1954-Blu-ray/dp/B07KZ4MW2C?SubscriptionId=AKIAIY4YSQJMFDJATNBA&tag=bluray-010-20&linkCode=xm2&camp=2025&creative=165953&creativeASIN=B07KZ4MW2C&m=ATVPDKIKX0DER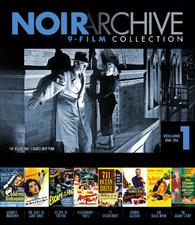 Post Disclaimer
Some of our content may contain marketing links, which means we will receive a commission for purchases made via those links. In our editorial content, these affiliate links appear automatically, and our editorial teams are not influenced by our affiliate partnerships. We work with several providers (currently Skimlinks and Amazon) to manage our affiliate relationships. You can find out more about their services by visiting their sites.
Joined

Aug 22, 2002
Messages

824
Real Name

Paul
They've all been issued by Sony via either their MOD DVD-r series (variously know as "Collector's Choice," "Screen Classic" etc.) and in one case (The Killer that Stalked New York) in Bad Girls of Film Noir Vol. 1. DVD Beaver has screen shots of all of them. If these are licensed (by Kit Parker, going by the Amazon listing) HD versions of the same Sony/Columbia transfers I'd say this would be most welcome and a great bargain.