Reviewer
HW Reviewer
Senior HTF Member
Joined

Oct 5, 2005
Messages

10,897
Location
Real Name

Matt
The White Queen Blu-Ray Review
When BBC One announced a co-production of the story of the War of the Roses with StarZ picking up a more R Rated version to be aired state side, there was immediate interest. The production would be given great resources, tons of money and would have a top flight cast. Considering BBC's recent successes, there were all sorts of grounds for people to have very high expectations.For the most part, the series succeeded; critical reviews were very positive, performances were good, and the filmography was great. With an intro like that you know that there is a 'but' coming. And here it is: for all the polish of a series as good as The White Queen, from the moment it aired it also became an easy target for derision thanks to a series of laughable anachronistic mistakes that still stand out like a sore thumb, no matter how good the rest of the production is.In the same way that some people never notice the Rainbow Effect in a projector, a lot of people will never notice all the anachronisms. But for those of us that do, it results in what works as a great beginning for a drinking game.

Studio: BBC
Distributed By: Other
Video Resolution and Encode: 1080I/AVC
Aspect Ratio: 1.78:1
Audio: English 5.1 Dolby TrueHD
Subtitles: English, English SDH
Rating: Not Rated
Run Time: 56 Min. Per Episode Average
Package Includes: Blu-ray, Digital Copy, UltraViolet
Disc Type: BD50 (dual layer)
Region:
Release Date: 02/04/2014
MSRP: $59.99



The Production Rating: 3.5/5
Set in the time of the War of the Roses, 1464 and based upon Philippa Gregory trilogy of novels about the time period, the White Queen actually exists on Blu-Ray twice. Once as a BBC published Blu, with a more TV-14 tone, and in this production, greenlit by StarZ which features, you got it, more sex and blood - though mostly the sex.The heart of the books and story follow one of England's lesser known queens, Elizabeth Woodville, who became the queen to King Edward IV, the first Yorkish king of England. While the storyline is well told and th acting is quite good, the question many in the audience are going to have is whether or not this is a series you can actually get involved in. For the last few years, we've seen a lot of fantasy series - Game of Thrones being of course a stand out. Since The White Queen is based on a book series that is based, in turn on an interpretation of events of the War of the Roses.Got it? Ok. Now is when the fun begins. From the moment that the series began, historians watching the series quickly began doing eyerolls as anachronisms piled up that pull you out of the show. Some are cute - lots of the women wear clothes that feature zippers (not invented in the time period). Some are just.. well, bad. Like really bad.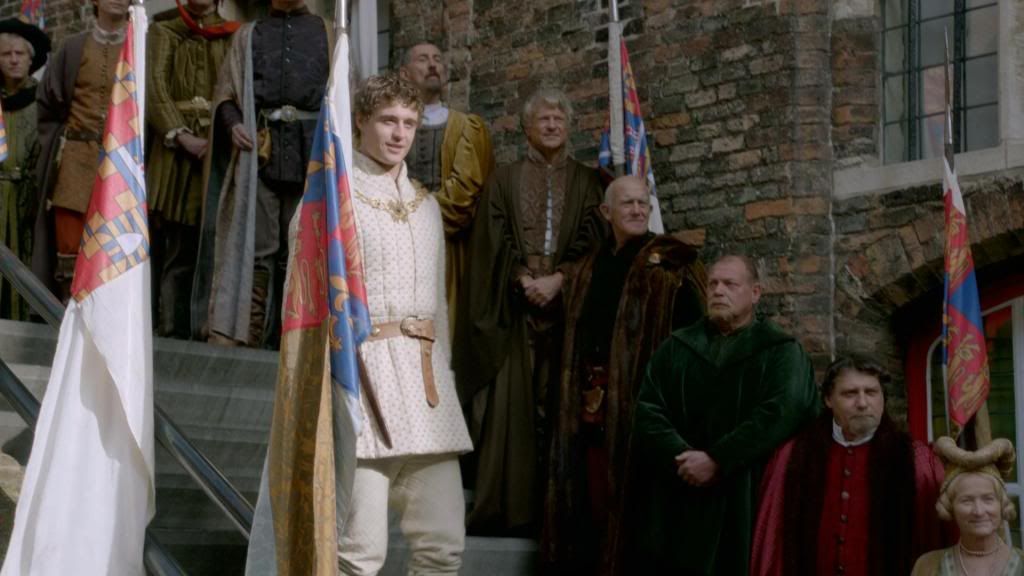 There are five mind blowing errors in this shot alone. I'll give you one: They did not have handicap accessible rails on the stairs in 1464.The series for me becomes a wild drinking game. How far can I go as the number of laughable errors pile up. Items that couldn't exist in the time frame make their way into the shots with incredible frequency and turn a multi-milliondollar production into an error ridden laugh fest that reminds me of what would happen if the High School propmaster were given a budget and a major production. If I had a drinking game built around historical errors in a series that marketted itself as an attempt to show us history, well, I'd be hammered drunk by the end of episode 2.Sometimes it's nit picky
Wait, isn't that a sewing machine button?And sometimes it's VERY annoying. Look through that first shot; by the time you figure out three or four of the major errors, you'll get what I'm talking about.The actors live up to their parts, but thanks to a series of rather foolish errors it just never worked for me. I kept having a much greater temptation to laugh as opposed to embracing the narrative.Like the rainbow effect in a projector though, many may never notice these differences. What they will notice is the differences between the UK version and the US version. It's mostly a few minutes here and there - and almost all of those minutes involve seeing people naked. Nothing wrong with that, but if you want a version of this that is basically the exact same production with all the same errors and fewer naked bodies, you can find the original issued Blu-Rays.

Video Rating: 4.5/5 3D Rating: NA
The video on this disc is quite good. Done in 1080I with an AWBR of 34.94MBps, this is a solid title that really delivers. The picture looks great and the use of color and setting really help fill out the environment.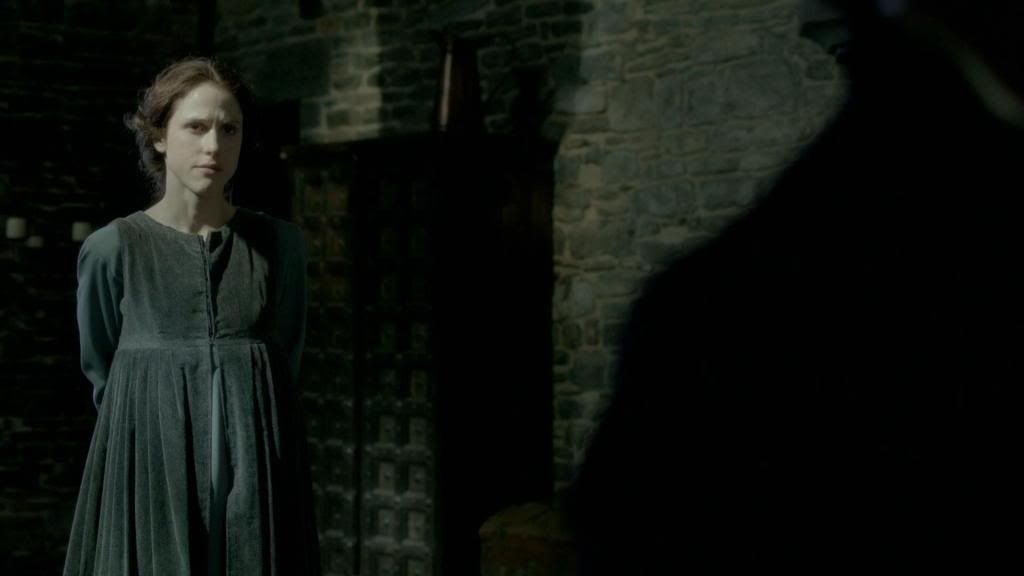 The BBC is really stepping up it's game in putting out quality Blu-Rays, and putting these ten episodes across three discs allows the titles much more breathing room. I wish more companies put this much effort into making the most of the bit rate on a disc and getting the best picture possible for the viewer. Because this was filmed and designed in 1080I, leaving it in the original broadcast form is the right idea.The title has a very video look to it, but it since that is how it was when originally aired, this transfer seems to be a great rendering of what the designers of the program wanted.


Audio Rating: 4/5
Dialogue is the name of the game in a title like the White Queen, and the Dolby Digital TrueHD 5.1 mix does a very good job of making sure that it is crisp and clean. There aren't a lot of scenes that will stress your environment, but all of the surround elements that are presented perform quite well.This is a solid rendition that makes it easy to watch and interesting. When major scenes need it, the surrounds deliver.

Special Features Rating: 4/5
Book to Series (1080I, AC3 Stereo, 4:15)
: Author Philippa Gregory brings the book to a series. A brief discussion of that transition.
Dressing the Queen (1080I, AC3 Stereo, 2:37)
: Costume Designer Nic Ede gets praised for his work. I admit, considering how often things like Zippers, textiles that didn't exist in 1464, Machine Buttons, and the debate to find the scenes where loafers (or maybe sneakers?) accidentally get mixed in, this is the extra that made me laugh the hardest.
King Edward IV (1080I, AC3 Stereo, 2:36)
: Max Irons, Jeremey Iron's son was clearly cast in order to be the heart throb to keep teen girls interested. A character profile.
Queen Elizabeth (1080I, AC3 Stereo 3:02)
: Character look at Queen Elizabeth, as played by Rebecca Ferguson.
Women in a Man's World (1080I, AC3 Stereo, 1:47)
: A VERY brief discussion on the nature of gender roles in 1464 with some.. questionable history to boot.
The White Queen: Set Tour (1080I, AC3 Stereo, 3:59)
Standard EPK stuff.
The History Behind The White Queen (1080I, AC3 Stereo, 3:37)
: The actors, and the author detail how 'you can't do this as a matter of fiction', 'this is how it happened'. Philippa Gregory has long used the promotion of herself as a 'historical novelist' to promote the idea that her dramatic retellings are incredibly historically accurate. Listening to them talk about the importance of this story, and staying true to it makes me laugh out loud. There are moments within this segment when the actors are discussing how they 'never knew how powerful these female characters were' and how this was neglected until she came along and found it. There is a real danger here in that Gregory's interpretation of historical events is just that - an interpretation, with quite a few scholars thinking it well, not quite true. I have no problem with her issuing her work, but I do find it sad that we suddenly believe this is the only way to look at history.
The Making of The White Queen (1080I, AC3 Stereo, 3:24)
: A look at the series' scope, filming locations, production design, and more.

Overall Rating: 3.5/5
There are a lot of peoplel who will embrace this story. The acting is quite good, the camera work is quite good, and the direction is also solid. What blows this apart for me are all of the mistakes, especially the ones that make me slap my head and think: did NO one else notice this?In a more fictionalized work, it would be easy to forgive a series like
The White Queen
. That is the other problem with this release. The difference between this release and the british version boils down, quite directly, to a T&A show. If you want the show, complete dialog and story you can watch the BBC rendition. If you want to see some skin, you can watch the US version. It's that simple. That said, I can't find the BBC edition in the US any longer, which has apparently been pulled from US issue. So, this is the version you're going to get unless you care to ship the other in from the UK.

Reviewed By: MattCR

Support HTF when you buy this title: