Reviewer
HW Reviewer
Senior HTF Member
Joined

Oct 5, 2005
Messages

10,897
Location
Real Name

Matt
The Hunger Games Catching Fire Blu-Ray Review (Highly Recommended)
The idea of presenting dystopian future as the setting or a scifi epic is not a new one. Numerous films, books, comics and shorts have dealt with the subject matter. It's hard to know whether that's because we are attracted to these kind of tales or because the setting allows for such rich characters. Being a fan of the book series, I eagerly awaited the Hunger Games films. The First film, while solid, seemed to make me think too much about elements that were missing from the screen, things I had loved in the book. I sat in the theater watching "The Hunger Games" and I was uncertain if they were going to pull it off, all the way until Jennifer Lawrence delivered the big emotional moment from the book during Rue's death. Her portrayal of that scene nailed it for me. I was able to forgive the things in the film I was unsure of because the core of the book was retained, and the actress who delivered it nailed her performance.

Studio: Lionsgate
Distributed By: N/A
Video Resolution and Encode: 1080P/AVC
Aspect Ratio: 1.78:1, 2.40:1
Audio: English 7.1 DTS-HDMA
Subtitles: English
Rating: PG-13
Run Time: 2 Hr. 26 Min.
Package Includes: Blu-ray, DVD, UltraViolet
Disc Type: BD50 (dual layer), DVD-9 (dual layer)
Region:
Release Date: 03/07/2014
MSRP: $39.99



The Production Rating: 5/5
Catching Fire brings us back to Panam, the future Americas set in a time of near indentured servitude and manipulations of a ruling class. Catching Fire doesn't just bring us back to the land that these characters inhabit, it manages to use that environment to convey the desperate feeling of having your life controlled.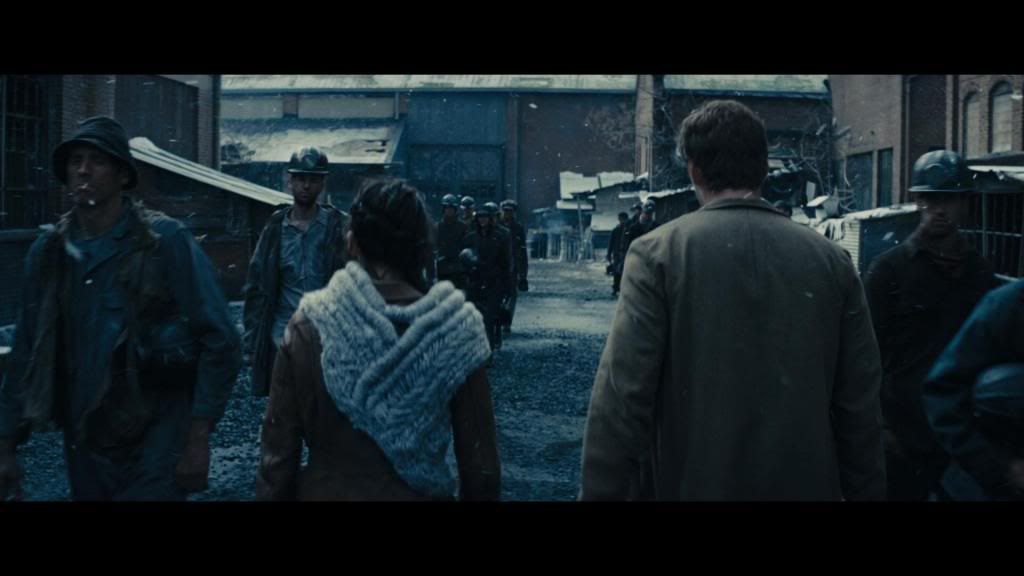 I'm often reminded of those who view "The Hunger Games" as another in a series of girl-power literature with hunky boyfriends, and a girl who can overcome all odds. That simplistic view really loses what makes the Hunger Games work. The Hunger Games, both as a book and as films, isn't about a future Romeo and Juliet. It's not a love story. In almost every way, it is an open enactment of the realities of Maslow's Hierarchy. Feeling unsafe, in a community desperate for food, Katniss can't have a love interest – her love interests are fake, pretend, only to accomplish her first need: survival. People who look to Katniss, in both the books and the films, manages to put this openly clear to other characters, specifically in Catching Fire to Gale (Liam Hemsworth), who she points out she can't love that way because she can't get that far ahead of her need to survive.
In lesser movies, this would be a plot point "oh, she'll find her way back to someone she loves" or "maybe she will love Peeta". But in the end, the film stays on point with the book with a character who deals with a mental state that battles with the reality that her survival is the only thing that matters and her cold assessments within the arena.
This view of the future is dark, dreary, gutty and bold for a film aimed primarily at a teen audience. But as the film proceeds it doesn't shirk from its duties of making Katniss a troubled killer in an environment where it is forced on her. It doesn't change characters, even characters you want to like from witnessing horrible things and moving on.I had initial reservations that as this film came to the screen the direction would be to play down more of the unsavory content, from death on their tour to Katniss that was free to tell Peeta and Gale that the one she cared about was her, her and her family. But the film spared nothing that would change the feeling of the book, and Lawrence sold her character not as a troubled but in love young girl, but from a girl who has a troubled psychiatric state that wishes for death and simply hopes for the survival of her family by halfway in.
Catching Fire was a film that was high on my list of great films last year, and the direction by Francis Lawrence nails the heart of this book. Moving between large CGI set pieces to unbelievable real world effects, the direction provides a world that is far better fleshed out and realized then the first film with actors who seem much more confident in their roles.Catching Fire is simply a great film – not a good kid film – it is a great Science Fiction film that tells a story that resonates beyond kids and presents a lot of difficult ethical choices.

Video Rating: 5/5 3D Rating: NA
Explained in the extras, which we get to later, the Hunger Games splits its aspect ratio between 2.40 for the majority of film, and 1.78 when in the Arena. Before you feel as though you are losing elements, as this is explained in the extras, all Arena Sequences were filmed and designed for a full IMAX experience and were designed and framed in 1.78 for that environment. This shift as chosen by the director is a brilliant use of camera, aspect ratio and scenery to give us a feel of the world. For as much as Katniss hates the arena her first experience there has branded her with it, and this arena experience as it fills the screen makes the audience realize that this is not the same world these characters live in.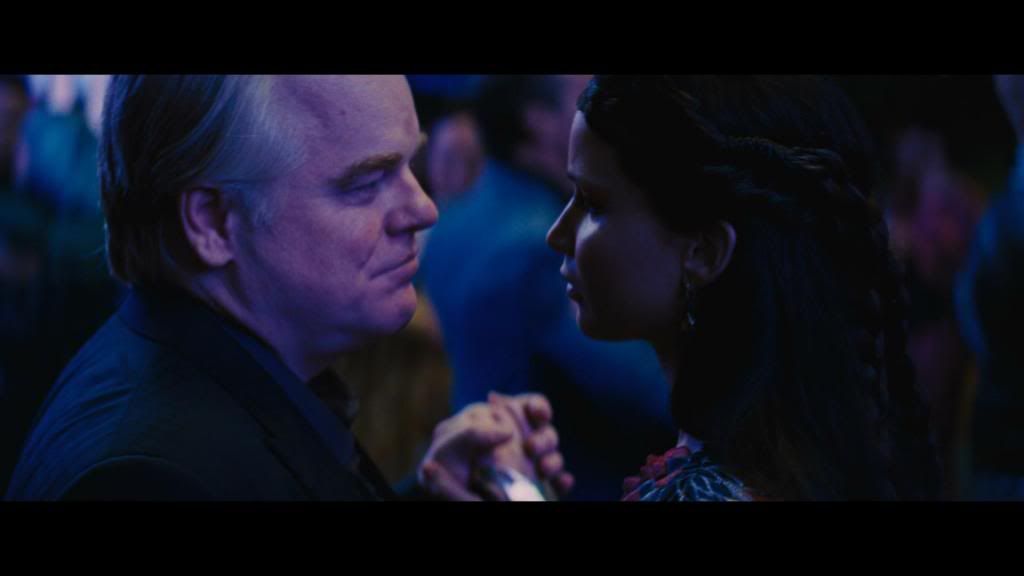 Not only is the experience solid, the encode does this film justice. Delivered in AVC/MPEG4 with an AWBR of 26, and a peak BR of 37.1Mbps, the Catching Fire is the kind of film that sucks you right in on your home screen. Projected out in my theater, I found that the experience preserved the theater. The bright nature of outdoor scenes to the dark and cramped feeling as the capital comes for Katniss puts this as a disc that will have a great deal of re-watchability. There are no noticeable errors no errors that I found to pull me out, just an encode that tells you this is what HD should be.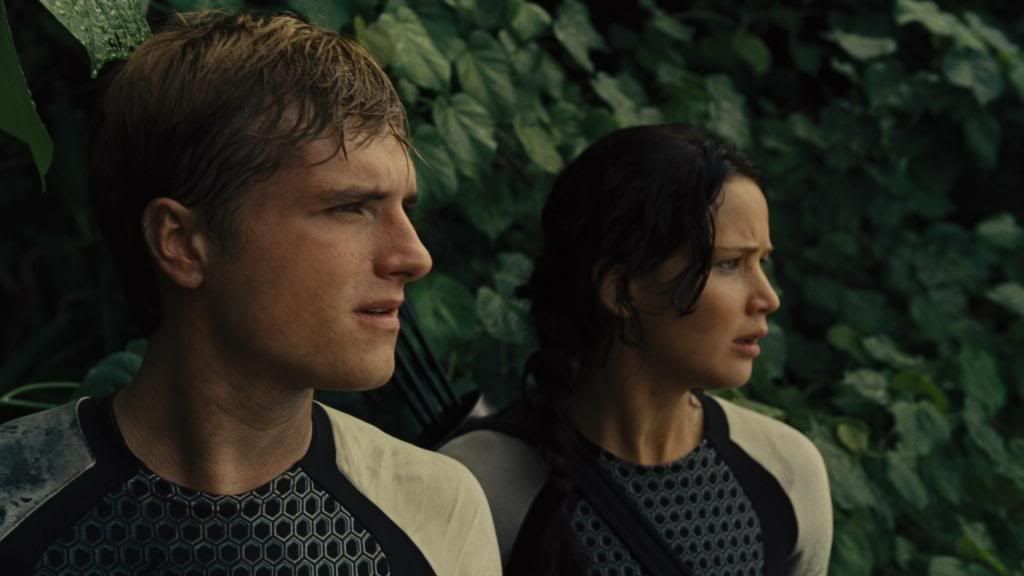 Audio Rating: 5/5
Are you looking for a reference quality disc to start of 2014 for your home theater? The Hunger Games: Catching Fire is presented in 7.1 DTS-MA and it nails it. This film moves from quiet, subtle dialog heavy scenes to bombastic explosions and orchestral movements that tell you characters are under pressure. The sound setup within this film isn't just engrossing it is mindboggling in moments, using subtle audio effect that normally go missing in major blockbusters but manage to create solid tension for our characters. This is truly a fantastic soundtrack.

Special Features Rating: 4/5
•
Audio Commentary with Director Francis Lawrence and Producer Nina Jacobson
. Standard fare commentary. There aren't a lot of new discoveries here, I think only die-hards will listen through•
Surviving the Game: Making The Hunger Games: Catching Fire
(1080p; 2:24:55) There are nine segments here. They are: A New Kind of Hunger: Continuing the Saga; Visual Vocabulary: Building a World; Stirring things Up: The Cast; Fashion Forward: Costume, Make Up & Hair; Let it Fly: Production in Atlanta; Moves & Countermoves, Stuns & Cooridinators; Tick Tock, Production in Hawaii; Threading the Needle, Post Production; The Revolution Lives: Looking Forward.These featurettes really worked for me. Some more than others but those segments about set construction in Atlanta and Hawaii were eye opening. This is one of those films that as you realize how much work went into it, and how many sets were not CGI but real, I grew to appreciate it much more. There is a sequence in here, detailing how they created the center of the arena, the clock, by pumping out a lake, making it deeper, re-filling it, and rebuilding it. The sheer work that went into some of these sets, characters and choices is laid out in a way that made my sons think of Discovery Channel documentaries. They go beyond dry recounting of events into a documentary that asks: how do you think we did it? And I was surprised how often elements I would have been sure were CGI were, in fact, the real deal. •
Deleted Scenes (1080p; 4:35)
These are slightly extended scenes, and in the case of at least one, it is one of the few times I will say I am very glad something was cut, as I felt it would have undermined some of the strength of the film by playing it too transparent.
Ultra Violet Copy & DVD.
An extended look at the upcoming "Divergent" is also included. Now, this brings me to my one negative on the extras, I generally dislike forced trailers, and yep, there is one here. You're going to sit through at least part of the Divergent trailer every time you pop this disc in. If the extra wasn't forced on you, I'd probably rate this portion higher.

Overall Rating: 5/5
The Hunger Games: Catching Fire is, for book fans the best outcome they could have expected. It doesn't feel as forced or hurried as the first film, more confident in its ability to tell a story. The film moves at a pace that allows the audience to grab hold of the small moments and realize what is really happening. The film doesn't shy away from the difficulties of the book, it embraces them at every turn. I was glad to hear that the Hunger Games has retained Lawrence (director) for the last two films, as Mockinjay is a very complex and difficult book. The first time I read through Mockingjay I was somewhat disappointed, but as time has gone on, and as I've watched the films I have realized that done correctly it could be a fantastic set of films if done by the right director. Lawrence nailed Catching Fire, and it gives me real hope looking forward to the next two films.
This isn't just highly recommended, it should be a part of every self respecting Blu-Ray owner's library. Period.

Reviewed By: MattCR

Support HTF when you buy this title: