Joined

Jul 20, 2007
Messages

1,216
Real Name

Timothy Ewanyshyn
Jack Cardiff's The Girl On A Motorcycle aka Naked Under Leather is a trippy artifact of 1960s counterculture that arrived in cinemas one year before Easy Rider and one year after The Graduate. This is one of a handful of films that acclaimed cinematographer Cardiff (The African Queen, The Red Shoes) directed during his career. Cardiff also acted as director of photography on this film with highly favorable results, as what might have been a fairly static film in other hands has a vibrant life of its own to reflect the rebellious nature of its protagonist, Rebecca.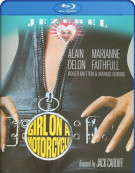 THE GIRL ON A MOTORCYCLE BLU-RAY
Studio: Kino
Year: 1968
Rated: R
Film Length:1 hour, 38 minutes
Aspect Ratio: 1.66:1
Audio: English Mono
Release Date: April 24, 2012
The Movie
Rebecca (Marianne Faithfull) is a newlywed who rebels against the marital tradition by abandoning her groom in their marital bed to seek out her lover Daniel (Alain Delon). The instrument of her rebellion is a Harley Davidson Electra Glide that Rebecca uses to travel internationally on the continent to reunite with Daniel. Apropos, the motorcycle had been Daniel's wedding gift for Rebecca. The non-linear screenplay intercuts Rebecca's quest on the road with flashbacks of the events that led her to assert her independence.
The Girl On A Motorcycle is very much a product of its time, for better and for worse. Rebecca's narration as she speeds through France and Germany reflects her free spirit as she comments on how rebellion makes her feel alive whereas monogamous marriage is like suffering a slow death. Another character comments in flashback that the custom of marriage probably will not exist 15 years in the future. Rebecca also makes comments in her narration to make it clear that the motorcycle is a phallic symbol. Although this film is not as well known as Easy Rider and The Graduate, it shares certain themes with those films that also reflect the time in which they were made. The flashbacks are an effective narrative device that keep the film moving (literally and figuratively) and the photography by Jack Cardiff serves up eye candy that also enhance the film.
Video
The Girl On A Motorcycle appears on Blu-Ray in its original 1.66:1 aspect ratio. The print from which this transfer was derived was in excellent condition. Dirt and debris are virtually non-existent. The video occasionally shows some color fading in the left lower corner but colors are otherwise vibrant. High contrast is the norm with only a few scenes appearing soft, which was most likely the filmmaker's intent for those particular scenes.
The video is described elsewhere in this review as eye candy because Jack Cardiff's style of composing shots is unsurpassed. Cardiff may not have invented some of the psychedelic devices used to experiment with colors in this film but his artistry is most apparent in some of the more subtle shots in the film. Rebecca's frolic on her motorcycle is displayed in an eye-pleasing fashion that would be mundane in the hands of most other cinematographers.
Audio
The DTS-HD mono audio track is more than adequate. The audio is severely lacking in dynamic range, which becomes apparent on a couple of occasions when the music rises to a crescendo, but otherwise fine. Dialogue can be somewhat faint but that is what volume control is for, and the sound effects and music rarely interfere with intelligibility of the actors' words.
Special Features
The special features include the following:
Commentary: Jack Cardiff provides an informative feature length commentary which has been ported over from the 2003 DVD release.  Cardiff gave us all too few commentaries before he passed away so it is nice to have this one included on this release.
Original Theatrical Trailer (0:50): This is one of those situations where one can take the high video quality of the film for granted if one has not seen the condition of the unrestored trailer.
Still Gallery: Still photos and poster art from the film may be navigated with the arrows on your remote control.
Conclusion
The Girl On A Motorcycle is an interesting film that reflects the turmoil of the era in which it was produced. The video quality is very good, even if it never approaches reference quality. The audio is adequate with very few flaws. Special features include the commentary by Jack Cardiff which is recommended if you enjoy the film, as well as a trailer and still gallery. The Girl On A Motorcycle on Blu-ray is recommended to anyone who wants to experience what young people must have been thinking and talking about in the late 1960s as well as for film buffs who want to study how a gifted cinematographer creates his art.