Executive Producer
Reviewer
Joined

Oct 5, 2005
Messages

10,897
Location
Real Name

Matt
Silver Linings Playbook Blu-Ray Review
Silver Linings Playbook is a true rarity in film. It's the romance movie that manages to so effectively capture a storyline that months after the original run, here in late April, 2013, it is still actively playing on local theater screens. Romance films tend to be paint by number affairs. Girl meets boy, boy meets girl, things happen, it almost doesn't work and then it does. But Silver Linings Playbook goes far beyond that – it asks very difficult questions about whether or not a couple SHOULD be together. What it is like to realize that the love of our life may not really be the one for us - and to open ourselves up for the right person. For these characters, it asks the difficult questions about dealing with our inner demons. The scariest question Silver Linings Playbook asks is both simple and frightening: is there really someone out there for us?

Studio: Weinstein
Distributed By: Starz
Video Resolution and Encode: 1080P/AVC
Aspect Ratio: 2.40:1
Audio: English 5.1 DTS
Subtitles: English, English SDH, Spanish
Rating: R
Run Time: 2 Hr. 2 Min.
Package Includes: Blu-ray, DVD, Digital Copy
Disc Type: BD50 (dual layer)
Region: A
Release Date: 4/30/2013
MSRP: $29.99



The Production Rating: 5/5
As many here know, I'm a parent to a significantly autistic child, and for those of us who live – or know those with mental disabilities of all types,
Silver Linings Playbook
borders on a love letter to both our deepest fears and our highest hopes for our loved ones, friends, and family members.
Through the story, we learn that Pat Solitano Jr. (Bradley Cooper) has been involved in a violent event that resulted in him requiring a stay in a mental health facility, ordered by the court. Mandated to take drugs and seek help, Pat looks for a way to return to his life and find some sense of normalcy – a normalcy that he can't quite admit is unlikely to happen. As Pat leaves the mental health facility with his mother, she breaks down and reveals the risks she's taking checking him out, the hopes she has that her child can be redeemed, and the desire that something good will come of his life.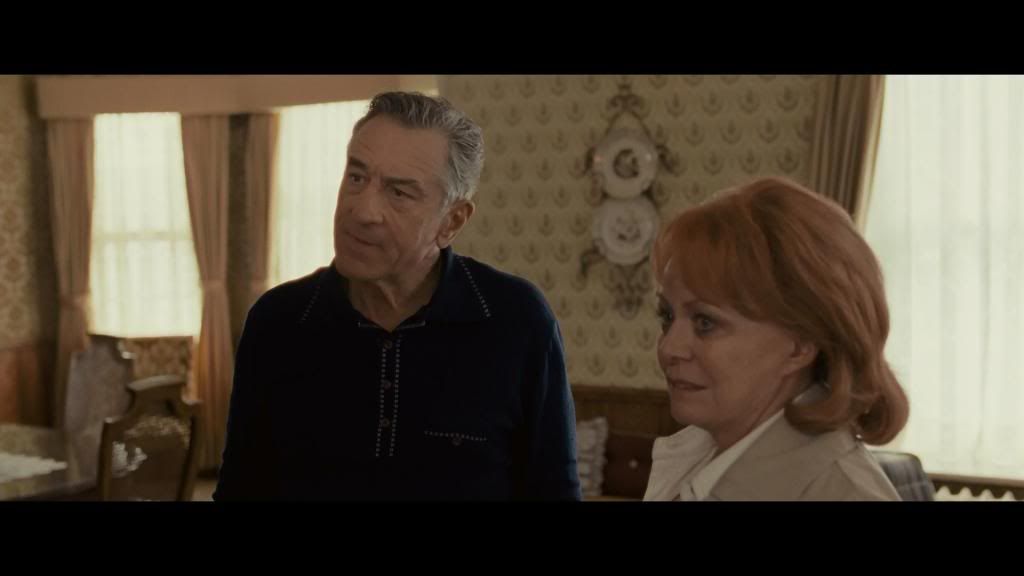 Pat's admission that for years he has been "white knuckling" his undiagnosed bipolar disorder is handled so effectively that you can see for some characters who want to avoid the issue it's something they can't relate to.. but for the doctor and Pat, it's an issue he is coming to terms with.At the same time, Tiffany, a recent widow is struggling with depression, mania and other issues. She has traumatized by the loss of her husband as well as her undiagnosed "weirdness" even before that happened. She blames herself for the outcome of her husband and her following instability and sexual forwardness causes her to lose her job and shut out of the world where she was once an accepted member.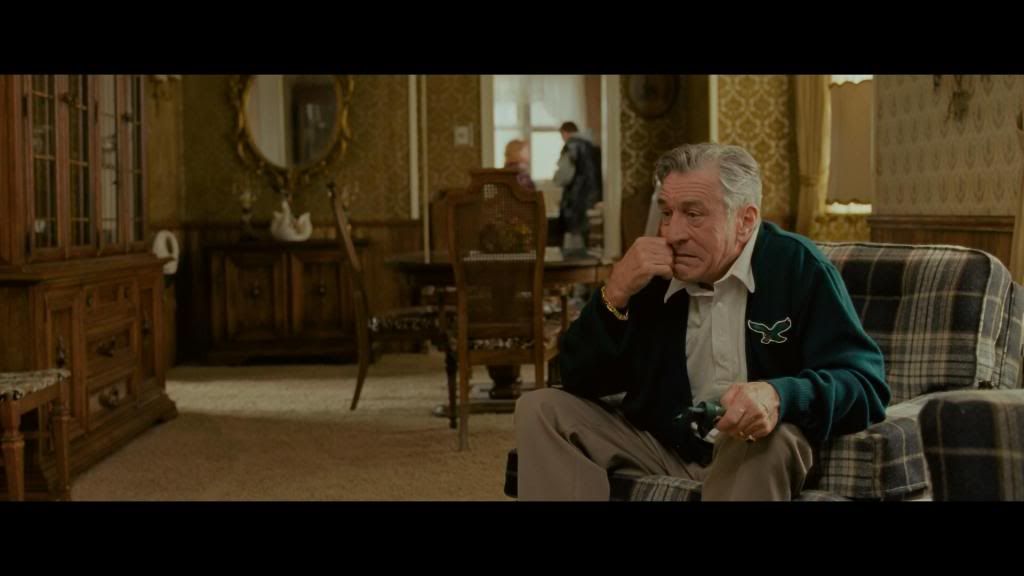 So, when friends know both of these unusual people, what do they try to do? Get them connected. I can't tell you how often you see this in the special needs community. In some ways, it's nice. In other ways, it's a bit demeaning. What Silver Linings Playbook does so effectively is address both issues; it handles the assumption of friends and family members that the only one who can love someone with a mental illness is another person with a mental disability. There is no sugar coating of the bipolar mania, the need for medication, the risks of those who don't follow.. but there is also a real love, not just of the story but of the characters.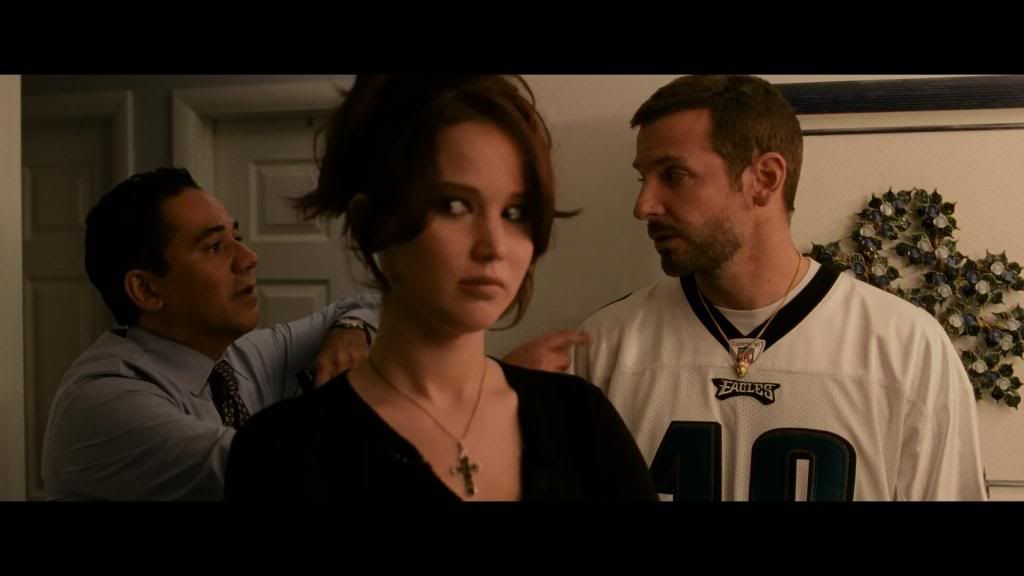 What makes this film so effective for me are the second and third act. In those acts, our characters who suffer from mental illness use unusual leaps of reason, blue-sky reality shaping and so many of the tendencies that anyone who loves someone with a mental disability can easily relate with. These are the things we see in our loved ones, friends, family. The ability in a mind to go from lovable, happy to scary outbursts that remind us that mental illness is very real. For Jennifer Lawrence effective character, we see a woman who needs to feel in control, to change things in her life.. and when she runs into Pat Jr it's by shaping him to become something else, writing him a letter that isn't real. When she meets Pat Sr, his OCD offers her the opportunity to show off her own OCD reasoning and not feel strange. As she rattles through the stats and the odds that she has "observed" we highlight in a way that is so passive the depths of the mental challenges and hangups both she and Pat Sr. face. The conversation is done in such a loving manner that all of the characters in the room – the 'normies' as others would call them are not in any way affected by the back and forth.
Silver Linings Playbook
works on so many levels that for those who know someone with a mental illness to those who don't, you may find something in this film that will make you laugh or cry; it may remind you of all the hopes you have for someone you know, show you the fears, but give you the idea that good things in the end are possible if those people are loved. "Excelsior" says Pat Jr – as a mantra to remind him that good things can happen or him, despite his mental illness.

Video Rating: 5/5 3D Rating: NA
Silver Linings Playbook
is presented in 2.40:1 and encoded in AVC 1080P. Presented in a VBR encode, this presentation is very, very good. David O. Russell uses effective camera work to make us feel as though we are part of the scene, and close ups provide rich detail. Bobbing and loose camera work when we are shooting from the perspective of Pat Jr. give us an idea of the way he helps view the world, whereas rigid tight camera work that moves with great discipline around Pat Sr. feel as though it conveys the life of someone suffering with OCD.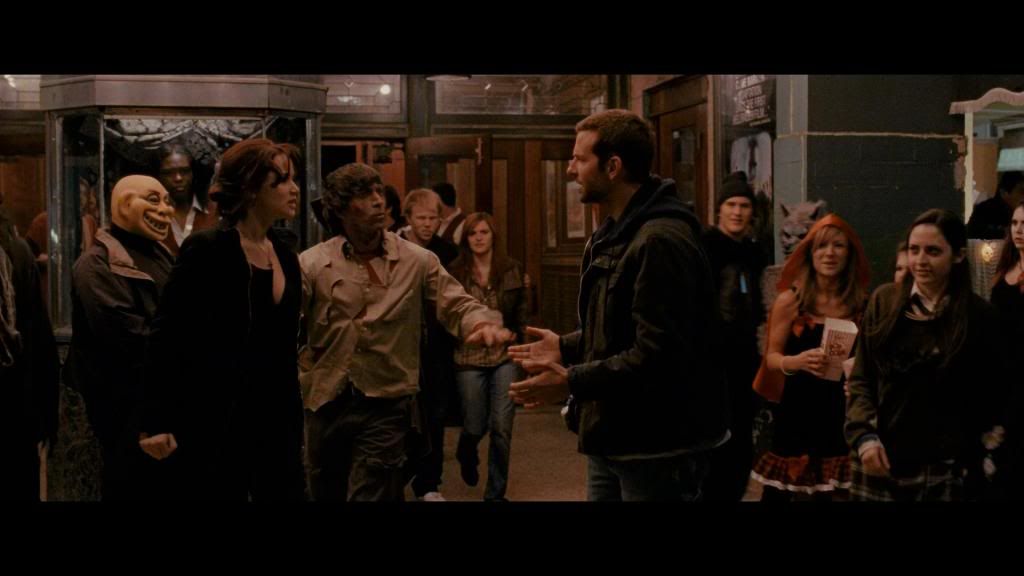 This is a fantastic presentation with no digital issues to report. The beautiful, shot-by-shot ready view of the world in which our characters inhabit is beautiful and really draws the viewer in.


Audio Rating: 4.5/5
Presented in DTSMA 5.1 audio, the presentation is crisp and detailed. No, there are not a lot of scenes that make heavy use of all five channels, but because of that, the scenes that do use your surrounds are really effective. As the Lionell Richie music slowly inches up behind you, you can feel the tension in Pat Jr. rise. When his family cheers or praises him, or when scenes of his rage This is an effective dialog first audio mix that solid and clear dialog and an effective score when needed.

Special Features Rating: 4/5
Silver Linings Playbook
comes with a decent array of extra features. There aren't really stand out items, but each one of these are effective at expanding the film and providing you insight into the creative process that managed to get it off the ground.
Deleted Scenes (1080p; AVC Encode, 26:14) I normally don't go in for deleted scenes, but watching through the deleted scenes gives you a good idea of how much Russell really whittled down this film to get the presentation he was after.
Silver Linings Playbook: The Film that Became a Movement (1080p; AVC 28:37) This is your typical behind the scenes featurette with cast and crew.
Q&A Highlights (1080p; 27:00) This is somewhat disjointed, but a set of interviews cut together that give us a look at the question and answer of cast.
Dance Rehearsal (1080p; 1:22) Bradley Cooper and Jennifer Lawrence walk through their dance moves.
Learn to Dance Like Pat and Tiffany (1080p; 11:45) Mandy Moore provides a look at the scene that compromises the big dance number in the film.
Going Steadicam with Bradley Cooper (480i; 00:56) a fairly silly insert that follows Bradley Cooper pretending to be a director/cameraman.

Overall Rating: 5/5
2012 was a surprisingly good year for films. I have told several people that even beyond the best picture nominees, there were some great works at the theater that really told a story well. As a Best Picture nominee, it goes without saying that
Silver Linings Playbook
is a great film. But years from now, it's love stories and personal stories that will are most open to a rewatch that still works.As film fans, most of you who read this forum are in the group that will be amongst those who buy just to collect. But
Silver Linings Playbook
should attract people who don't just buy to collect, but buy for value. I say that because this is one of those films you will stick in your library and break out to watch more than once, and enjoy it every time. There isn't a higher recommendation I can give for a film than that.
HIGHLY RECOMMENDED

Reviewed By: MattCR

Support HTF when you buy this title:

Click here to view the review