Reviewer
HW Reviewer
Senior HTF Member
Joined

Oct 5, 2005
Messages

10,897
Location
Real Name

Matt
Joni Mitchell: A Woman of Heart & Mind / Painting with Words and Music SD-Blu-Ray Review
It isn't often that an artist can reach out into the audience and inspire them to do more than dance and sing along. The first time I listened to Joni Mitchell I was in high school. My introduction was the album Blue, in the days when records were played on record players and the drop of a needle brought music into your house. I had always been a fan of singer/songwriters, and my parents who were long fans of folk music would mix in Joni with the likes of Paul Simon, Crosby Stills & Nash, and so many more. I loved all of it. Their albums built my high school love for music, concerts, and the experience of hearing great music.

Studio: Other
Distributed By: Other
Video Resolution and Encode: 1080I/AVC
Aspect Ratio: 1.33:1, 1.78:1
Audio: English 5.0 DTS-HDMA, English 5.1 DTS-HDMA, English PCM 2.0
Subtitles:
Rating: Not Rated
Run Time: 1 Hr. 31 Min, 1 Hr. 36 Min
Package Includes:
Disc Type: BD50 (dual layer)
Region:
Release Date: 03/25/2014
MSRP: $24.98



The Production Rating: 4/5
As years went by, I gravitated to the works of artists who followed in those footsteps; artists like Kate Bush, Tori Amos, etc. All of these artists drew on something radically different, but I could listen to a record by any of them and tell you that this wasn't someone just hammering out a recording just to sell; at their best, they injected so much of themselves into the music that you could listen to an album and imagine how they felt when they wrote the lyrics.
I can remember those experiences twenty years ago like they were yesterday, breaking up with a college girlfriend, listening to the song 'Blue' and thinking damn, does this speak to me. Joni Mitchell has that impact on people who love her music, who respect her not just as a singer-songwriter, but a poet of the life experience.Over the years, I've collected all of Mitchell's work. 2014 has marked a year of major releases for Mitchell. In January, she released 'Complete So Far', a fantastic guitar songbook that gives you the heart of all of her works. When Joni Mitchell Blu-Ray was announced as part of her 2014 promotions, I was immediately interested. What interested me most about this disc was that it accomplished something I've suggested Blu-Ray companies do more of: compile multiple SD sources on one Blu-Ray.
In the case of Joni Mitchell, this allowed the studio to put together two fantastic works and make a Blu-Ray that is an absolute crash course for those who only know a little bit about Mitchell. The disc begins with the PBS
American Masters
episode from 2003 devoted to Joni Mitchell. The documentary is straightforward and done in a way that tells not just Joni's story, but the story of her impact on other artists and the world. Mitchell's story is a complex one, a young girl who battled through polio; a young woman confronted with a bad marriage; having to give away a child into foster care and suffering the normal self-doubt and worries about the world.
A Woman of Heart And Mind
is more than a simple recounting of events in the life of an artist. As we follow her life we reach a moment of real redemption for Mitchell, who finds her long lost daughter near the end of the film.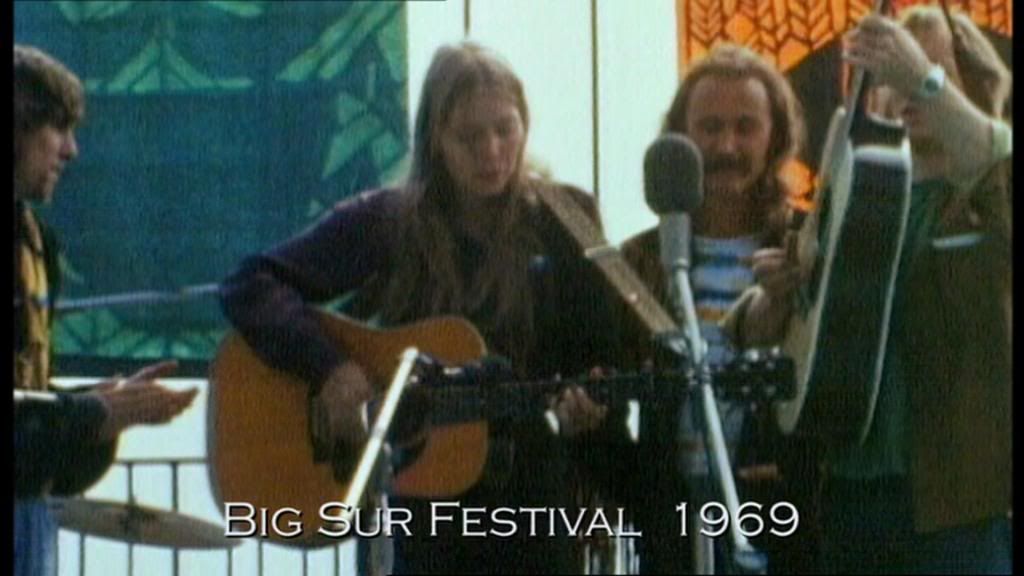 The 11-year old documentary doesn't include any newer songwriting projects or her recent paintings since 2003, but it gives everyone a crash course on who Joni Mitchell is and why so many other artists are influenced by her.
The second program on this disc is
Painting With Words and Music
. This 1988 concert features Mitchell and her band covering a lot of the music that draws people to her. I will admit, there are quite a few songs I wish she had done in this concert – but doesn't every fan want the big numbers? Still, the performances are a big part of why people go to see an artist like Joni Mitchell. Too many acts perform a concert in a way that my father would call a record drop. If you played the record in the background, you couldn't tell the difference. My father once told me: "A great artist brings something new to every performance because their feelings and thoughts won't be the same when they perform." Mitchell's performance in this concert captures all of that emotion with Larry Klein on bass and Greg Leisz on guitar, Mitchell provides a unique feel for the music that stands apart from her albums and gives the audience a unique experience.
The Song List:1. Big Yellow Taxi2. Just Like This Train3. Night Ride Home4. Crazy Cries of Love5. Harry's House6. Black Crow7. Amelia8. Hejira9. Sex Kills10. The Magdalene Laundries11. Moon at the Window12. Facelift13. Why Do Fools Fall in Love?14. Trouble Man15. Nothing Can Be Done16. Song for Sharon17. Woodstock18. Dream Land

Video Rating: 2.5/5 3D Rating: NA
I really have to commend Eagle Vision. They are doing something I have long campaigned for, releasing SD content on BD. They make no bones about it, it's clearly labeled on the disc as "SD on BD" in a big bold note. In order to accomplish this, both works have been upconverted I would assume to 1080I. This has resulted in some interesting issues. In the case of
Woman of Heart
, it mostly looks pretty good. Photos and some interviews look solid. Older, archive footage, however, has a tendency to look blocky, sometimes to the point that facial features and other details cannot be recognized. What bothers me more about this conversion though is that on
Woman of Heart
there is a tendency to flicker like a tear-away in the bottom right hand corner. I had wondered if this was an issue of my display, but the issue shows up in every display device I've tried, from my Panasonic 1080P Plasma to a Sony 4K 600ES and an Acer 6510. Since the problem follows on all output formats through multiple players (Oppo, Samsung Blu-ray players and MKV transfer played) I have to assume it's an issue with the encode or source material. Regardless of where the problem stems from I can't help the fact that it is a real annoyance.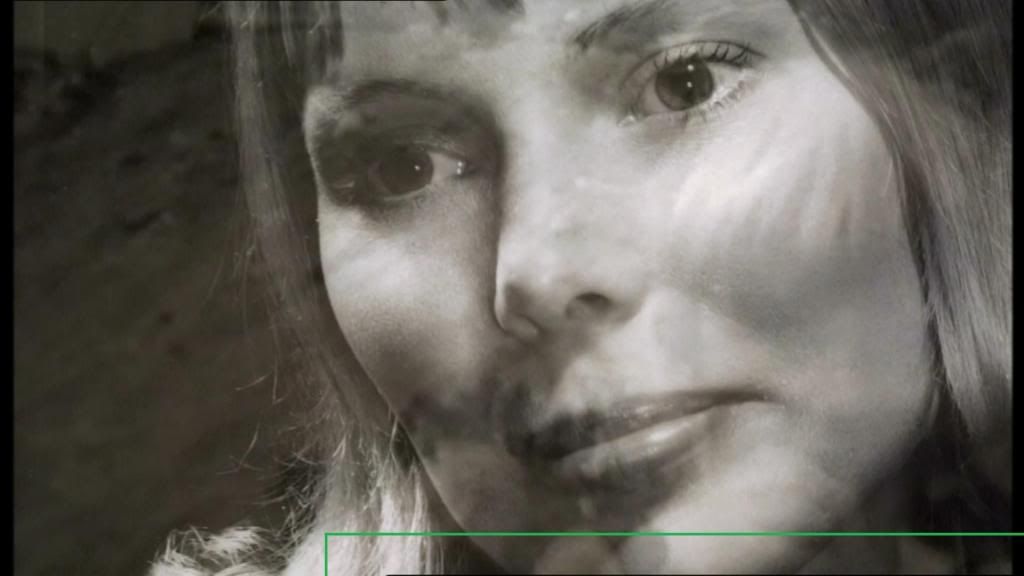 Notice the light black line that begins in her hair and extends to the far right of the screen? It shrinks, grows, tears up and down during performances.. and on a 144" screen, it's completely annoying.
The performance contained within
Painting With Words and Music
is also an upconvert to 1080I. This is an older performance that largely shows its age. Color saturation and general blurriness makes me think of a camera lens coated with vaseline.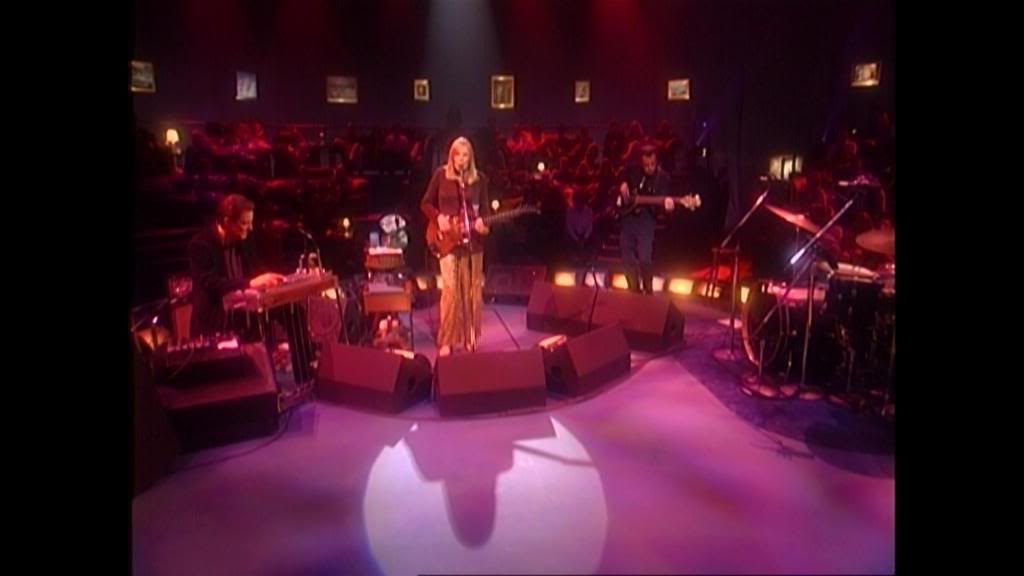 It is difficult to watch, and if it weren't for the fact that I now have this performance again in a better format, it would probably be a '1' or '1.5' on the video quality scale.


Audio Rating: 3/5
Audio on this disc is presented in two formats: LPCM 2.0 and DTS-MA 5.1/5.0. After listening through both, I cannot recommend the DTS-MA 5.1/5.0 mix for either title. The LPCM 2.0 mix correctly handles the presentation and in the case of the documentary, there is almost no point at all in a 5.1 mix. That said, the DTS-MA mix on
A Woman of Heart and Mind[/background]
strikes me as just wrong. Outside of the fact that there are glitches which occur far too often, the mix provides a soundstage that just doesn't sound real. It reminds me far too much of setting a stereo track to any of the DSP presets on a receiver.
If this title only provided the DTS-MA soundtracks, I would likely view this title as a near disaster and give the audio quality a 1 or a 1.5. The LPCM track, however, manages to correctly capture these performances without any of the issues that plague the DTS-MA versions. If you buy this disc, chose the LPCM version, every time. As the default audio track, the DTS-MA version will cause quite a few buyers to have a bad feeling about this disc that can be rectified by switching your audio track.

Special Features Rating: 1/5
This disc doesn't have an extras menu, segmenting the two titles right from the root.
Interview Outtakes 14:58, 1080i
. These segments are pulled from
A Woman of Heart and Mind
and accessed inside that menu. These interview outtakes are snippets of Joni discussing a little bit of everything.

Overall Rating: 3/5
If you are a Joni Mitchell fan like I am, you're going enjoy this release. The music remains as beautiful as you remember and the documentary is an insightful add on. The PBS documentary is insightful and touching. The studio went out of their way to do the right thing and put together SD content for people who want an all-in-one disc.I wanted to recommend this disc, but I find that too many flaws prevent that. The problems with this disc though are numerous and I can't overlook them. Visual tearing from an upconvert, a bad DTS-MA audio mix and no extras or any updated content make it hard for me to recommend this to anyone except die hard Joni Mitchell fans.

Reviewed By: MattCR

Support HTF when you buy this title: