Reviewer
HW Reviewer
Senior HTF Member
Joined

Oct 5, 2005
Messages

10,897
Location
Real Name

Matt
Escape from Planet Earth 3D Blu-Ray Review
There are very few sure fire money makers at the box office these days. This summer has seen to that, several successful films done with no real cast, and a few big cast films that didn't live up to the blockbuster status people believed was coming. Animated films seem to many studios as a near sure-bet. They may have a real expense, but they generally perform well in the theater, sell toys, and they sell well on DVD/Blu-Ray/Digital after. There is no doubt that that kind of thinking drives forward the formula behind Escape from Planet Earth, which manages movie moments a bit like a check list. Despite it's formulaic structure, storyline and characters, Escape from Planet Earth is going to end up in a lot of 3D Blu-Ray collectors because, like many of those animated films, the 3D effect is very good.

Studio: Anchor Bay
Distributed By: Anchor Bay
Video Resolution and Encode: 1080P/AVC, 1080P/MVC
Aspect Ratio: 2.39.1
Audio: English 5.1 DTS-HDMA
Subtitles: English, English SDH, Spanish
Rating: PG
Run Time: 1 Hr. 29 Min.
Package Includes: Blu-ray, 3D Blu-ray, DVD, Digital Copy, UltraViolet
Disc Type: BD50 (dual layer), DVD-9 (dual layer)
Region: A
Release Date: 06/04/2013
MSRP: $39.99



The Production Rating: 3.5/5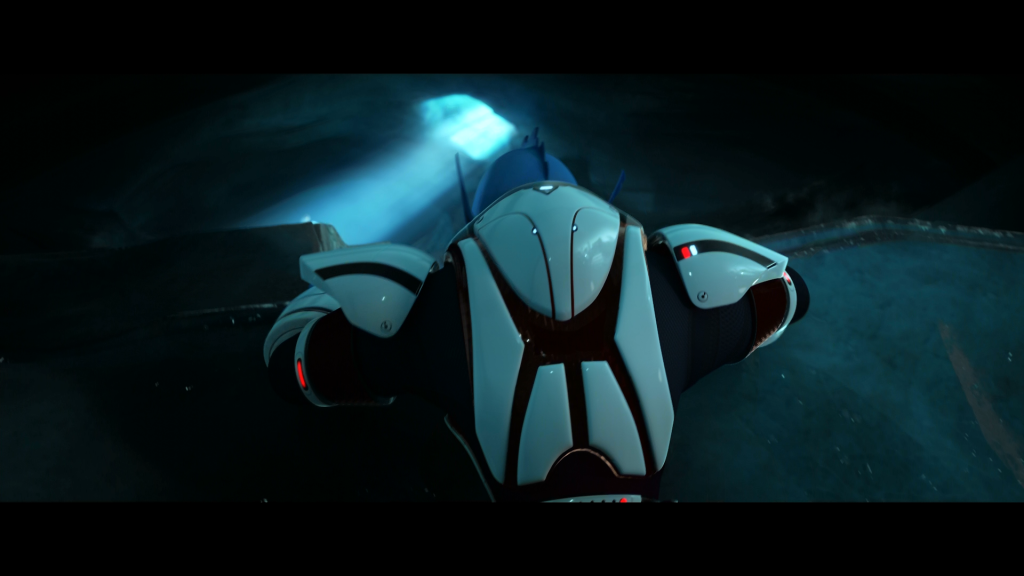 The storyline of
Escape from Planet Earth
could be thought of as taking several other movies, throwing them in a blender, and seeing what pops out. A combination of any of the Buzz Lightyear films plus Monsters Vs. Aliens and a dash of MegaMind, and you've got it. Here, Scorch (played by Brendon Frasier) a bumbling hero who is over-appreciated by his own planet and his brother, Gary (played by Rob Corddry) who is under appreciated.
Escape from Planet Earth
begins with a premise and style that made me rethink how I would write this review. I knew that I wouldn't be able to fairly judge this film without kids present, so I watched the film with my two boys (13 & 12) to see what they thought. Watching an animated film with kids gives you a different perspective on it. Several of the key gags, which I thought were "OK" really worked for my 12 year old. My 13 year old was slightly outside the window of the age group that this film may attract, and both of them commented that it seemed aimed at 'younger kids'.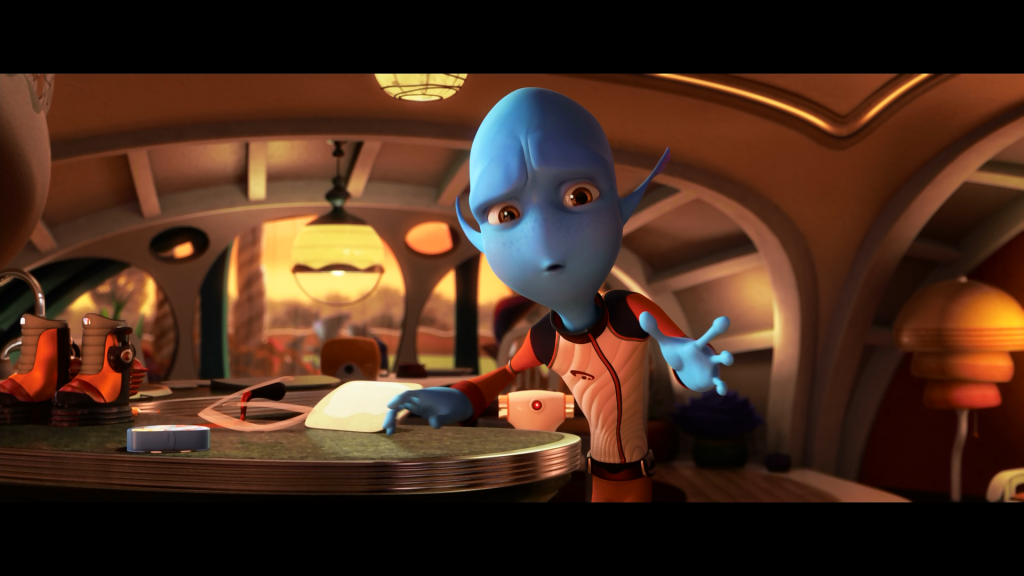 I think that's probably a fair assessment. Recently, in taking the kids to see "Monsters University" (which they both enjoyed), we sat through trailers and they were able to instantly pick out films they thought looked "cheap and terrible". A real endorsement for "
Escape from Planet Earth
" is that it doesn't fall into that category; while not an original major production from Pixar or Dreamworks, this doesn't fall into the category of completely forgettable or downright terrible.This isn't a contender for a film that becomes an instant classic, but if you're willing to accept a generic storyline fairly well done, it accomplishes that while giving you plenty of eye candy to go with it.

Video Rating: 5/5 3D Rating: 5/5
2D
This disc has a typical animated feel of being clean, smooth with bright and vivid colors. The unique color design and film layout is truly stunning, giving the 2D image a feel that exceeds anything I had expected. Frankly, this is a homerun that sits on par with anything from Disney, Pixar or Dreamworks in regards to the color quality and look. Presented in 1080P with the AVC CODEC at an AWBR of 33.9Mbps (Peak of 35Mbps), the presentation here is remarkable. Blacks are deep and rich, colors are presented in a way that keeps your eyes at full attention and feels inventive. This is a pleasure to watch. The characters have the smooth, blue surface that seems borrowed directly from MegaMind, but it's the light use of texture and shadowing detail that give them a form that when presented in 1080P really stands out. There are a lot of people who are going to use this disc as a reference presentation for projectors and displays.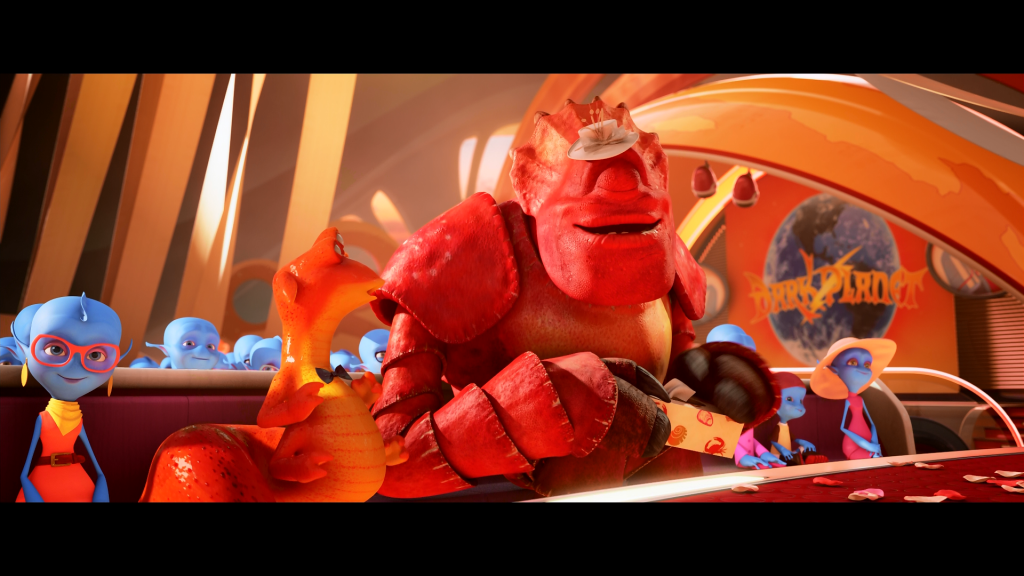 3D
The 3D disc kicks off with a bang; as the credits roll, snow comes falling through the screen, and breaks the black bars of the 2.39 presentation, effectively making use of a full display to add to it's 3D effect. With an AWBR of 33Mbps, this is a great looking presentation. The 3D effect seems to come and go throughout this title, but is done to great successful effect often enough to make the 3D design interesting and unique. Several effects, from shattered glass to space presentations are a lot of fun; but it is the subtle use of shadows and character movement that make the 3D in this really work for me. Throughout the film, small 3D effects are constantly within your field of vision that provide not just depth, but an extra level of unique animated detail that breathes life into these characters. This is one of the better 3D presentations I've seen, leading my oldest son to comment "the 3D is the best part".
DVD
While this will have no impact on my rating for quality, I did want to mention the DVD. A title like this really stretches MPEG2 far beyond its limits and with
Escape from Planet Earth
it shows. The unique texture and surfaces that help make the Blu-Ray and 3D Blu-Ray really stand out are somewhat of a detriment in the DVD presentation, they simply don't turn out well and make the characters look as though they have been through a light level blur-machine, almost as though someone using home tools put a Photoshop filter on them. The DVD strains to get the detail and image across, but I mention this DVD because it may stand out as a great disc to use if you have friends who wonder: "what is the difference, really, between Blu-Ray and DVD". A quick back and forth of this disc vs. the blu-ray clears that argument up very quickly.


Audio Rating: 5/5
The opening sequence and title sequence gives you a bit of a pause in reference to audio quality. It sounds fantastic, but the music score and sound design sent my mind propelling backwards to the era of Don Bluth productions, using b-level music numbers to prop up a film. But after the original opening, I was drawn into how large the soundscape for this film remains throughout the film.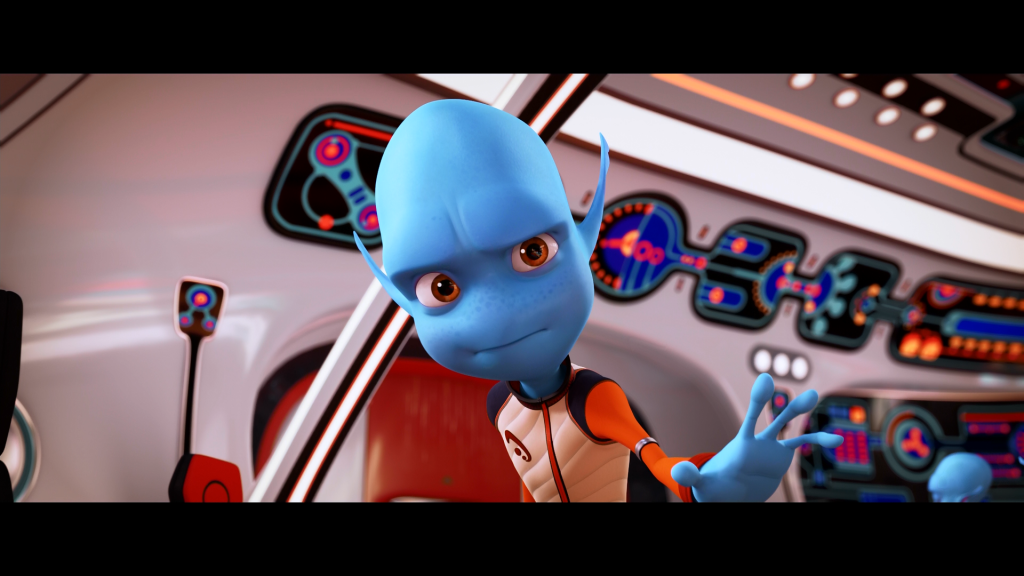 Taking full advantage of DTS-MA 5.1, Escape from Planet Earth gives you an audio stage that completely fills your room. Spaceships zoom behind you; creatures run through your livingroom, and small audio signals from computer beeps to running characters can find themselves placed anywhere in your home theater. Instead of being distracting, this sound design makes the film come alive and will be a good reason to keep this disc as a reference in your home theater.

Special Features Rating: 2.5/5
Extras are presented on the 2D Blu-Ray only. There are no extras, outside of 2 trailers, on the 3D Blu-Ray. I assume this was done in order to make sure the only content on the 3D Blu-Ray was 3D, combining the film with 2 3D Trailers. While this may be a logical choice and the direction by which studios go, I do wish they would reconsider, as the 3D disc had plenty of room for all of the extras. But even if the studio decides that the extras should remain on a 2D presentation, it makes no sense to me that the Director's commentary exists only on the 2D disc, as the 3D disc is also devoid of this audio track.The extras as provided on the 2D Disc are:
Audio Commentary
: Director Cal Brunker gives us a look at the background of the film, how it went from storyboards through production, what brought it together and issues along the way. There isn't anything in this commentary that is a real wow factor, and the director at times moves too quickly from subject to subject that I found myself lost as to the direction he was going.
The Making of Escape from Planet Earth
(HD, 1080P, AC3 2.0 Audio 21:15): A pretty generic behind the scenes look at the film, interviews with cast members.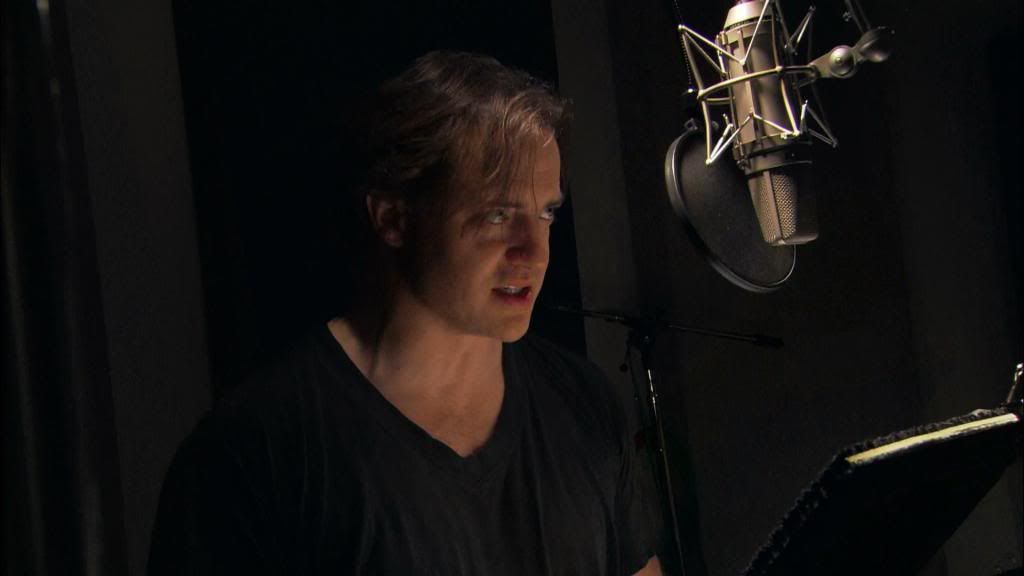 Alternate Takes & Deleted Scenes
(HD, 1080P, AC3 2.0 Audio 3:53).13 deleted scenes or alternate takes from the film. These are actually all in full production, so these aren't a combination of storyboards or rough animation, instead they look like finished product that just didn't make the cut.
How to Make an Animated Feature with Director Cal Brunker
(HD, 3:43):
Music Featurettes
(HD, 1080P, AC3 2.0 Audio,11:10): "Shooting Star" Owl City Music Video, Delta Rae "What Matters Most,", and Cody Simpson Performs "Shine Supernova".Also included on both discs are trailers for
Hoodwinked Too
and
Spy Kids: All the Time in the World

Overall Rating: 4/5
Quite a few 3D TV owners will find this disc a must buy, if only for the use of the technology and a few of the unique effects that really work on this disc.. I can imagine people winding back to watch the snow, the glass break and the 7-eleven fight over and over again to show their friends. But putting aside the 3D effect, the film isn't half bad. This is a cute romp that will play pretty well with younger boys and girls that want a decent buddy/action film with a good heart. The story here is repeated often, family sticks together, value your friends, etc. but that doesn't mean that it can't be done well. There is real value here, as well. While MSRP is $39, you can easily find this title for less; and considering you receive the BD, 3D-BD, DVD, an UltraViolet Code and a Digital Copy DVD, that's not a bad bang for the buck.
Solid Recommend.

Reviewed By: MattCR

Support HTF when you buy this title: