Reviewer
HW Reviewer
Senior HTF Member
Joined

Oct 5, 2005
Messages

10,897
Location
Real Name

Matt
Doors R-Evolution Blu-Ray Review
I'm sure many of you have figured out that those who review for HTF put in requests for the kind of blu-rays we would be interested in reviewing. It gives people a chance to review content that the may have insight into, or just things we appreciate. It is not a secret that anytime there is a concert Blu-Ray, or a music focused blu-ray, I leap all over it.When I was younger, travelling to see concerts was a great joy.. in a year, I could take in 50+ live shows, one a week, sometimes more, because seeing an artist perform live was such a wildly different experience than listening to an artist on a record. It easily sorted out for me artists that were one of a kind, and 'studio' artists who were produced to receive the specific results they could barely recreate live.The Doors had exited the musical world before I was born, unfortunately, but I always appreciated Morrison's lyrical work and the production values of the band. Over the years, I've collected authorized bootleg releases that the studios have put out, "Live from" productions and several of the Doors documentaries. The Doors as a bad fell into the camp of an artis where the live experience was very different then the studio album - sometimes for the better, sometimes not, but it was always a one of a kind experience.With the release of R-Evolution on Blu-Ray, a full compilation of so many of these products are put together... but let's talk about what you get.

Studio: Other
Distributed By: Other
Video Resolution and Encode: 1080I/AVC
Aspect Ratio: 1.33:1, 1.78:1
Audio: English 5.1 DTS-HDMA, English PCM 2.0
Subtitles:
Rating: Not Rated
Run Time: 1 Hr. 17 Min.
Package Includes: Blu-ray
Disc Type: BD50 (dual layer)
Region:
Release Date: 01/21/2014
MSRP: $19.98



The Production Rating: 4/5
Many Doors fans have seen most of these videos seperated out at different points. What this compilation really does is compile them all together, one after another, often giving you a sense of how different the same song could sound if played in a different environment.The official track list is:1. Break on Through (To the Other Side) – Music Film – January, 19672. Break on Through (To the Other Side) –
Shebang
– March 6, 19673. The Crystal Ship –
American Bandstand
– July 22, 19674. Light My Fire –
American Bandstand
– July 22, 19675. Light My Fire –
Malibu U
– August 25, 19676. People Are Strange –
Murray the K in New York
– September 22, 19677. Moonlight Drive -
The Jonathan Winters Show
– December 27, 19678. The Unknown Soldier – Music Film – February, 19689. Hello, I Love You –
Musix für Junge Leute: 4-3-2-1 Hot and Sweet
– September 13, 196810. Touch Me -
The Smothers Brothers Comedy Hour
– December 15, 196811. Wild Child – Music Film – July, 196912. Roadhouse Blues – Music Film – February, 197013. Crawling King Snake –
GTK (Get to Know)
– December, 197014. The Changeling – Music Film – April, 197115. Gloria – Music Film – October, 198316. People Are Strange – Music Film – 1980s17. Strange Days – Music Film – 198418. L.A. Woman – Music Film – 198519. Ghost Song – Music Film – 1995As noted in their press release. So, why does this production have value? Because, frankly, this is the Doors presented as I have never really heard them before. There is an incredible amount of work done on some of these songs and videos. While presented in the original 4:3 format, the presentation looks better, the sound quality is better and the method in which this is compiled really stands out. I'll talk about some of this in the audio section.

Video Rating: 4/5 3D Rating: NA
The problem with a Blu-Ray that relies on the original video as recorded in the 60s is that criticism of video quality fails to really address that you cannot go back and shoot the video with a different camera. You can't change the format, improve the lighting. You can't go back and ask them to perform or wear different clothes/etc. But what you can do is present the film as clean as possible, often better than anything that has prior circulated.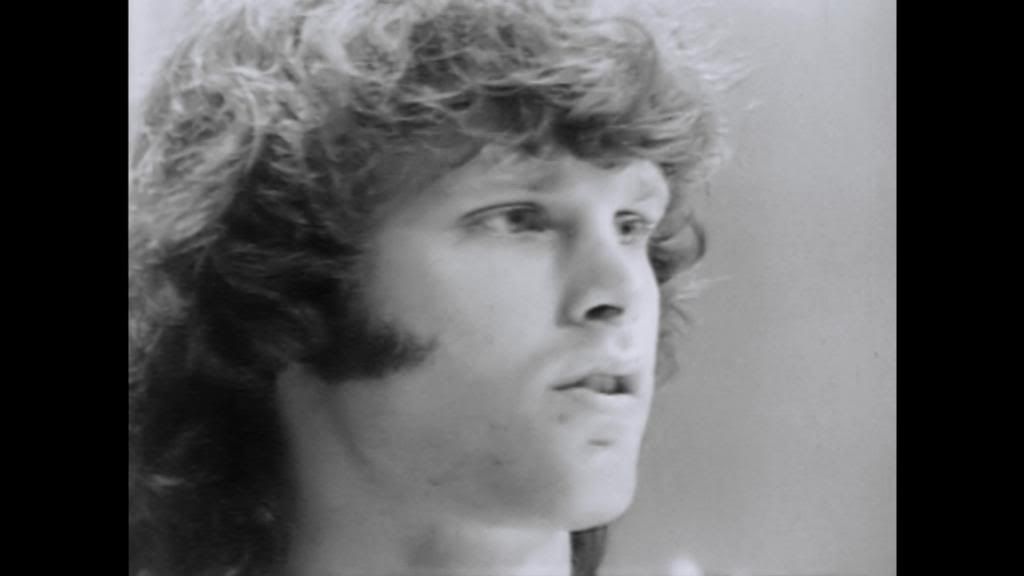 Some of the performances presented on this disc have roamed the internet (*cough* Youtube *cough*) for years, but they have never looked as good as they do here. This doesn't mean that hte video is razor sharp or that detail is incredible, it just means that as far as the production value goes, this is likely as high a quality production of originally recorded Doors material as I have ever scene, and that deserves some respect.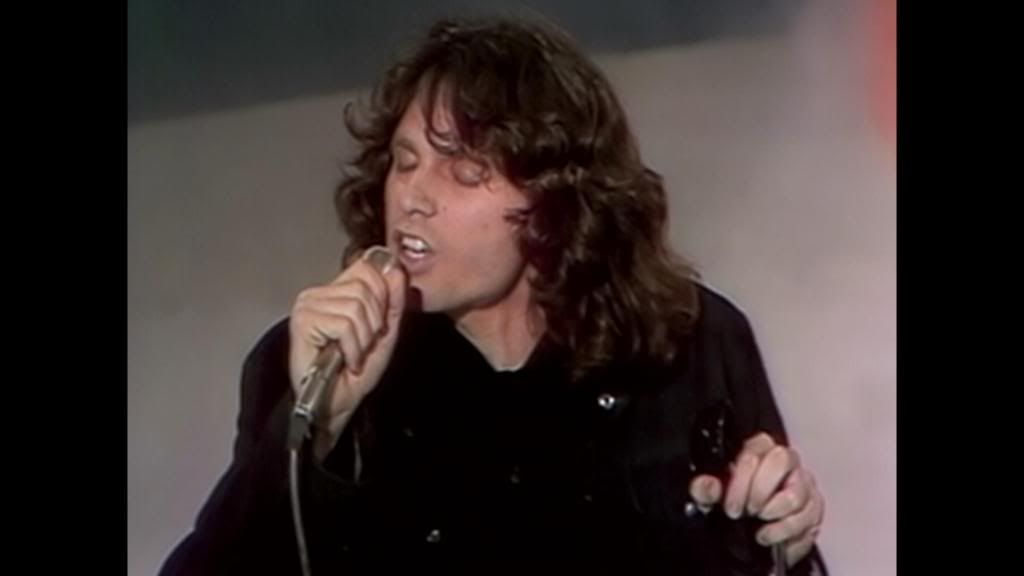 Audio Rating: 5/5
And this is what sets apart music discs. When I review a concert Blu-Ray, or a production of music, I often ask: does this suck me into the music? Does this provide me something unique that I haven't heard before. There are a few Blu-Rays Concert discs I go back to to demonstrate a blu-ray concert done in a way that surprises me. Peter Gabriel. Shakira. Those discs catch me because some of their best material is reworked, re-arranged, or unique in a stage performance to make it an experience you can't have otherwise.I normally find myself favoring the stereo productions of concerts because it tends to reflect the way I hear it, though there are a few discs that use DTS 5.1 to really get you into the arena.The Doors R-Evolution uses DTS MA 5.1 in a way that just stuns me. It provides a completely new mix to the music that doesn't tamper with the original sound but sucks you into the song in a way I can never remember. Upon listening to "Unknown Soldier" I was blown away as the sound of bells filled and resonated the room, chants and audience behind me. Effects coming from the rear right. It was the Doors as I had never heard it before, and it was obviously done with a great deal of attention.There is something great and moving about music that you can't always get from a story alone. It's why I have always loved great musicals, and why I can appreciate great artists through their music. But as I sit tonight and re-watch this again to make sure I can express how I feel about it, I'm struck by listening to Wild Child and having the drums shoot from the left rear as Morrison pounds away, as he drifts off and you focus your attention back to his verses you get almost situated - until the final rimshot comes in the left rear.It is a dizzying, fantastic sound mix that makes the LPCM 2.0 audio mix sound puny, underpowered and irrelevent. It is the first time I have listened to something not specifically designed for 5.1 but recut in 5.1 and thought: someone who loves this music put this together.There isn't a Doors fan who won't want to hear so many of these numbers redone in a way that brings excitement to the unfortunately short career of Jim Morrison and the Doors.

Special Features Rating: 5/5
Love Thy Customer (Music by The Doors (1080i; 25:06) A promotional video surrounding the Doors and other up and coming music of the sixties. This is great fun, and if you watch it with a very sarcastic mindset, you'll find yourself laughing at some of the (unintentionally) funny moments.
Outtakes: Malibu U 1967 (1080i; 1:06)
Break On Through (To the Other Side) (1080i; 5:10) As performed at Isle of Wight Festival in August, 1970. I think this did not get included into the main content as the sound remix on this is not in the same boat as the rest of the music included on this disc. Still, completists will want to watch.
Breaking Through the Lens (1080i; 47:13) Members of the band and others go back and discuss the impact of the Doors. There are some great interviews here, and if you're a Doors fan, it's worth the watch.
While I list these as 'Special Features' It's hard to seperate on this disc what really constitutes special features and what is the main presentation. If someone were to tell me that Breaking Through the Lens was the main thrust of this Blu-Ray, and that the music videos supplied helped flesh out the story, and that they were the special features, I would be hard pressed to argue. There is definitely more structure in thinking of it that way.But it is that level of rich detail that makes this disc really exceptional for those who love the Doors. From beginning to end, in every area of this disc you will find something that can open your eyes, blow your hair back and put you in a mood to remember some great performances.

Overall Rating: 5/5
If you are a Doors fan, you have probably run out and purchased this title already. If you only remember the Doors from a few moments here and there, this performance compilation may not be in your list of 'to own' but it should be. Not because the music is fantastic; admittedly, not every Doors number is 'great' in my book. But because as a way to present music this is a supreme effort to provide the home theater market with that unique experience you can't get anywhere else. It smashes you in your chair and lets you re-imagine the music.The extras provide not just context to the music of the Doors, but it gives you a look at the history of American Music post the musical revolution that the Brits and others brought to the states.In the grand scheme of the things, the Doors were a short lived band. They were far more famous after Morrison's death then before it. That, however, doesn't mean that there isn't something unique about sitting back and listening to some of these performances and respecting the vision that went into it, and the special features provide that hand holding that lets you not just hear the music, but engage the artists behind it.This is a slam-dunk blind purchase, even as a blind buy. This sells cheaply at places like Amazon (link below) and if you want to hear music that has been re-imagined with artists input for 5.1, this is a showcase piece.As the claps ratchet up in my rear channels during 'The changeling' and I sit in my theater writing this up after having played through this disc several times over the past few days, I've got to tell you, give my wife a Bic lighter and change the smell of our room to a bit more reminiscent of so many of the concert halls of my youth and you've got the kind of experience that is everything a music loving, home theater owner could ever want.Big Kudos to EagleVision for their efforts on this work.
HIGHLY RECOMMENDED

Reviewed By: MattCR

Support HTF when you buy this title: