Joined

Dec 9, 1998
Messages

47,656
Reaction score

23,788
Points

9,110
Location
Real Name

Robert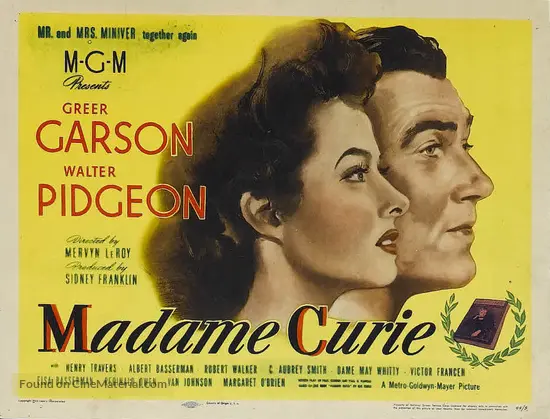 One of today's viewings was "Madame Curie" (1943) starring Greer Garson and Walter Pidgeon. A good biopic that I hadn't seen in many years. The video presentation on the TCM app was damn good as it looked better to me than the 2007 DVD. Of course, the movie shortcuts some of the scientific details of this married couple that happened to be great scientists that discovered radium. Even with that shortcoming, I think it's a really good film with Oscar nominations for both stars. A couple of young actors, Robert Walker Jr. and Van Johnson were also in the movie in supporting roles.
My second viewing was "The Secret Six" (1931) starring Wallace Beery, Lewis Stone, John Mack Brown, Jean Harlow, Clark Gable, Marjorie Rambeau and Ralph Bellamy. The movie is a pre-code crime film in which the dialogue and and film execution was rather clunky to me. With that said, there are some funny lines in Frances Marion's screenplay. Also, I remembered that Marion was married to this film's director George Hill. Anyway, the movie does have its moments, but it's the great cast that always made this movie memorable to watch as some of the actors were so early in their acting career. It always cracked me up seeing Ralph Bellamy in this film
playing a gangster with a scar on his face. I see him in that role then I remember that funny line from Cary Grant about Bellamy in "My Girl Friday" when he told that bleach blonde to set him up for being a masher.