Reviewer
HW Reviewer
Senior HTF Member
Joined

Oct 5, 2005
Messages

10,897
Location
Real Name

Matt
Atlantis (BBC) Blu-Ray Revew
BBC Television is known for period dramas Downton Abbey and Call the Midwife, standout shows that have garnered huge followings in multiple countries, the United States being among them. But when I think of BBC programming, I think of a very different kind of television program, thanks to producer Johnny Capps. Capps creates television programming that can best be described as 'fun' – semi-serialized programs whose sole purpose is to entertain. While other BBC shows deal with complex moral struggles and the functions of social stratification, Capps' programs are very black-and-white, straightforward stories of good guys vs. bad guys.

Studio: BBC
Distributed By: N/A
Video Resolution and Encode: 1080P/AVC
Aspect Ratio: 1.78:1
Audio: English 2.0 DTS-HDMA
Subtitles: English
Rating: Not Rated
Run Time: 45 Min per Episode
Package Includes: Blu-ray
Disc Type: BD50 (dual layer)
Region: A
Release Date: 03/18/2014
MSRP: $39.98



The Production Rating: 3.5/5
Part of Capps' success comes from unbelievably solid casting, with a knack for spotting early talent In
Atlantis'
swords and armor adventure, fresh-faced actor Jack Donnelly plays Jason, a man of our time who finds himself journeying to the past to discover the legendary city of Atlantis and its era of mythology. Donnelly starts the series out rough but he really grows into his role as the series moves on. As my 14-year old would say, "It's action TV," and while you won't be dissecting the actors' every move, the show's popcorn entertainment can be a real blast. The show struggles a bit in early episodes finding a story you can latch onto. The opening setup is solid but the show struggles in the first four episodes to really make an impression. Jemima Rooper as Medusa however has no problem making an impression from the first moment she hits the screen.I wish I could say the season improved its storytelling as it went on but that would be a lie. There are some standout episodes though. By the time I reached "Pandora's Box," which was a really great installment and built on "The Furies" fairly strong lead-in, I thought the show had found its voice and would be a fun ride until the end. But after sitting through "Hunger Pangs," all I could think of was the infamous "Beer Bad" episode from
Buffy the Vampire Slayer
and wondered how the season would finish. Thankfully, the "Touched by the Gods" final episodes were the best of the bunch, setting up a lot of swashbuckling fun for seasons to come. Once I was finished, I looked at Capps' other vehicles, specifically
Merlin,
which I enjoyed, and realized that if this is the starting point for
Atlantis
, I am probably in for its full run.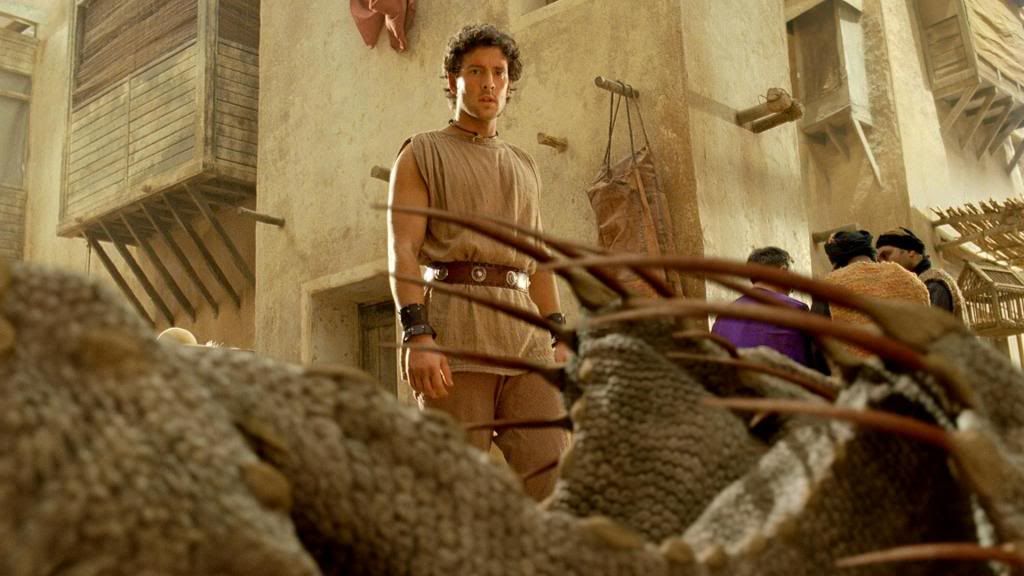 The first season of
Atlantis
includes:
Earth Rules
A Girl By Any Other Name
A Boy of No Consequence
Twist of Fate
White Lies
The Song of Sirens
The Rules of Engagement
The Furies
Pandora's Box
The Price of Hope
Hunger Pangs
Touched By the Gods: Part One
Touched By the Gods: Part Two

Video Rating: 4/5 3D Rating: NA
Atlantis
is presented in 1080p MPEG4 with an AVBR of 29.5Mbp/s – a solid encode that doesn't scrimp on making sure the picture looks good. The production was shot entirely on film, which I think helps the look, giving it a sense of grain and 'grit' that works very well for a show set in the past. Most TV shows are shot digitally to give them a sheen and somewhat plastic look, so I really appreciate the difference created by a film-based production.
The behind-the-scenes featurette shows the entire production team behind
Merlin
moved over to
Atlantis
, and part of the goal was to maintain that production and lighting design. I've gone back and forth between
Atlantis'
production and encode and
Merlin's
and I can clearly see the cinematography and production techniques from the latter have been carried over and improved upon.


Audio Rating: 2.5/5
I guess I couldn't ask for more from the BBC, but I will anyway.
Atlantis
is presented in DTS-HD Master Audio 2.0 Stereo, which faithfully recreates the 2.0 mix of the original broadcast. While it's effective enough, I found it really lacked the oomph needed to sell some of the fight sequences. This is a soundtrack that really needs an LFE channel and it just doesn't have one. Still, dialogue is crisp and clear and you won't have to strain to understand what is being said.

Special Features Rating: 2/5
Behind-the-scenes featurette on Disk 3, 30:28, presented in 1080P, DTS-HD Master Audio 2.0. The behind-the-scenes not only gives insight into the creation of the show, but how the cast and crew managed to churn out several popular fantasy programs (e.g
Merlin
) and what they learned from each of the productions. Sadly, this is the only extra provided in the three-disc set.

Overall Rating: 3.5/5
We always think of BBC dramas falling into the category of high brow period pieces. But the BBC seems to have found what American TV doesn't seem to have a home anymore for swashbuckling adventure programs that are high on light-hearted action and low on convoluted plots. We used to have syndication empires built around the likes of Xena and Hercules, but now there's mostly long plot lines, conspiracy stories and adult themes. Well done period drama is like a steak, but as much as I love steak, every so often, I need a hot dog. Shows like
Atlantis
have just the right mix of campy fun and straightforward action. The series has a lot of growth potential, and the Blu-ray set isn't a bad way to start the adventure.

Reviewed By: MattCR

Support HTF when you buy this title: