Even for those who don't particularly care for film, like me, Mondo Steelbooks add another dimension, that takes things out of the ordinary, and into the spectacular.

This is investment quality art for the steelbook collector.

Dolby Vision, Dolby Atmos, DTS:X?

Who cares.

A 4k Blu-ray, especially with HDR becomes the center of everything important in one's home.

In the past, many in foreign territories, Mondo Steelbooks have become an essential fashion accessory to one's home theater. Domestically, a handful have become available as Best Buy or Target exclusives.

There's something special about them.

With paintings going in the millions, or tens of millions of dollars, collectible cars also reaching multiple millions, you can own a limited edition of Paramount's A Quiet Place – which also happens to be a really good film – for $28.

Best Buy special edition steenboks cost at least $5 more, which means that if you've not yet added that 4k A Quiet Place to your library, this is the way to go.

The packaging, and protective packaging is beyond the norm.

A Steelbook, encapusulated within what appears to be an acrylic sleeve, with the outer artwork combining with that on the steel surface to form a cohesive statement.

But there's more to the quality.

Lest the outer acrylic shield be damaged in any way, it, in turn, is wrapped in a protective film.

These are lovely, well-designed products, that I'd love to see in use for a film's initial 4k release, or alternatively offered as an upgrade product, mit out disc, for those who already own the beautiful Paramount 4k.

For those who may be living on another planet, A Quiet Place is number 38 in the series.

Now completists will have to find the earlier 37.

Rumor has it that Top Gun may be number 39, to coincide with the release of the new film. I'd love to see The Graduate and Rumor Has It released as a dual steelbook at number 40.

Image – 5

Audio – 5 (Dolby Atmos)

Pass / Fail – Pass

Highly Recommended

RAH
Post Disclaimer
Some of our content may contain marketing links, which means we will receive a commission for purchases made via those links. In our editorial content, these affiliate links appear automatically, and our editorial teams are not influenced by our affiliate partnerships. We work with several providers (currently Skimlinks and Amazon) to manage our affiliate relationships. You can find out more about their services by visiting their sites.
Why do I feel like Pinocchio before he became a real boy (my legs being pulled...
) ?
The most Artistic of these steelbooks was the Artisan Special Edition of Total Recall (1999)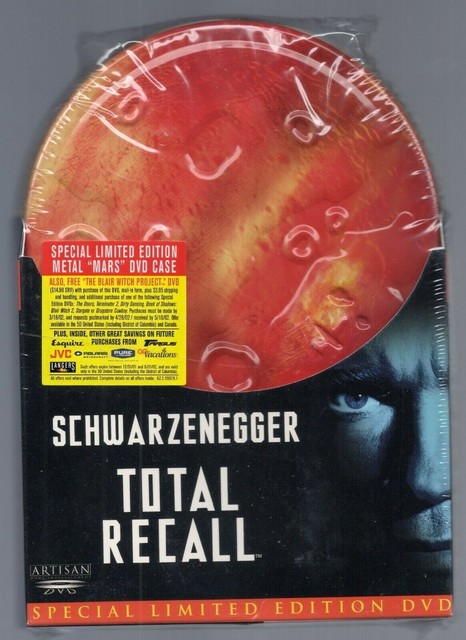 Sans the chipboard "case" the steelbook would just roll around ...
The "Easy Open" steelbook was almost guaranteed to damage the enclosed disc :~