Khumba 3D Blu-Ray Review
When you are born different, things can be tough in the African Sahara. Khumba, a zebra born near a watering hole has only half of his stripes leading his herd to reject him from the beginning in this awkwardly scripted film which seems to take segments from better animated works, put them in a blender and churn out Khumba, a film that is almost the Lion King - complete with images of families in clouds, cohorts we meet along the way, but without the catchy tunes and action sequences that keep us involved.A strong cast including Liam Neeson, Lawrence Fishburn and Annasophia Robb provide strong voice talent to a film that does get one thing right: 3D effects that really work.

Studio: Other
Distributed By: Millennium
Video Resolution and Encode: 1080P/MVC
Aspect Ratio: 1.78:1
Audio: English 5.1 Dolby TrueHD
Subtitles: English, English SDH, Spanish
Rating: Not Rated
Run Time: 1 Hr. 25 Min.
Package Includes: 3D Blu-ray, DVD
Disc Type: BD50 (dual layer)
Region:
Release Date: 02/11/2013
MSRP: $29.99



The Production Rating: 2.5/5
Khumba as a production is the absolute definition of bland. The storyline never manages to get off the ground in a way that interests the audience, but it does encourage you to think about better moments from any Disney and Pixar. The film isn't bad, but it spent most of the time reminding me of better works as it milked tropes stolen from a littany of better films. Poor Khumba worries about his mother, who deals with a long drawn out illness that mirrors youth losing parents to cancer in numerous films.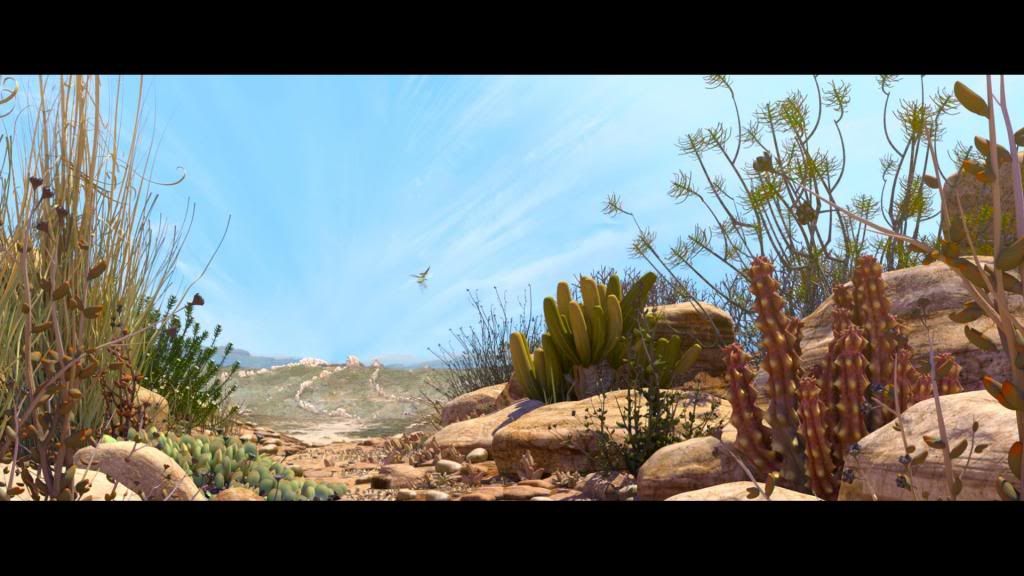 The story isn't bad, it's just been done better - so much better - so many times before that this film feels incredibly paint by the numbers.
Official Trailer

Video Rating: 4/5 3D Rating: 4.5/5
The one thing that really does work here is the 3D rendering on this disc. I have always believed that animated films really work in 3D because you don't have to worry about the realisim of the environment and animator tools make perception of depth and the insertion of depth and action flow with the film far more effectively than any 2D to 3D conversion.
Khumba doesn't dissappoint here. I had time to watch this in 3 different 3D screens - off my new theater using a Sony 600ES Projector (144" 2.35), an Acer 6510BD, and our Panasonic 50" 3D Plasma. Let me say, in all formats, the 3D here really works. Some sequences, especially the opening sequence provide a unique 3D feel that draws you in. The opening sequence, which uses bugs that move forward and backward into the screen while the landscape surrounds them is a great 3D moment that helps draw you into the environment.
I watched with my two boys to get a kids perspective, and while they also found the film subject bland, both of them were very impressed with the 3D quality.


Audio Rating: 4/5
Audio is effectively delivered in Dolby Digital TrueHD 5.1. The performance stay crisp and clear and you are able to locate the characters as they move through the landscape. The soundtrack doesn't provide a lot of over the top flourishes, but small moments - from the flapping of insect wings to the sound of rain are well done and help flesh out the environment.

Special Features Rating: 3/5
Acting Out - Character Development,
1080P, Dolby AC3 2.0 Audio. (2:53) A quick behind the scenes look at how the characters were created.
Behind the Scene Featurette
- 9:52, Dobly AC3 2.0 Audio, 1080P. Lots of clips of the film, explained as the process is detailed.
The Karoo
- 2:30 1080P, Dolby AC3 2.0 a look at how the environment the characters live in was developed.
Nora The Great Partnership
- 2:09, 1080P, AC3 2.0. A profile of Khumba's travelling companion and sidekick.

Overall Rating: 3/5
If you have a 3D set and you want animation that can show it off, Khumba isn't a bad choice. The animation is crisp and sharp and 3D really works well here. The hitch is that while the 3D Animatio is beautiful, the best moments of 3D happen in the first five minutes, giving you time to show off your 3D projector or set without having to endure a very paint by the numbers animated epic that will appeal best to those 7 and younger.

Reviewed By: MattCR

Support HTF when you buy this title: