As I Lay Dying DVD Review
When William Faulkner wrote 'As I Lay Dying', we can be assured he never imagined it as a play. The story, told from the perspective of 59 different characters presents a real narrative problem when taken off of the page. Because of this, there have been no prior attempts to take a book that is considered by many an American classic and turn it into a film. Enter James Franco. In an audacious though problematic attempt, Franco tries to film the unfilmable in a film that doesn't reach it's goal, but still has to be admired for the effort.

Studio: Other
Distributed By: Millennium
Video Resolution and Encode: 480P/MPEG-2
Aspect Ratio: 1.78:1
Audio: English 2.0 DD
Subtitles: English
Rating: R
Run Time: 1 Hr. 49 Min.
Package Includes: DVD
Disc Type: DVD-9 (dual layer)
Region:
Release Date: 11/05/2013
MSRP: $29.99



The Production Rating: 3/5
There were all the typical signs about the troubled nature of this production. After a showing at Cannes,
As I lay Dying
failed to find a real marketplace in the theaters and so instead of getting an arthouse release was pushed to the at home and digital market.Unlike a lot of films that get pushed straight to video, As I Lay Dying has quite a bit going for it. Franco takes on a serious challenge in Faulkner's work, and his cast, which includes himself, Danny McBridge and others manage to work at fulfilling such a difficult premise.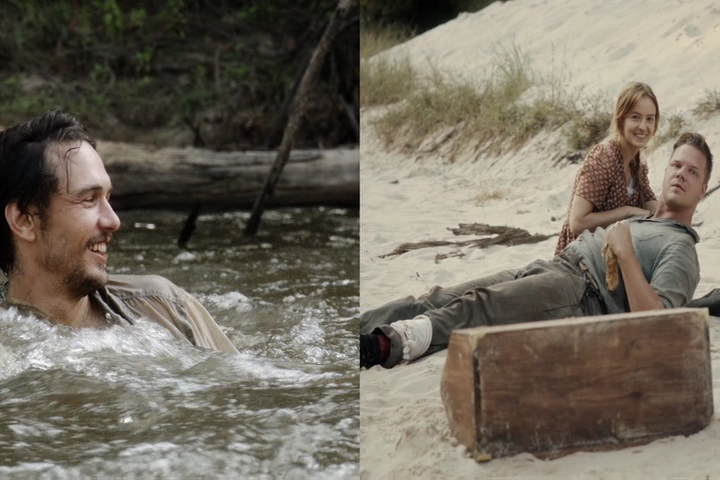 The film however never takes off, and never really invites itself to the viewer. Staying so aloof and on point with the text, the film comes off as a college art project far more than a planned film release, an attempt to do something bold and unusual that just doesn't quite succeed.
The films' use of split screen to show perspectives begins as interesting and quickly becomes somewhat annoying - at least to me, and you fail to really appreciate the characters as you find them boxed in, leaving a presentation that is more distracting then informative.On the whole, I have to respect Franco for taking a stab at this difficult work, but I can't really praise it as a good viewing experience.
Official Trailer

Video Rating: 3.5/5 3D Rating: NA
Video on this DVD is of standard, passable quality. Encoded at 5.876Mb bitrate profile, with the high mark of 9.8Mbps, so a pretty standard DVD encode. The DVD presents with solid color and black levels and effectively passes the story.This is one title where, due to all the splitscreen, the lower resolution of DVD is definitely a hindrance in enjoying this title.


Audio Rating: 4.5/5
Audio is presented in Dolby Digital 2.0 (PLII) and is quite good. Dialogue is crisp and easy to follow - something important for a title as 'wordy' as this one.

Special Features Rating: 3.5/5
There are quite a few special features on this disc.A behind the scenes featurette 3:44 - this doesn't really delve into all the split screen issues, though they do talk about having copies of Faulkner's text on hand so they could refer to it, and how Franco took some ideas from reality TV in order to present the narrative.There are also interviews with the cast and crew: Franco (6:07), producer Rob Van Norden (0:52), Tim Blake Nelson (4:06), Danny McBride (1:25), Logan Marshall-Green (2:28), Ahna O'Reilly (3:05), Jim Parrak (1:57), producer Vince Jolivette (1:50), co-writer Matt Rager (0:59).I do wish these had a 'play all' option so that you could go from one to the other, because as it stands you must manually select each one. This is fairly annoying for the very short commentaries.

Overall Rating: 3/5
This is a title that will work for a few different audiences. I can imagine quite a few young students struggling with Faulkner's work thinking of this as a quick crib sheet, and lucky for them this remains surprisingly true to the narrative.I can also see people who are fans of Franco, or who wonder how McBride will pull off a dramatic turn might give this a rent just to see what it is about.But in the end, my concern would be that this is a title you'd watch once and never revisit. The split screen storytelling and unusual design for this film isn't so much about 'ART' as it is about 'ODD' and it never really fulfills Faulkner's premise. So, kids, while this stays true to the narrative, you might want to read the book instead, otherwise expect a C+ as your high mark.

Reviewed By: MattCR

Support HTF when you buy this title: