Only God Forgives Blu-Ray Review
Films are sometimes categorized about how they make you feel, the immediate response you get to the characters and the storyline. Only God Forgives hits you immediately with a storyline that involves rape, murder, the foreign drug trade beating a man to death and police corruption.Ryan Gosling runs a muay thai club in Bangkok, Thailand. This fight club stands not just for the brawls that happen inside but for the hidden drug and prostitution trade it coves up. We begin the film with a bang: after an underage prostitute is found murdered the police notify the father... and let's just say it doesn't go well for all involved.That tone, set in the first ten minutes tells you the direction of this film which is a brutal journey through the Thailand drug trade.

Studio: Anchor Bay
Distributed By: Anchor Bay
Video Resolution and Encode: 1080P/AVC
Aspect Ratio: 1.85:1
Audio: English 5.1 DTS-HDMA
Subtitles: English
Rating: R
Run Time: 1 Hr. 29 Min.
Package Includes: Blu-ray
Disc Type: BD50 (dual layer)
Region:
Release Date: 10/22/2013
MSRP: $34.99



The Production Rating: 2/5
Ryan Gosling finds himself reconnected with his Drive director Nicolas Winding Refn in a film that is nothing like Drive, a commercial action vehicle. In Only God Forgives we get a dark, brooding vehicle that reminded me a lot of a mix between Lars Von Trier's work and Tarrintino. At times the action, violence and events drive the story forward, but in other moments I felt as though the characters had absolutely no purpose.. the would walk on scene regurgitate their lines and move on.
This is a problem that has faced a lot of reviewers of
Only God Forgives
, which was nominated at Cannes but never really found an audience and was savaged with reviews here stateside (a 37% Metacritic). To dismiss it as 'poor' though denies the fact that the positive reviews for this film were very, very positive.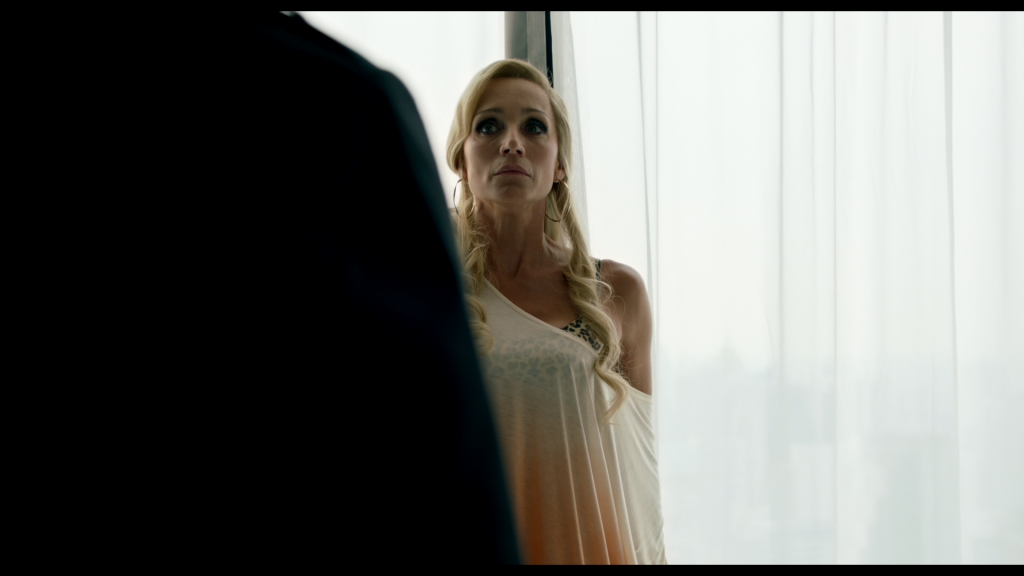 I've seen the film twice now - and the first time on the big screen I walked out and thought: this is a fairly unique effort that has is is a real conversation with the audience. Watching it back at home I found that even seeing it on my 14' projection wasn't enough to bring back to life that theater feeling. Instead, the film seemed to lay flat, the storyline unconvincing and the problems I dismissed in the theater far more glaring.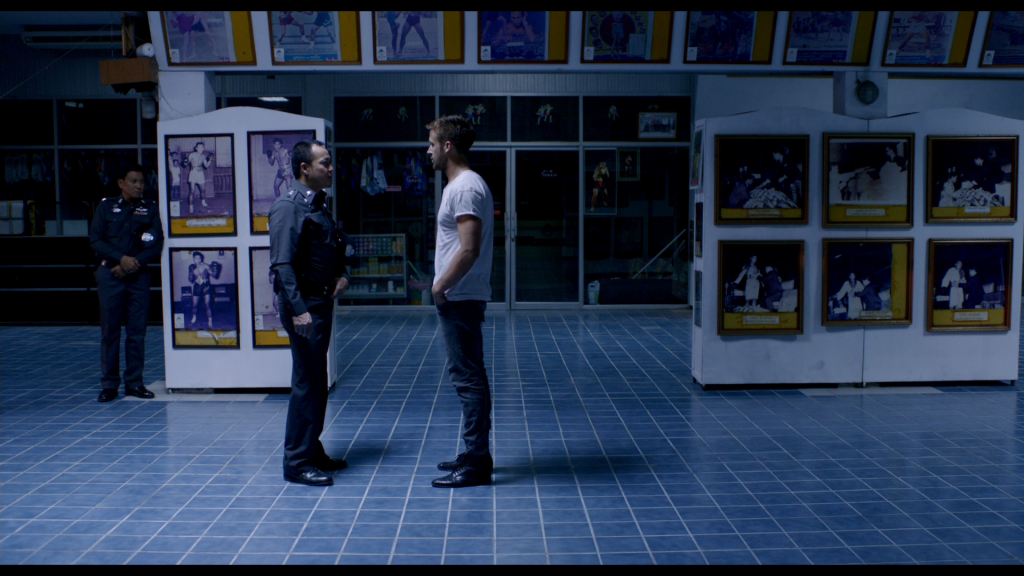 My gut tells me that home audiences will be very divided by this brutal, dark storyline which is well acted and beautifully shot because it doesn't seemingly connect with them. But if you've seen it and love it, the Blu-Ray is an incredible effort to reproduce what makes this film work.

Video Rating: 4/5 3D Rating: NA
I have very mixed feelings about the video production on this title as well. The film looks silky smooth and manages to give us great scenes of incredible detail. At the same time, it doesn't convey the look or feel of the theatrical release.I say this because in the theatrical release, the use of shadows and movement within the shadows seemed to give you a punchy feeling as though the characters were never safe where they were. In the Blu-Ray rendition, often these shadow elements seem to trend to the pure black, a deep inky black which is beautiful to look at and presents a different tone for the film, but is not reminiscent of the theatrical feeling I had for this film.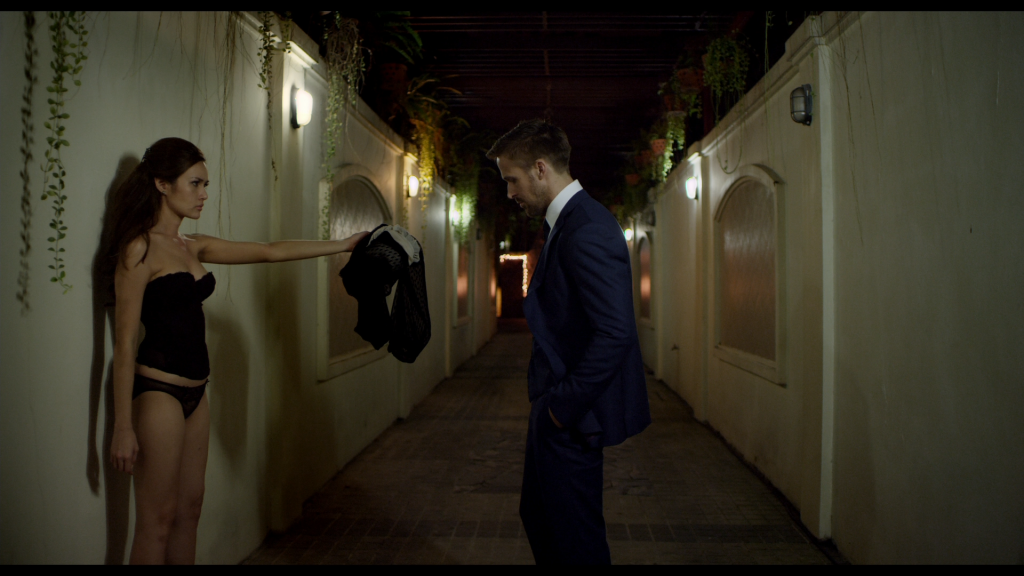 I'm unsure if the theatrical presentation or the home presentation is 'right', though I often count on theaters like The Alamo to do a faithful job presenting artistic work.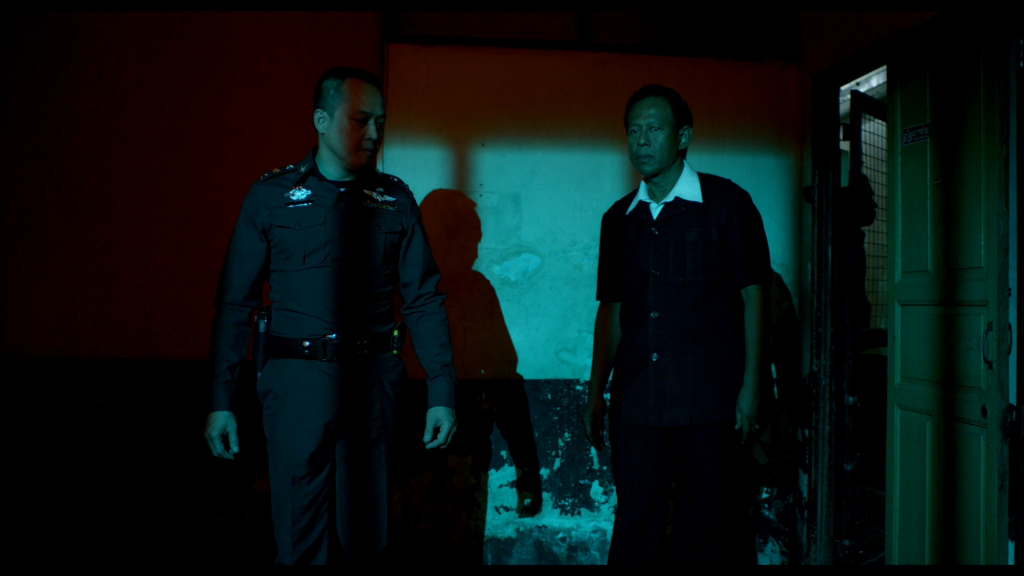 That said, the presentation on blu-ray is rich with deep colors and a beautifully artistic color design.Because I am unsure if the rendition of the film I have seen in theatrical release OR this rendition of color level should be considered right, I won't deduct too much from an otherwise solid transfer, but I feel it deserves a mention. The film is presented in 1080P AVC at 27.7Mbps AWBR encode.


Audio Rating: 5/5
Presented in DTS-MA 5.1, this is a fantastic audio mix that rivals anything you've heard in the theater. The mix keeps you rear channels heavily involved and it makes fight scenes nearly claustrophobic in the way they confine you to your chair as the blows and audience seem to surround you.This is a near reference quality audio mix that can feel dark and brooding with heavy LFE to tiny and nuanced as small cracks and pops from audience members and characters flush out the environment you are in. Truly exceptional.

Special Features Rating: 2/5
Audio Commentary:
Writer/Director Nicolas Winding Refn and Moderator Damon Wise.
Director Interviews (HD):
Now, a minor rant. There are two director interviews, 6 Minutes and 5 Minutes, discussing the genre and choices. These become standard EPK material, but the way these two are presented is so dry that I found them the equivalent of visual Nyquil, and I seriously doubt most fans will find themselves ever enduring them more then once, if that. The problem with an EPK such as this one is that there is nothing truly memorable presented. I find myself waiting for a director to try an ambitious take on extras, like a Del Toro and Peter Jackson and mix it up with something different, but these two shorts provide some information in a way that is almost unwatchable.
Behind the Scenes (HD):
Twelve short segments of behind the scenes footage. There are a few screwball funny moments mixed in.
Framing the Gun Fight (4:01)
, Some sequences on how you film and setup fight scenes to get the look Refn was after.
The Music of Only God Forgives with Cliff Martinez (HD, 9:10):
Behind the scene look at the soundtrack.Also included is a digital download coupon for 2 MP3 Audio tracks.

Overall Rating: 3/5
It's hard for me to come up with a good snap reason to make this title a blind buy. For fans of the film, this will be a day one purchase, but I think a lot of the audience will find this title too abstract and not involving enough to hold their attention. The level of violence and slow pacing doesn't lead to a feel good effort and the speed of the film doesn't make for an actioneer. This mix of traits makes it hard sell for a lot of potential viewers.If you're a fan of this film already this is a worthy blu-ray addition to your library. For others I would say: rent first.

Reviewed By: MattCR

Support HTF when you buy this title: