Embrace of the Vampire (2013) Blu-Ray Review
Once upon a time, a young girl found herself starring in weekly family friendly programming. Feeling pigeon holed as though she would never be taken seriously, the actress decides to branch out in a film that brought some early scathing responses, and an open debate about whether or not she was a good role model for young girls.No, I'm not talking about Miley Cyrus, I'm talking about Alyssa Milano. When Embrace of the Vampire was released in 1995, there were more than a few critics who were not so happy with the subject matter. Threesomes. An orgy sequence. Lots of lesbian overtones and sex. Sex galore. Despite the critics, though, the film gained some cult traction. Mr. Skin once dubbed it "the sexiest horror film of all time".

Studio: Anchor Bay
Distributed By: N/A
Video Resolution and Encode: 1080P/AVC
Aspect Ratio: 1.78:1
Audio: English 5.1 Dolby TrueHD
Subtitles: English
Rating: Not Rated
Run Time: 1 Hr. 31 Min.
Package Includes: Blu-ray, DVD
Disc Type: BD25 (single layer)
Region:
Release Date: 10/15/2013
MSRP: $26.99



The Production Rating: 3/5
Anchor Bay, seeing an opportunity decided to re-imagine the original film with a new cast and a more graphic approach to the sex scenes. I normally take a lot of shots to include in a review, but let me just say: I'd have to put a lot of pasties and black bars over graphics if I included too many stills of key scenes.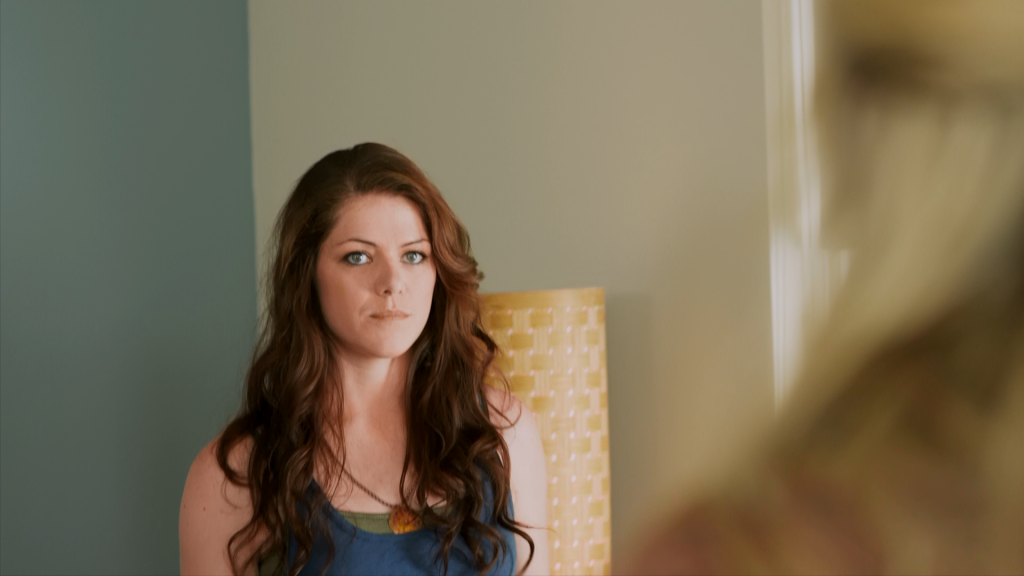 Embrace of the Vampire (2013) keeps all of the key campy elements of the original. With Chelsey Marie Reist, Tilo Horn, CC Sheffield and Sharon Hinnendal filling the role Alyssa once occupied. Hinnendal plays Charlotte, a young girl coming into college from an all-girl Catholic high school. At night, she finds herself tortured with images of death, blood and gore.. as well as ghastly dreams of wild sex romps by her roommate.
Over time, Charlotte discovers that she is in the presence of a vampire.. a vampire who has been hunting her lineage for years hoping to bed her for her virginity, an act that would free him of the inner demon and curse her to eternity in hell.
Let's just say the storyline sticks together only as a means to go from sex scene to sex scene. That's not necessarily a bad thing, as the case is very attractive and the sex scenes at moments are at least imaginative. But that connecting tissue contains scenes that are acted horribly – like an elongated act of initiation in a fencing team that serves to get everyone drunk and into bed.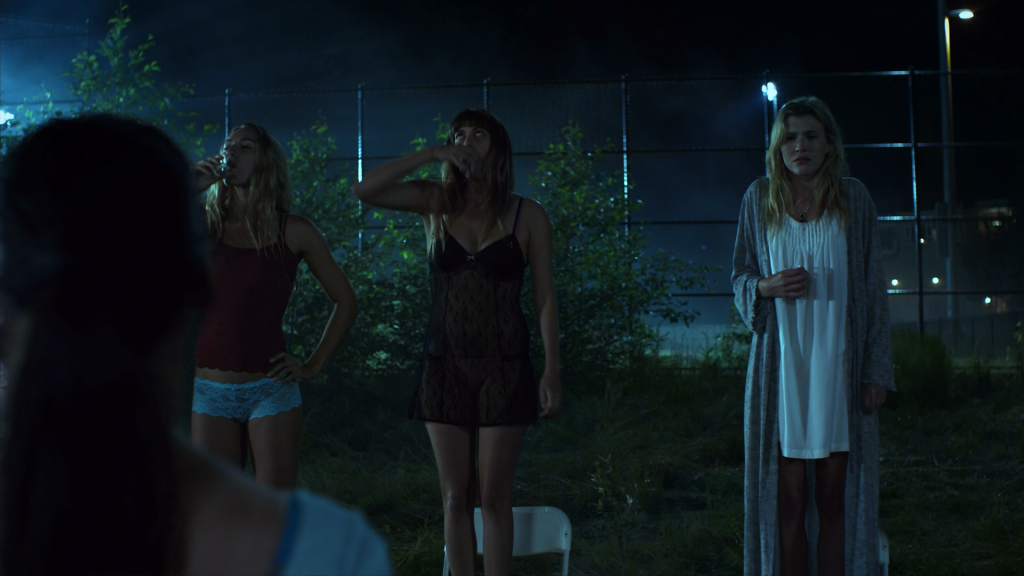 This movie is campy and over the top and at times the setting and dialogue are TERRIBLE. But it is because of those facts that I found myself laughing ridiculously and clapping along, imagining the kind of drinking games you could play with a film like Embrace of the Vampire (2013). This is a film that most will write off – a remake of a film with 13% at Rotten Tomatoes? Get out. But if you hang tight for the ride and you go with the campy nature of it, you might find the laughter is worth the price of admission.
Official Trailer

Video Rating: 4.5/5 3D Rating: NA
Presented in 1080P, AVC @ AWBR of 28.5Mb/s, this is a clean digitally produced film that has a very crisp look on my digital displays. There are a few great shots presented throughout of the landscape, especially the mountain views which really stand out, but we can also definitely say that skin tones are correctly captured.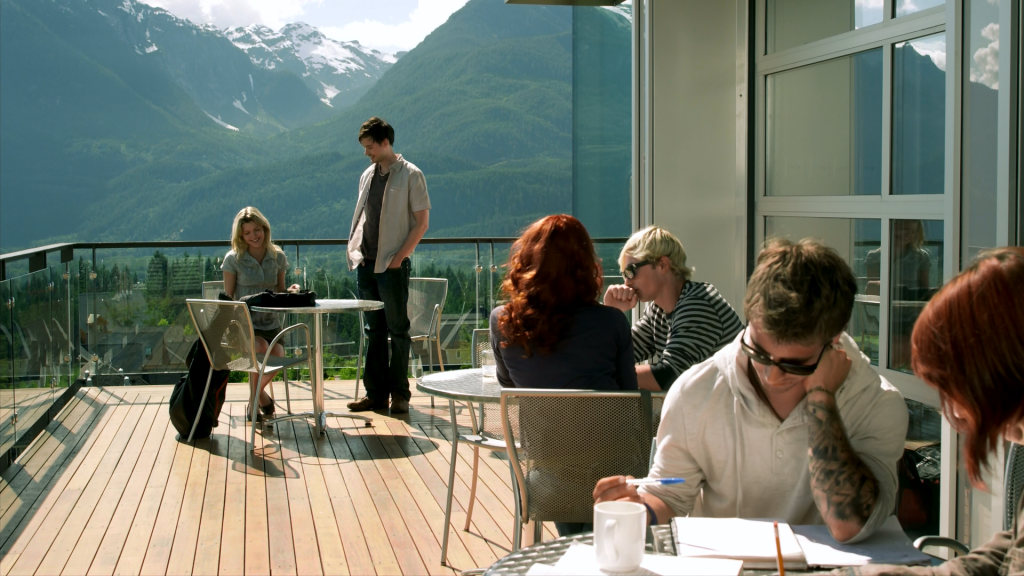 Audio Rating: 4/5
The audio is presented in Dolby Digital TrueHD 5.1. The audio mix is solid, though there is not a heavy use of your rear channels. When called for, though, the LFE leaps into action and lets you know something should have your attention. The knock I have on this audio mix may have something to do with the acting. I found myself rewinding a few scenes not for the scenery but due to unintelligible dialog which prevented me from following the story as it was. Still, on the whole the audio mix is quite good.

Special Features Rating: 0/5
There are no special features. There are two trailers.

Overall Rating: 3.5/5
I can imagine right now that this film will be met with the same negative reviews that met the 1995 original. It's over the top sex. The acting isn't great. There are scenes that make no sense at all. The ending isn't very good. But people who buy this film aren't buying it because they expect Citizen Kane. This is an old-school horror sex romp and with that as a stated goal it succeeds. I may have laughed more then I felt fear, but the camp nature of the script combined with decent production values made this a blast. Don't expect any of the actors to win awards, and our lead as Charlotte seems to move like a marionette at moments but instead of being negatives I found those elements to be part of what gave this film campy, goofy charm.It's not for everyone - and I expect a lot of people will think of this as a Softcore porn with a minor plot. But if you go for campy horror, this might fit the bill.

Reviewed By: MattCR

Support HTF when you buy this title: