Being Human Series 5 Blu-Ray Review
It's not often true that an American version of a British show adapts it and does a better job with the content. When Being Human premiered in the UK, I wondered how the US version could adapt a compelling, gritty storyline that would succeed. What I couldn't have expected was that over the 5 seasons, 37 episodes, the BBC series would be reworked repeatedly with a high cast turnover, plot lines that didn't work and a creative stall mixed in there. Many fans found themselves at odds as the rules of the universe that they had learned early on.

Studio: BBC
Distributed By: N/A
Video Resolution and Encode: 1080P/AVC
Aspect Ratio: 1.78:1
Audio: English 5.1 DTS-HDMA
Subtitles: English
Rating: Not Rated
Run Time: 59 min per episode
Package Includes: Blu-ray
Disc Type: BD50 (dual layer)
Region:
Release Date: 08/20/2013
MSRP: $39.99



The Production Rating: 3/5
Series 5 marks the last episodes of Being Human in the UK, but it is a series that seems to really work hard to recreate series 1. A vampire, a ghost and a werewolf all occupy a house and..
Series five isn't bad, in fact there are quite a few episodes that are more enjoyable then most since series 3. But it also doesn't deliver a very satisfying finish for the series. That said, season five also manages to revive a lot of the positives of series 1 and it when it works it is really quite enjoyable. The problem is the series never hits a continuous stride that keeps you into it.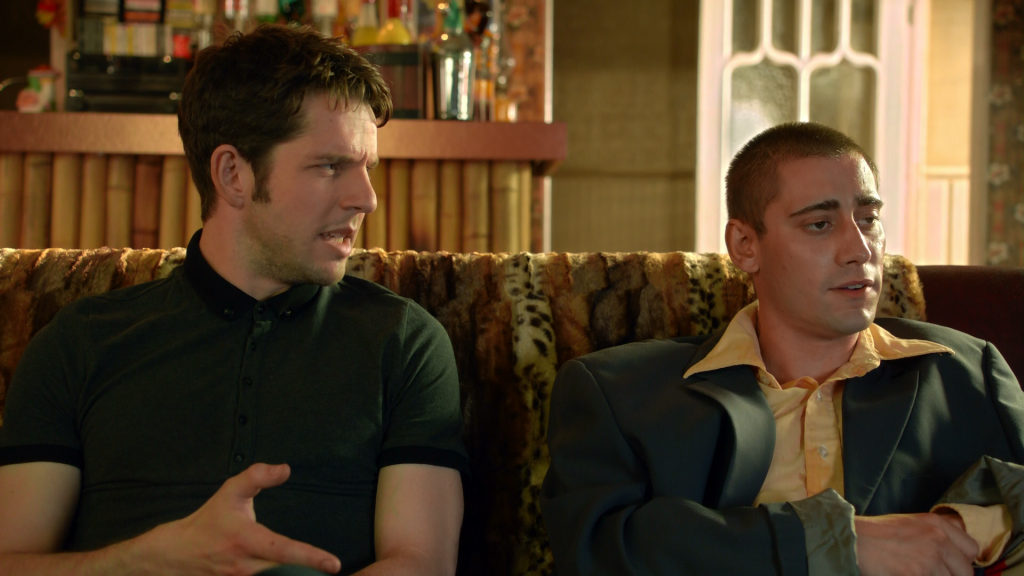 Still, for fans of the program, the fact that there is any conclusion at all no matter how well rendered is a positive, and final episode of the series is quite good.

Video Rating: 4.5/5 3D Rating: NA
Recorded in 1080P/AVC, this title continues the stepped up attention to video quality that the BBC has paid for many of their signature titles of late. The presentation is quite good and the color quality helps sell the presentation. The show has always been cast in overcast tones that give it a unique look and feel. The presentation here is done with an AWBR of 28.Mbps per title, with a weighted average of 26.4 for video components. The BBC provides two discs for six episodes and the space gives each title plenty of room to breathe and get the ideal bitrate. This is really a solid presentation that is nearly error free and just works.


Audio Rating: 5/5
If you want the home run in a title, this is it. The BBC has been switching away from stereo only soundtracks to go with a DTS-HD 6 channel track, and Being Human series 5 really shows it off. The track makes great use of your rear channels and the LFE comes alive. In comparison to an action film, this might not e perfect, but this is probably the most perfect audio track I've heard from the BBC on almost any title. This is a solid production and anyone who has enjoyed the series will hear the way it takes over your room in big moments and have great appreciation for the fact BBC has stepped up their game.

Special Features Rating: 3/5
Cast and Crew Interviews (HD, 30 minutes): Damien Molony, Michael Socha, Kate Bracken, Toby Whithouse and Polly Buckle go behind the scenes and talk about how the series played out. Alex's Unfinished Business (HD, 14 minutes): Five short Alex-centric minisodes include "The List," "Revenge on Rook," "Wooed in Paris," "Learn to Dance" and "The Final Challenge." Deleted Scenes (HD, 13 minutes): Deleted scenes are nicely divided here. Each episode runs through the deleted scenes, and then to the next rather then randomized. Extra Scene (HD, 2 minutes): These scenes, which never made it to the final time cut are seemingly early concept scenes that never made it beyond early production. Exclusive Scene (HD, 3 minutes): A Blu-Ray exclusive scene.

Overall Rating: 4/5
For fans of the British series, the best thing I can say is: this is the conclusion that you get, and the final episode is quite good. The audio on this blu-ray set is the best I have ever heard from a BBC series, and the video quality is excellent. In every way, this set shows off what the BBC can do on Blu-Ray. I have a feeling Being Human fans will leap at the set which clearly stands apart from any streamed version.

Reviewed By: MattCR

Support HTF when you buy this title: