Aerosmith Rock for the Rising Sun
At the time of the Japanese tsunami tragedy, I had a family member stationed in Japan who took the time to call home to let all of us know everything was OK. The country wasn't going to fall apart, but everyone was sticking together and while some things were destroyed they could all be rebuilt. We discussed a lot of things that Japan as a country would go through, and what they would need. Aerosmith must have had that same discussion - what does Japan really need - and they decided a giant benefit concert with fairly steep ticket prices by the band would definitely fit the bill.

Despite my cynical view of these kind of things, I have to admit I really like Aerosmith and the concert itself brings back a lot of great memories of the band in my youth. The blu-ray gets all of this across with a fantastic presentation that really draws you in.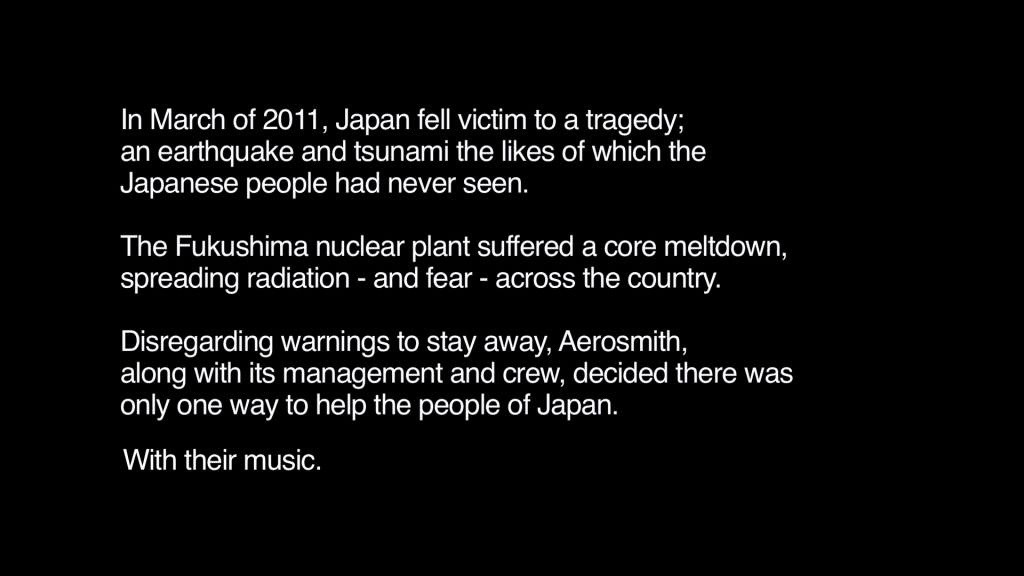 Studio: Scream Factory
Distributed By: Scream Factory
Video Resolution and Encode: 1080I/AVC
Aspect Ratio: 1.78:1
Audio: English 7.1 DTS-HDMA, English PCM 2.0
Subtitles:
Rating: Not Rated
Run Time: 1 Hr. 35 Min.
Package Includes: Blu-ray
Disc Type: BD50 (dual layer)
Region:
Release Date: 07/25/2013
MSRP: $19.98



The Production Rating: 5/5
I've reviewed quite a few concerts for HTF, and there are concerts I watch on blu and think: this is pretty good. A few that make me feel as though I'm at the concert. Aerosmith's title sits in a different category as a concert blu-ray I would gladly listen to without the visuals and appreciate as really great musicianship.
The title gives you a full concert with a few moments break in between as the band visits sites in Japan. The complete set list:
01. Draw the Line
02. Love in an Elevator
03. Livin' on the Edge
04. Hangman Jury
05. No More No More
06. Mama Kin
07. Money on My Back
08. Toys in the Attic
09. Listen to the Thunder
10. Sweet Emotion
11. Boogie Man
12. Rats in the Cellar
13. Movin' Out
14. Last Child
15. S.O.S. (Too Bad)
16. Walk This Way
17. Train Kept a Rollin'

Video Rating: 5/5 3D Rating: NA
Concert videos can sometimes feel blown out. Spotlights and camera lighting can make you feel as though there is a strange hue to the production or that the natural black of an environment seems washed out because of the spots. This production, captured faithfully in 1080i/AVC manages to avoid that. Encoded at an AWBR of 31Mbps video, 3Mbps audio, this title really manages to give an incredibly detailed and fantastic picture.
Colors stay true to the stage and the artists all look correctly lit.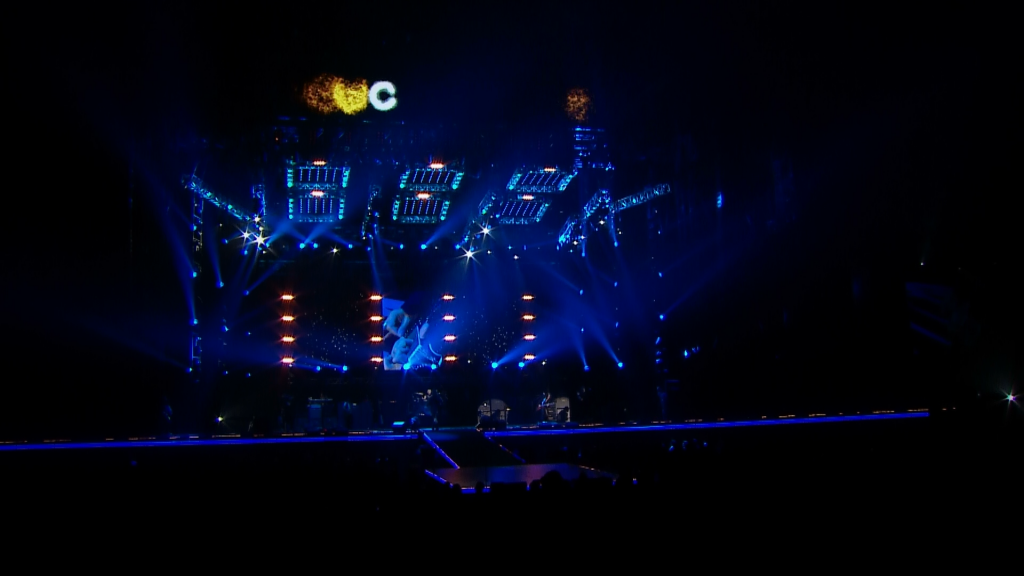 Audio Rating: 5/5
Presented in DTS-MA 5.1 and LPCM 2.0, this is one of the best audio mixes I've heard for a concert release. Deep rich bass pours forward from your subs, pulling you into the music as it happens. Vocals are crisp and clear in a way that reminds me of the first time i heard a DTS Audio CD years ago. The audio mix on this title is so good that I found myself listening back through this title while I did work around the house and found the audio stands on it's own completely without the visuals.
Every fan of Aerosmith will want to grab this title for the audio sequences alone.


Special Features Rating: 1.5/5
Special features on this disc are fairly light. There are two bonus tracks presented:
Lick and a Promise
(1080i; 3:32)
One Way Street
(1080i; 6:47)
Both of these titles are in AVC format at similar bitrate and look and sound good, but they do not have the same look and presentation as the film itself. I had hoped for something more behind the scenes to be included.

Overall Rating: 5/5
This is going to be a must own title for fans of Aerosmith. And it will be a demonstration title for a lot of people who want to show off how musical a home theater can really be. I can see a title like this one playing on a lot of Best Buy in store theaters to show off and sell speakers. No matter how or why you buy this title it will be money well spent.
HIGHLY RECOMMENDED

Reviewed By: MattCR

Support HTF when you buy this title: