Spring Breakers Blu-Ray Review
There is some lure in a film which offers the audience a mix of Disney child hood stars grown up and in sexually provocative situations. The film gets us started as a young, seemingly moral girl named Faith played by Disney star Selena Gomez begins a wild adventure with some morally questionable characters in her friends Cotty (Rachel Korine), Candy - Disney High School Musical Star Vanessa Hudgens, and Brittany (Ashley Benton). After mounting a robbery of the local restaurant, they then persuade Gomez character to journey with them on a Spring Break experience of her life.. the promise of a sexually charged experience lures away a girl who was last scene in prayer group.

What follows is what could years ago they would refer to as a cautionary tale. Drugs, sex, more robberies, shootings, skeevy drug dealers and the split up of friendships.

Studio: Lionsgate
Distributed By: N/A
Video Resolution and Encode: 1080P/AVC
Aspect Ratio: 2.40:1
Audio: English 2.0 DD, English 5.1 DTS-HDMA
Subtitles: English
Rating: R
Run Time: 1 Hr. 34 Min.
Package Includes: Blu-ray
Disc Type: BD50 (dual layer)
Region:
Release Date: 07/09/2013
MSRP: $27.99



The Production Rating: 4/5
A film like Spring Breakers has the strange ability to completely divide an audience. I took time this spring to see it, in the theater, and it wasn't hard to notice the reactions of those around me. Near the 20 minute mark, a couple stood up and said "what is this crap!?" and walked out of the theater. A few followed. Others stayed all the way through and talked about it on the way out of the screening.
Part of that is the midwest response, I suppose, to a film with a lot of implied sex and drug use. But part of it is how the story itself is structured. The story changes the tone it wants to present several times, and you will either find this innovative or annoying. As the story begins, we start with four girls zipping around Spring Break in sunny Florida. But as it progresses, attrition occurs.. Faith and Cotty decide to leave Florida and return home.
Once we get these characters out of the way, the story moves to show us the slow decline of our other girls, who embark on a career of crime, threesomes, and a plan to become.. I guess.. drug kingpins in the Florida market.
The performances here never feel real enough to make them come alive, almost all are played to an over the top level that make them comic book characters without a comic book. James Franco, who plays our drug dealer in the waiting, who is wildly over the top and yet sells it all the way. His storyline is ridiculous and silly, and yet his character is the most fun to watch in this film.
The film promises to be the R-rated romp of the 80s/90s, lots of sex, nudity and violence. And this is where I have to give the almost Mr. Skin level warning: if you are expecting to see any Disney Girls Gone Bad video, then you'll be disappointed, as nudity is reserved pretty much to the extras and only hinted at in sexually charged scenes with the leads. Selena Gomez character leaves early, and while Hudgens character participates in what looks to be a threesome, you're not going to see any of the action.. it's all inferred. That doesn't mean there isn't a lot of sexually charged material and nudity; just don't count on any of the principles exposing a lot front-facing skin.

Video Rating: 5/5 3D Rating: NA
Video is presented in MPEG-4 AVC at an AWBR of 37Mb Video, which gives a really beautiful look to this film.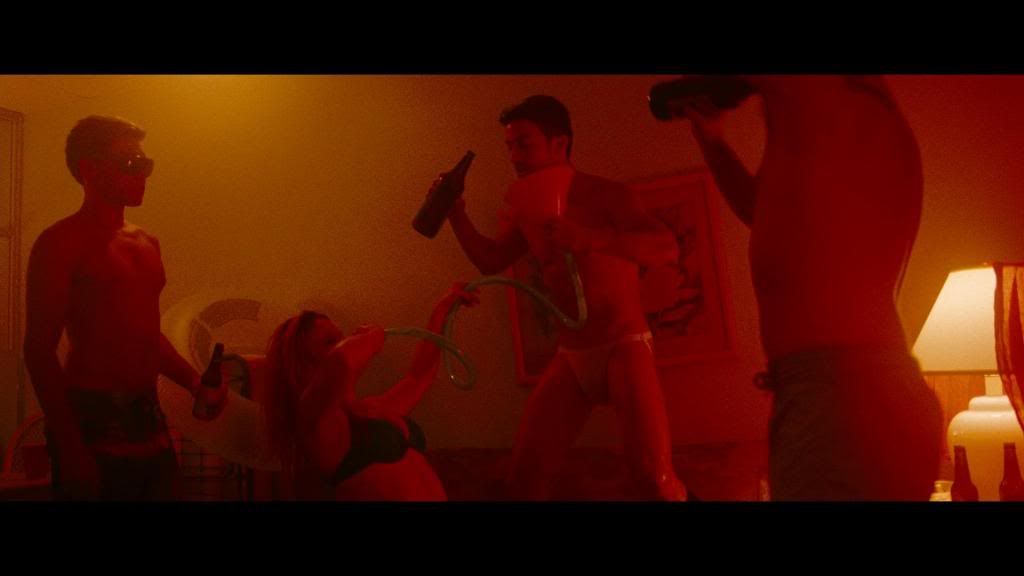 The high bitrates combined with a rich and well defined color scheme give us a mix of scenes that go from bright sunlight at the beach to smoky interior rooms. A lesser transfer would have made the smoke filled scenes a mess but in this transfer it all works.
Dark night scenes present a deep and inky black that contrasts well with the way beach sequences give us day. It is this contrast - good things in bright light, dark deeds always at night or in hazy lighting that seems to be the method the film uses to present this film.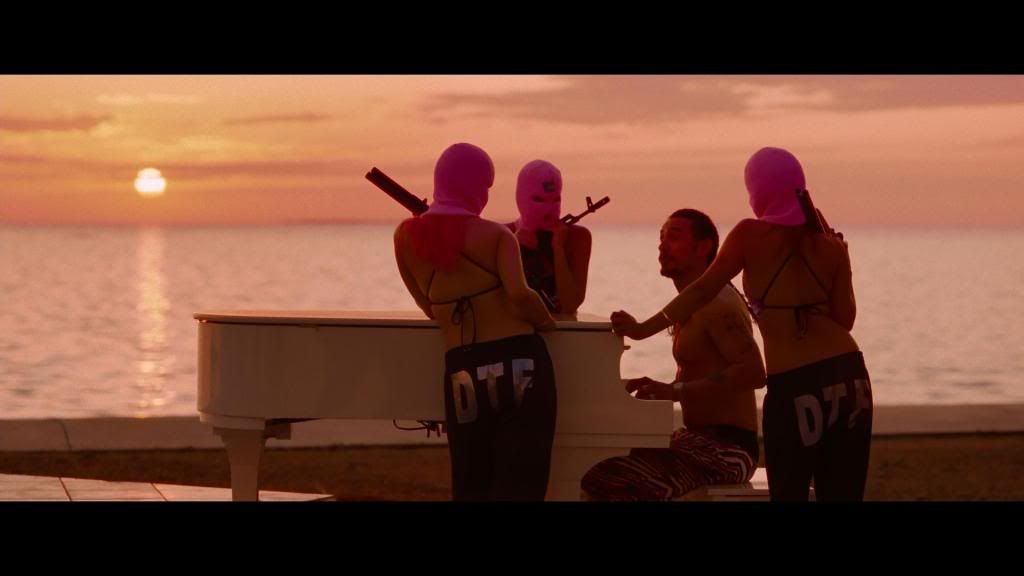 Audio Rating: 5/5
Audio is presented in DTS-MA 5.1 and provides an exceptionally busy soundtrack. You don't go very far without having your rear speakers lit up with combinations of techno, tire squealing and crowds chanting. The film seems to keep this buzzy atmosphere to keep you off kilter. When characters are drunk and spin, the room seems to spin on you. The audio effects are quite good and really help provide punch.
Garbled shouting and muted shotgun blasts help set the stage for a spring break gone wrong.


Special Features Rating: 4/5
Special features for this disc are:
Audio Commentary with Writer/Director Harmony Korine.
I have to say, this to me was not a great commentary.. too many long pauses, not a lot of detail and the demeanor of the director almost made me think he was either drunk/stoned during it or just disinterested. Very low key.
Breaking it Down: Behind Spring Breakers
– A multi-part Documentary about the making of the film, the ambitions of the director/writer and what they hoped to achieve with the film. This is a fairly standard EPK, but still there are some good moments.
Deleted Scene
(1080p; 00:57)
Outtakes
(1080p; 7:44)
Harmony's Ear Candy
(1080p; 7:23) focuses on the film's music.
Vice Featurettes include:
The ATL Twins Zone (1080p; 27:16)
I have no idea what to make of this. This is a short documentary of a pair of twins in Atlanta who share women, a lifestyle and.. I still have no idea what either the point was, the connection to the film is (outside of them being bit characters in it) or what this is about.
The Redneck Riviera (1080p; 7:44)
Interviews with people in regards to the impact of Spring Break on Florida communities. You hear from town members and visiting kids.
Dirtona Beach (1080p; 6:41)
Brief exploration of Daytona Beach, where we go from Strip Clubs through the spring break scene.
Theatrical Trailers (1080p; 4:22)TV Spots (1080p; 2:10)

Overall Rating: 4/5
Spring Breakers is a film you will either hate or your will admire for the goofy presentation of the low level drug and sex game in sunny Florida. It's hard to say this film is fantastic with a straight face. What works for Spring Breakers is that the campy, over the top romp reminds me of 80s teen-sex comedies as though they were on acid, and the filmmaker seems to acknowledge that and go with it.

Reviewed By: MattCR

Support HTF when you buy this title: