Street Trash Special Meltdown Edition Blu-Ray Review
Bizarre. Over the Top. Gorefest. Sickening. All of these words have been associated with "Street Trash" the low budget indie vehicle which is a cross between early John Waters and the Troma vehicles of the 80s, Street Trash

IMDB Critics have referred to Street Trash as "amongst the most offensive films ever made", which may be fitting. In a film where there is an on screen "jump ball" with a man's severed penis, a lot of people would be repelled by the content. But for a certain audience, the camp, over the top, and completely crazed level of violence, sexual references and gore turn this into an off-kilter snicker fest.

Studio: Anchor Bay
Distributed By: N/A
Video Resolution and Encode: 1080P/AVC
Aspect Ratio: 1.78:1
Audio: English 2.0 DD, English 5.1 DTS-HDMA
Subtitles:
Rating: Not Rated
Run Time: 1 Hr. 41 Min.
Package Includes: Blu-ray
Disc Type: BD50 (dual layer)
Region:
Release Date: 07/09/2013
MSRP: $24.95



The Production Rating: 1/5
If you're a fan of the film, you may find my rating - the lowest possible - sends the signal that I'm the wrong person for this kind of film. But I tell you, even as a fan of the works of Troma, etc. you have to realize what effect the film is going for. I believe part of what has made a cultish appeal of a film like Street Trash is the fact that it -IS- outlandishly bad. If this film was not campy, goofy, riddled with basic problems and crass, rude with a plot that is non-sensical, people wouldn't pay it any attention. Bums that walk like Torgo (Manos: The Hands of Fate), characters that weave in and out of the plot nonsensically.. this is the definition of camp.
People always remember the terrible and the great, we rarely discuss the mediocre. And Street Trash is most definitely NOT mediocre. What it is could best be summer up as a full blown attack on your mental faculties. Scenes that range from grotesque to laughably over the top come and go.
The basic premise is this: a liquor store owner discovers some very old, cheap liquor in his basement. When the local whinos drink it, it morphs them into blobs of go, killing them.
The setup is pretty straightforward and it plays with such amazing, over the top camp effect that you can see why the film maintained it's cult status for "sick" and "weird"

Video Rating: 5/5 3D Rating: NA
For a film shot on such a cheap reported budget (near/sub $100k by reports, and the documentary included) this film looks surprisingly good. Enough so that I felt compelled to go out and find through the web a copy of any DVD version of this film.
Let me say, without a doubt, the conversion to blu-ray here strikes me as one of the most drastic changes in picture quality between I have ever seen. To say there is a bit of a difference is a wild understatement; the Blu-Ray of Street Trash is a clean product that looks as though it was filmed on current digital camera technology. Using the original film negative, Synapse has taken time to do a transfer that goes far beyond what you would expect in a film like Street Trash. It's obvious the distributor loves the idea of bringing this kind of film to the public, and the level of effort they have put into this transfer deserves some serious praise.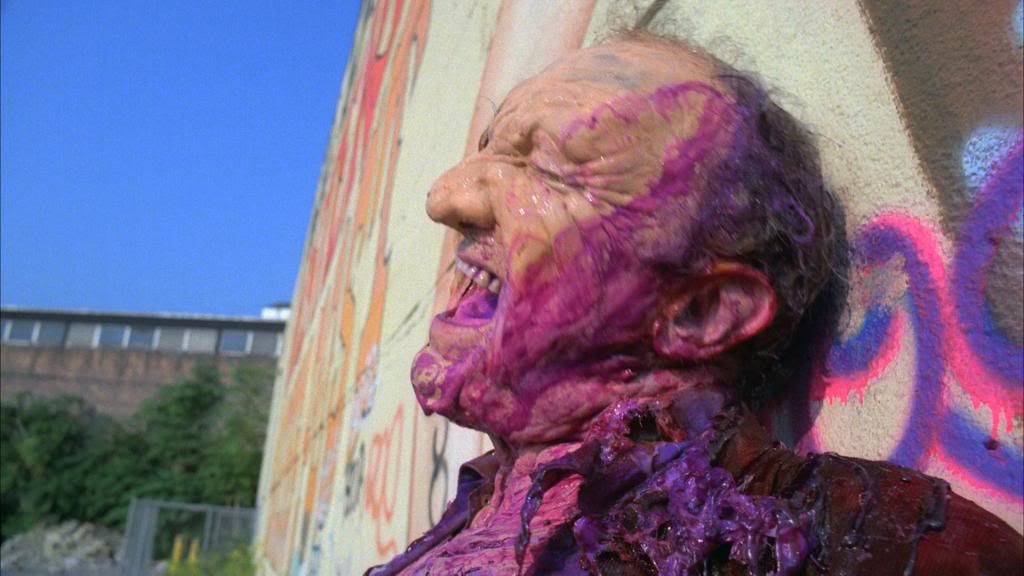 Audio Rating: 4.5/5
Converted from 2.0 sources and upmixed to 5.1 in DTS-MA 5.1, the audio score and effects seem to flesh out the film. The audio production, due to budget, is centered heavily in the center as seeming mono - but when music and effects come in you can tell that some real thought went into how to expand a low budget production into a sound field that sells.
The use of audio cues comes and goes, and it does so with such a wildly random nature and overwhelming force that if this was a major Hollywood film, I would be decrying it as somewhat schizophrenic. Street Trash, however, lives on that mania and the use of audio to accomplish the out of kilter nature of the film just works.


Special Features Rating: 5/5
Here's where we get to the best part. You'd think with a cheap production like
Street Trash
the level of extras would be minimal. But that is definitely not the case. This disc is jam packed with extras, and in my opinion, the extras are the best part of this disc. Included in the extras:
* Two Audio Commentaries Featuring Producer Roy Frumkes and Director James Muro - the commentaries are silly, campy.. but also filled with good information as you go along, with how decisions were made and what propelled the film.
* The Meltdown Memoirs 2:04 (480P, MPEG4) - This full length documentary is stocked with interviews, behind the scenes and a discussion with how the film was made. Very informative.
* The original 16mm short - 15:11 - (480P, MPEG4) - This is the original short film on which the movie is based.
New for Blu-Ray:
* Jane Akira interview
* Stacks of deleted Scenes

Overall Rating: 4.5/5
It's hard to praise a film like
Street Trash
which is full of sick imagery, grotesque happenings, campy script writing... and yet, for as camp and goofy as the film is, I completely understand why the awfulness is so attractive to those who love camp film. This is one of those movies that I feel will become one of those "Challenge" films.. "Have you ever seen.." at which point one friend keeps looking over at another to see how they react.
Synapse has gone out of their way to produce a clean looking, fantastic conversion to Blu-Ray, and a film like Street Trash is unlikely to look any better than it does in here.

Reviewed By: MattCR

Support HTF when you buy this title: