Dr. Who Series 7 Part 2 Blu-Ray Review
Dr. Who Series 7 Part 2 picks up right where the Christmas Special left off. After quite a bit of a casting and storyline shakeup in Series 7 Part 1, there were some concerns as to the quality that the Eleventh Doctor could maintain. A good friend posted in his facebook feed after Angels Take Manhattan that he felt as though Season 7 was turning into a real mess, and that despite the love for Matt Smith as the eleventh doctor, the series had serious storyline problems. The Christmas special wasn't quite enough to re-assure him of the new direction, but the introduction of Clara (Jenna-Louise Coleman) as a new companion at least provided some new energy to the program.

Studio: BBC
Distributed By: N/A
Video Resolution and Encode: 1080I/AVC
Aspect Ratio: 1.78:1
Audio: English 5.1 DTS-HDMA
Subtitles: English, English SDH
Rating: Not Rated
Run Time: 44 Min per episode
Package Includes: Blu-ray
Disc Type: BD50 (dual layer)
Region:
Release Date: 05/28/2013
MSRP: $29.99



The Production Rating: 4/5
This is good, as Part 1 of Season 7 seemed to give all the indications of why Smith made this season his last with Dr. Who, moving on to do other things. But Jenna-Louise Coleman provided a breath of real fresh air that picked up a lot of the light attitude of the show that seemingly drifted away in Season 7 Part 1.This isn't to say that it made Season 7 great, I would personally rank it in the lower echelon of all Dr. Who seasons, but it managed to move Dr. Who away from the down energy of Part 1 that was just not as much fun for this Who fan.That said, Part 2 suffers from some of the issues of Part 1.. episodes where last minute abracadabra events solve everything, some scripts that seemingly run nowhere, and a few staging problems. Then again, it's Dr. Who, and I guess over the years I've come to appreciate those things as part of the storytelling as well.Episode Guide:
The Bells of Saint John.
We begin Part 2 by following up immediately with an episode regarding the Great Intelligence. Coming from his first meeting with Clara in the Christmas special, the doctor encounters her again in modern day London. The Great Intelligence has taken over an internet company that begins to manipulate people by using WiFi to control them, to enhance or diminish their intellect and manipulate their emotions. All of my doubts about a new companion were erased with this episode, which was rompy ridiculous fun and Clara is at the heart of it. Frankly, after this episode, I had a much better feeling about the direction of the season as a whole.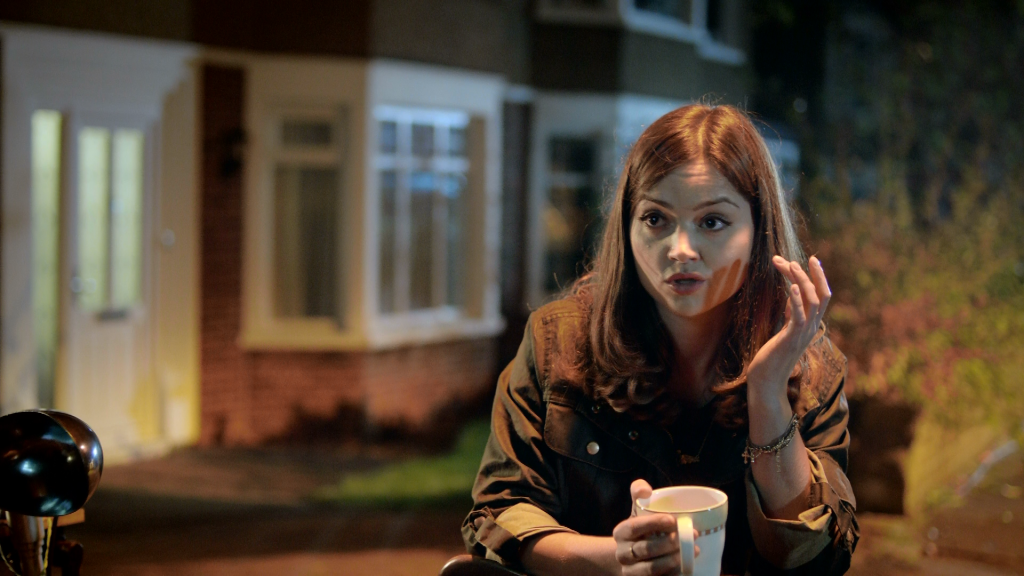 The Rings of Akhaten.
Clara tells the good doctor that if he has access to all of time and space, she wants to see something truly amazing. Taking her to the area of the universe where people believe it "all started" gives her a chance to see something she hasn't encountered. This is where Clara's bounding energy really pays off. The script here isn't sensational, or really that unique – this plot seems to borrow heavily from past doctors – but Clara's energy helps really sell this episode.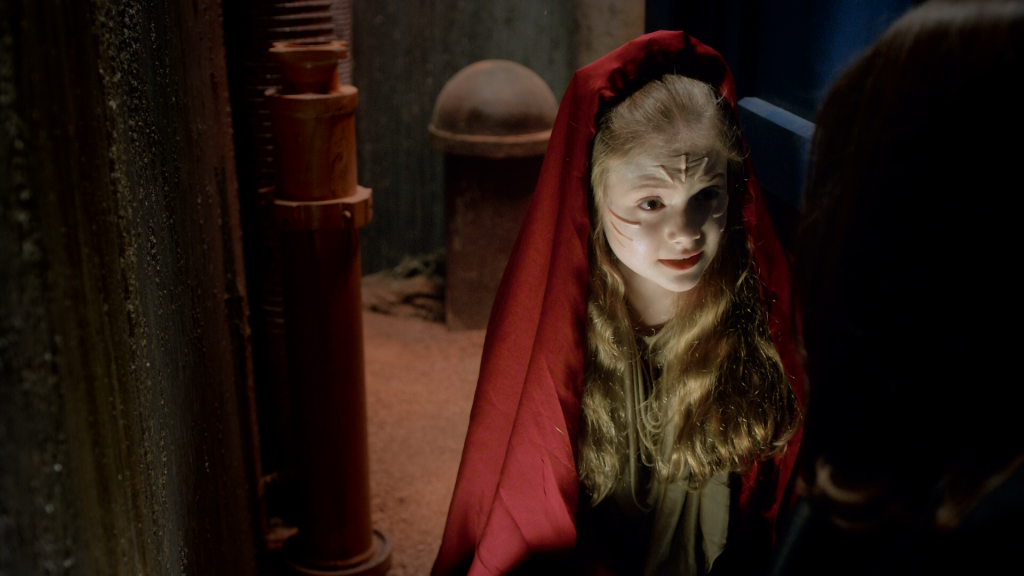 Cold War.
Set in a 1983 Submarine, we bring back to life a traditional Dr. Who bad guy in the Ice Warrior, found and brought back, this time determined to exterminate those on Earth after his long slumber. There is a great cast here, but it never achieves the energy I thought it could have. This to me is a typical Moffat episode, where we spend the entire show painting ourselves into a corner and then last minute resolution.
Hide.
Clara and the Doctor investigate a haunted house mystery that turns out to be a far more complex matter. This episode is a one-off, but a great one off. We take the horror genre and spin it around, giving the doctor a chance to blend in multiple time frames, pocket universes, and some great levity. This is one of my favorite episodes of Season 7.
Journey to the Center of The Tardis.
This is hands down one of the dumbest episodes of Dr. Who, any season. The core concept makes no sense at all, and after a while you start to wonder what is going on. Smith seems to realize this as he smirks an incredible amount in this episode, seemingly cueing up that he knows the entire concept is rubbish, and probably Moffat at his worst. Don't worry, this episode also is a stand alone of sorts, if you skip it you won't miss much.
The Crimson Horror.
Ok, I'll say it: Jenny. Vastra. Strax. Considering how much I enjoy these characters, it's good to have an episode where they are a big part of the picture. I really enjoyed the Crimson Horror, which minimizes the doctor and Clara but gives some meaty roles to Jenny and Vastra, and Strax. Strax to me is one of the things I enjoy most about Dr. Who, so if you're a fan of the supporting cast, this is a pretty good episode for that.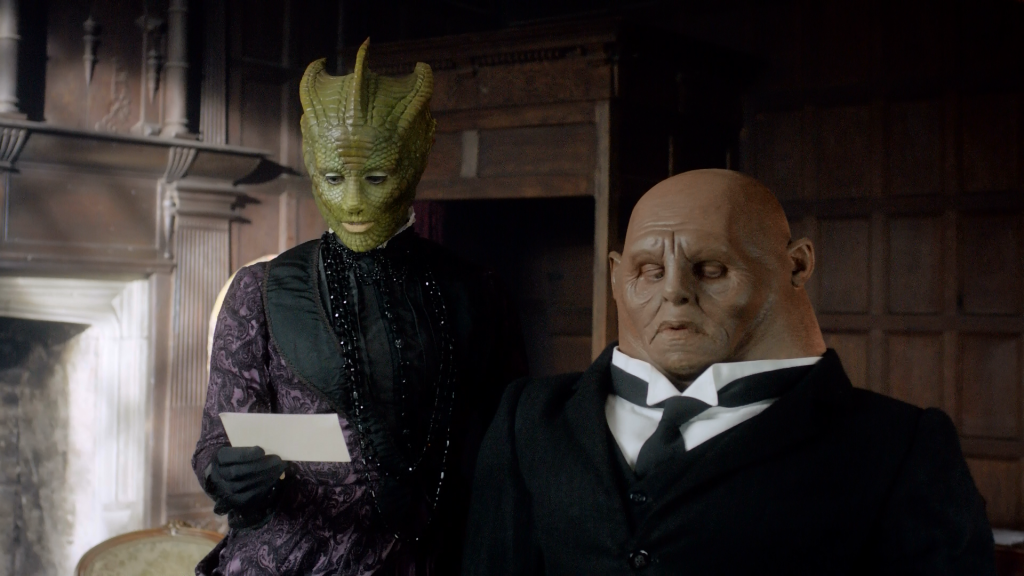 Nightmare in Silver.
Enemies from the past keep coming in Season 7, as a trip to an intergalactic space park on hard times re-introduces us to the Cybermen, a classic and much beloved enemy in the Who universe. That said, the episode really suffers in scripting, the forward movement in Nightmare in Silver is a bit of a plodding story that feels a real let down from the fun of Crimson Horror.
The Name of the Doctor
. It's very hard to get into this episode without giving away the biggest twists and puzzle of the season: who is Clara Oswald? There are a lot of mixed thoughts about this episode, but I found that it's brisk conclusion of the Part 2 puzzle really worked for me as a way to both solve the riddle and not string the audience along. Clues are setup from the beginning, the storyline moves fast and there are some great moments of Who dialog here that I imagine will stick forever, as well as a conclusion that leaves Who fans wondering what comes next. It's not perfect, but it's one of the better episodes of the season, and a fitting way to conclude series 7.

Video Rating: 4/5 3D Rating: NA
Presented in 1080I, Dr. Who series 7 part 2 presents the good doctor in perfect form from it's BBC presentation. This shouldn't be a shock as Dr. Who was filmed in this format, so we assume a straight digital copy from master to Blu. While this presentation is as good as we are going to get, there are still issues that will bother some videophiles. Black crush, some minor rainbow effect and a few scenes of blurring do exist within the episodes. While I would love to fault the transfer, I tend to believe these were in the original encode, so I'm unsure what BBC could ever do to rectify those issues. As such, the discs continue to look from the Christmas special in providing one of the best presentations the Doctor has had.


Audio Rating: 4.5/5
If you have Dr. Who Series 7 Part 1 and grab Dr. Who Series 7 Part 2 and compare the audio you are going to notice the difference. I had commented in the Christmas special that BBC was now making use of DTS-MA to handle these episodes, and in this set it certainly shows. LFE presentation really helps make the episodes come alive, and it BBC seems to have provided a different audio mix for these episodes than was offered on their original TV showing. This gives a much more lively feel and in some cases really helped the episodes along. Whatever change they have in mind at the BBC, all I can say is hats off.

Special Features Rating: 0.5/1
Well, one thing hasn't changed, and that's the number of extras the BBC provides. Presented on two discs, I don't know if I would want them to cram a lot of extras in that might sacrifice video quality, but the extras provided are pretty sparse. There are two prequels to episodes, "The Bells of St. John" and "Clarence and the Whisper Men", both of which act as lead ins.

Overall Rating: 1/5
There are two schools of thought on the eleventh doctor. For many, it is the only Dr. Who they have known. Show runner Stephen Moffat gets credited with both the success of the new series in global popularity, as well as great casting choices. But for all of those accolades, a lot people new to the series at times find it confusing, too fast paced and the need to consult their friends who are Dr. Who fans is a bit of a downer. More problematic is that Moffat has spent a big part of season 7 in a rather messy mode of episodes thatThere are great moments in Season 7, but also a lot of lowlights. Now that I've had more time to think back on the whole season, what I realize is that we spend too much time on one-off episodes that don't go anywhere and they have completely phased out two-parters or more complicated story lines. I thought the Clara character was an excellent addition, but her character exists in that strange netherland of being a real companion for Dr. Who and at the same time acting as a plot device. This doesn't hurt her performance, but because of this the character couldn't grow to a point that would have made "Name of the Doctor" a more effective episode.Dr. Who fans are going to reach out and grab Season 7, Part 2 right away. But the question they have to ask isn't just about the exit of Matt Smith, it is about whether or not Season 7 portends more of the same for whoever inhabits the role next.

Reviewed By: MattCR

Support HTF when you buy this title: