One would think with all the latest in HDTV technology that HDTV sales would continue on an upward trajectory. With TV sizes getting so big that some are encroaching on the size of a projector/screen scenario and with 3D, 4K and LED back lighting to have displays be paper thin, one would think that consumers would continue to buy.... However, that doesn't appear to be the case. Data from IHS shows differently. After falling 3% in 2012, U.S. LCD TV sales dropped another 11% in the first quarter of this year.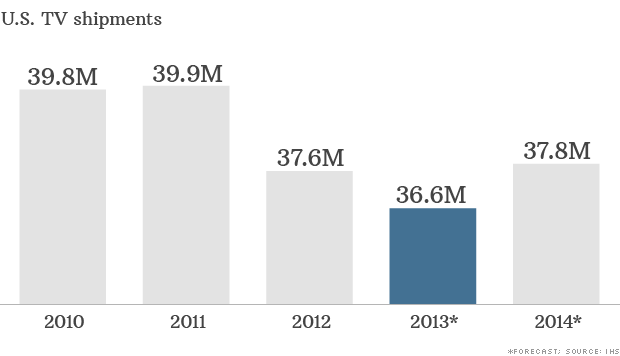 TV sales were booming as recently as 2010, when consumers were replacing their old tube sets with flat screen LCD TVs. But by 2011, two in three households in America owned at least one HDTV. That's when television sales start to hit a wall.
TV manufacturers sold just 33,000 ultra-high definition "4KTVs" last year, and IHS predicts fewer than 1 million will be sold this year. To put that in perspective, IHS expects that about 37 million LCD TVs will be sold in the United States this year overall.
Television buyers have shrugged off 3-D features too. By the end of last year, only about 20% of all LCD TVs sold had 3-D capabilities. Just 14% of consumers said they expect to expect to buy a 3-D TV for their next purchase, according to a recent NPD survey.
This all begs the question if HDTV sales were primarily driven by the US moving off of NTSC to ATSC, more or less forcing consumers to move to new HDTV's or if consumers were replacing old CRT technology with HDTV because they new/wanted better resolution and/or wanted to have the display take up less space?
Regardless, it seems clear that consumers are not interested in replacing their existing HDTV's, even if they are the "old" and "thick" CFL style HDTV's of days gone by...
Anyone going to replace their existing HDTV's with a new one? If so, why?