Bird of Paradise
is an interesting curiosity produced shortly before enforcement of the Motion Picture Production Code in Hollywood. The Code was created in 1930 but was never really enforced until several years later. Many of the scenes in
Bird of Paradise
feature suggested nudity and implied sexual relations between unmarried men and women as the sailors making port on a Polynesian island celebrate wantonly. Bird of Paradise was directed by King Vidor(
Duel In The Sun
,
The Fountainhead
) as an adaptation of the play by Richard Walton Tully.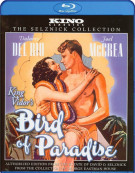 BIRD OF PARADISE BLU-RAY REVIEW
Studio: Kino Lorber
Year: 1932
Rated: Not Rated
Film Length:1 hour, 22 minutes
Aspect Ratio: 1.33:1
Audio: English LPCM 2.0
Release Date: May 2, 2012
The Movie
Johnny (Joel McCrea) is among a group of sailors who land upon a Polynesian island to trade with the villagers. Johnny basically goes native after he meets and falls in love with Luana (Dolores Del Rio), the daughter of the chief. Johnny and Luana fall madly in love in spite of the language barrier. Unfortunately, other obstacles arise to threaten their happiness, including the fact that Luana has been promised to wed another man, and also to be sacrificed to the islanders' volcano god Pele.
Max Steiner (
Gone With The Wind
) composed the score for this film, which is one of the earliest features to have a full symphonic music score. RKO recycled the villagers' huts shortly after this film for use on Skull Island in
King Kong
. Bird of Paradise is also notable as one of the earliest film appearances of Lon Chaney, Jr. (
The Wolf Man
) credited in this film as Creighton Chaney in a minor role.
Bird of Paradise
is a moderately entertaining love story, and has very high production values for the time it was made. The suggested nudity in Del Rio's skinny dipping scene and the dancing and drinking by sailors and villagers before retreating to the village huts makes one wonder if this film was a motivating factor for creation of the Production Code.
Bird of Paradise
stands up well for a film of its time, and the slick production values help to compensate for the predictability of the plot. Some of the film was produced on location in Hawaii. A sequel entitled
Green Mansions
was planned but then scrapped after
Bird of Paradise
had disappointing box office returns.
Video
Bird of Paradise
appears on Blu-Ray in its original 1.33:1 aspect ratio. This edition was mastered in 1080p from an original 35mm nitrate print from the George Eastman House. Although dirt and debris have been removed, scratches remain evident throughout, particularly in the first reel, although quality improves remarkably for the remaining reels. The gray scale is excellent and blacks are solid without unduly compromising shadow detail.
Audio
The English lossless PCM 2.0 Audio track is merely adequate. Dialogue sounds tinny and hollow. There is little if any audible hissing or popping, but dynamic range is obviously subject to the limitations of a 1932 soundtrack.
Special Features
The special features include the following trailers:
Nothing Sacred
(2:04),
A Star Is Born
(2:47), and
Pandora and the Flying Dutchman
(1:32).
Conclusion
Bird of Paradise
is a worthwhile love story and adventure film, and an interesting artifact of film production prior to enforcement by the Breen Office. The video quality is very good with little gate weave and the only caveat being the scratches evident throughout. The audio is merely adequate. Special features are limited to trailers for other classic releases from Kino. If you want to see how 1930s films were different before enforcement of the Production Code, you could do a lot worse than to check out
Bird of Paradise
on Blu-ray.
http://static.hometh...um.com/imgrepo/