A Farewell To Arms is the 1932 film adaptation of Ernest Hemingway's novel directed by Frank Borzage(Bad Girl). Lieutenant Frederic Henry(Gary Cooper) is an American driving ambulances for the Italian Army during World War I. Frederic is a playboy without any emotional attachments until he meets Catherine Barkley(Helen Hayes), a nurse to the wounded soldiers. The two fall instantly in love but larger events conspire to pull them apart. Adolphe Menjou is notable in his role as Rinaldi, Frederic's friend and confidante who does his best to discourage his friend's romantic aspirations.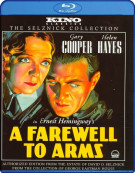 A FAREWELL TO ARMS BLU-RAY
Studio: Kino
Year: 1932
Rated: Not Rated
Film Length:1 hour, 29 minutes
Aspect Ratio: 1.33:1
Audio: English Mono 2.0
Release Date: December 20, 2011
The Movie
This version of A Farewell To Arms may not be the most faithful adaptation of its source material but it succeeds as a melodrama of star-crossed lovers who may or may not be meant to be with each other. The film was nominated for an Academy Award for Best Picture for 1932 but lost out to Frank Lloyd's Cavalcade. The theme of lovers who are torn apart by forces beyond their control is a universal one used to good effect in this film.
Video
A Farewell To Arms appears on Blu-Ray in its 1.33:1 aspect ratio. This edition was mastered in 1080p from a 35mm nitrate print from the George Eastman House. Black levels are mostly solid and shadow detail is excellent for the most part. Although scratches and blemishes are still evident on the film, the originating print is obviously in excellent condition given its age. The amount of film grain may be excessive for some tastes but seems to reflect accurately the video quality of a 35mm film from this era.
Audio
The English mono 2.0 audio track is as good as one might hope for from an early "talkie". The dialogue is always audible, albeit with the "tinniness" of a film from that era, with nothing approaching the dynamic range we are accustomed to in modern films. There is some minor popping and crackling still evident near the beginnings and ends of each reel but these imperfections are mostly absent from the remainder of the film. The audio is generally excellent in spite of a few minor flaws.
Special Features
The special features include all of the following:
Theatrical Trailers: Original trailers are included for Kino releases of Nothing Sacred(2:04), A Star Is Born(2:47), as well as a modern style trailer for Pandora and the Flying Dutchman produced for the 2010 re-release in the UK(1:32).
Stills Galleries: There are 16 stills of theatrical posters, which may be selected using the arrows on your remote control.
Conclusion
A Farewell To Arms is a slickly produced romantic tearjerker starring Gary Cooper near the start of his career. It may not be a great film but it is a very good film, and was nominated for the Academy Award for Best Picture in 1932. The video quality is very good, better than one might hope for, given the age of the nitrate print from which the image was harvested. The audio is also as good as one might hope from a 1932 feature film. Special features are limited to a stills gallery and trailers for other classic Blu-ray releases from Kino. A Farewell To Arms on Blu-ray is recommended for fans of romantic films and is also recommended viewing for fans of Gary Cooper.