Zen
is the BBC series of films based on the title character created by British author Michael Dibdin. Aurelio Zen(Rufus Sewell) is a police investigator in Rome and a single man who lives with his mother. Caterina Murino(Casino Royale) plays Tania Moretti, a love interest and sounding board for Aurelio.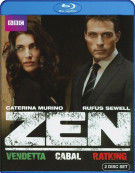 ZEN Blu-ray
Studio: BBC America
Year: 2011
Rated: Not Rated
Film Length: 4 hours, 25 minutes
Aspect Ratio: 1.78:1
Audio: English Dolby Digital 2.0
Subtitles: English SDH
Release Date: August 2, 2011
The Series
What distinguishes
Zen
from other police procedurals is the politics that come into play during Zen's investigations. This is evident from the beginning of the first film, Vendetta, as Zen is assigned to a murder investigation with a Catch-22; if he confirms the original investigator's theory, then he will have people in high places very angry with him. On the other hand, if Zen determines a different suspect committed the crime, he will have his superiors angry with him. The manner in which Zen makes his way through this problem adds a depth to these mysteries that is lacking in more pedestrian police procedural stories. In these mysteries, the characters matter as much as the plot.
This first (and possibly only) season of
Zen
consisted of three double-length films.
Zen
aired on the BBC in the United Kingdom to respectable ratings, and has been sold for broadcast to a number of international markets, which made it surprising that it was not picked up for a second series of films, since it was apparently profitable for the BBC. The series aired more recently in America on PBS. The producers of
Zen
have been negotiating with other networks for a second season of
Zen
so we may not have seen the last of him on television.
All 3 episodes from the first season are included. They are as follows:
Vendetta(1:28:38)
Cabal(1:28:56)
Ratking(1:28:52)
Video
Zen
appears on Blu-Ray in 1080i in its original 1.78:1 aspect ratio as originally filmed. The location shooting in Italy certainly presents well in high definition. Colors are vibrant in exterior shots and muted in interiors with flesh tones tending to paleness. Other than some black crush in some night scenes, the transfers are very good with no other major compression artifacts.
Audio
The English Dolby Digital 2.0 track is adequate for the needs of the stories. The audio may not be exceptional but has no apparent flaws.
Special Features
The special features are limited to a 30 minute behind the scenes featurette entitled "
Zen
-An Italian Adventure" which has interviews with cast and crew along with footage from the series.
Conclusion
Zen
on Blu-ray is a nice collection of the series to date. Most contemporary police procedurals on the air seem to be long on plot and short on characterization, so
Zen
is a refreshing change with its full-fleshed characters and political intrigue, even if the mysteries themselves are not game-changers in the genre. The video and audio presentation are good but not exceptional. "
Zen
-An Italian Adventure" is a pleasant behind the scenes featurette regarding production of the films.
Zen
may not rise to the same standard of excellence as BBC's Sherlock, but it is not a bad series by any stretch of the imagination. Mystery viewers who are burnt out on a parade of CSI spinoffs and Law and Order clones may find some satisfaction in
Zen
.