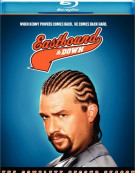 EASTBOUND & DOWN
The Complete Second Season BLU-RAY
Studio: HBO Home Entertainment
Year: 2010
Rated: TV-MA
Film Length: Approximately 3 hours, 30 minutes
Aspect Ratio: 1.78:1
Audio: English DTS-HD Master Audio 5.1, French DTS Surround 5.1, Spanish DTS Digital Surround 2.0
Subtitles: English SDH, Spanish, French, Danish, Finnish, Norwegian, Swedish
Release Date: August 2, 2011
The Series
Season 2 of
Eastbound & Down
finds Kenny Powers(Danny McBride) playing baseball in Mexico as an escape from the disappointments he suffered in season 1. Kenny is a talented baseball pitcher whose career peaked very early in the Major Leagues and has been headed downhill ever since. Kenny's grandiose sense of himself does not match up with his actual talents and abilities, and many interesting moments in the series derive from this premise.
Kenny's high estimation of himself is shared only by his sycophantic friend, Stevie(Steve Little). Stevie hunts Kenny down in Mexico to help him in his grand comeback. Kenny also finds himself involved with Vida(Ana de la Reguera), a bar singer who challenges Kenny to settle down south of the border.
Eastbound & Down
was created by Ben T. Best, Jody Hill, and Danny McBride following their collaboration on
The Foot Fist Way
(2006). These principals return to Eastbound & Down in the second season, along with Will Ferrell and his producing partner Adam McKay(
The Other Guys
) as executive producers. The second season setting in Mexico is a fair departure from the first season which took place almost entirely in North Carolina, but the comedy remains the same as Kenny and Stevie become involved in cockfighting and other entertainments that might be considered disreputable.
Video
Eastbound & Down
Season 2 appears on Blu-Ray in 1080p in its original 1.78:1 aspect ratio as originally filmed and shown on HBO. As with the first season released on Blu-ray on the same date, video has the appearance of film with a fair amount of grain, vibrant colors, and excellent clarity of image. This set presents an excellent video presentation of the series that surpasses anything that you might have seen of this series in high definition on HBO.
All 7 episodes from the first season are included in this 2-disc set. The first four episodes are on disc 1 with the final 3 episodes and most of the special features on disc 2. The episode run-times are as follows:
Chapter 7(28:56)
Chapter 8(28:53)
Chapter 9(27:43)
Chapter 10(28:46)
Chapter 11(27:31)
Chapter 12(29:20)
Chapter 13(30:42)
Audio
The DTS-HD Master Audio 5.1 tracks are fairly immersive for the outdoor crowd scenes as well as the extensive use of existing songs on the soundtrack. As with the first season release, the audio approaches standards of reference quality more closely than we might expect from a TV series.
Special Features
There is a wealth of special features which include all of the following:
Invitation To The Set(8:29): This featurette includes interviews, episode footage, and behind the scenes footage and was shown originally on HBO to promote the premiere of the second season.
Big Red Cockfighting(4:17): Actors and producers talk briefly about Kenny's flirtation with the sport of cockfighting.
Deleted Scenes aka Sh*t We Had To Cut Out(16:00): These are deleted scenes from the second season.
Outtakes aka Every Time Someone F***ed Up Our Show(11:39): These are worthwhile viewing for fans of the show.
Audio Commentaries: Commentaries are included with 5 of the 7 episodes, and the participants seem to enjoy interacting with each other as they watch the show. Chapters 7 and 10 through 13 have full length commentaries as indicated:
Chapter 7: Actor Danny McBride and director Jody Hill.
Chapter 10: Actors Danny McBride and Steve Little, and director Jody Hill.
Chapter 11: Director David Gordon Green and sound mixer Chris Gebert.
Chapter 12: Actors Danny McBride and Steve Little, and director Jody Hill.
Chapter 13: Actors Danny McBride and Steve Little, and director Jody Hill.
Conclusion
Eastbound & Down
The Complete Second Season arrives on Blu-ray on the same date as The Complete First Season. (The first season was previously released only on DVD.) The video and audio presentation are excellent on both seasons and the set has many special features, all in high definition, for fans of the series. If you are new to this series, these sets are a great way to catch up with Kenny Powers before the third season airs on HBO, presumably in 2012.
Eastbound & Down
The Complete Second Season on Blu-ray comes recommended to fans of the series as well as those who are bored with formulaic series television.