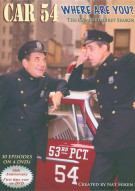 CAR 54 WHERE ARE YOU? The Complete First Season Set
Studio: Shanachie Entertainment
Year: 1961-1962
Rated: Unrated
Film Length: 13 hours, 0 minutes
Aspect Ratio: 1.33:1
Audio: English Dolby Digital Mono
Release Date: April 12, 2011
The Series
Car 54 Where Are You? is the early 1960s sitcom featuring mismatched officers Toody and Muldoon of the fictitious 53
rd
Precinct in New York City. Gunther Toody (Joe E. Ross) is short, stocky, and simple, and partner in Car 54 to officer Muldoon. Francis Muldoon (Fred Gwynn) is tall, slender, and sophisticated, at least compared to his partner. Al Lewis appeared in a recurring role as officer Leo Schnauser prior to reteaming with Gwynne in The Munsters, and Charlotte Rae played Schnauser's wife Sylvia in a recurring role during its 2 seasons. In addition to being set in the Bronx, the series was actually filmed entirely on location at what was then the Biograph Studios.
Car 54 Where Are You? was created by Nat Hiken(Sgt. Bilko), who also wrote and directed many of the episodes. Although he is not a household name today, Hiken was appreciated and admired as a great comedy writer in his time. Carl Reiner has said that "All comedy writers of Hiken's day agreed that he had no peer." Carol Burnett has referred to him as a "comedy genius."
Car 54 Where Are You? premiered on the NBC Network at 8:30 p.m. on September 17, 1961, and aired for 2 seasons until its last new episode aired on April 14, 1963. The series aired for both seasons against The Ed Sullivan Show on CBS. Car 54 received respectable Nielsen ratings in its first season but slipped against its competition in season two, resulting in its cancellation in 1963. The fact that Car 54 is so revered and fondly remembered today, given that it aired for only 2 seasons, is most likely attributable to the high quality of acting and scripting on display in its 60 episodes. This first season DVD set includes all 30 episodes on 4 discs.
Video
The series is presented in its original 1.33:1 aspect ratio. The first 30 episodes, comprising all episodes from season one, have been remastered for this collection from the only complete set of 35mm prints known to be in existence. The image quality is surprisingly sharp with excellent gray scale which is much better from what we are accustomed to seeing on TV shows that are 50 years old. There is some haloing visible around figures and objects but this is very minimal. There are occasional scratches or blemishes perceptible but much less than what we usually see on shows from this vintage. The closing credits even include the sponsor products from the time it was aired originally. It is unfortunate that so few series from that era have been preserved on 35mm film as was this series.
Audio
The English Dolby Digital mono tracks are good with dialogue which is always appropriately audible over sound effects. Audio quality is variable with more audible hiss on the pilot episode Who's For Swordfish than on the following episodes. The audio elements were obviously well preserved on film as well as the video. The pilot episode is actually the 6
th
episode in order on Disc 1.
Special Features
This set includes the following special features:
A round table conversation(32:12) including Charlotte Rae(Sylvia Schnauser) and Hank Garrett(Officer Ed Nicholson) hosted by comedian Robert Klein, who actually grew up in the Bronx. Although these surviving actors did not appear in every episode, they have keen remembrances of the episodes in which they appeared as well as what it was like to work with Gwynne, Ross, and Lewis.
Conclusion
Car 54 Where Are You? is recommended to fans of the Golden Age of television. Leonard Maltin has endorsed Car 54 as "one of the funniest TV shows of all time." I have always enjoyed Fred Gwynne and Al Lewis in their regular roles on The Munsters, and it is fun to see these actors play different roles together in another (earlier) series. Video and audio quality on this first season set are excellent when you take into account the quality of other series from the early 1960s. The roundtable discussion included as a special feature is surprisingly entertaining since some of these programs can be dull when, as is often the case, the interview subjects have poor recollection about things that happened nearly 50 years earlier. The only downside to this collection is that the episodes are not included in order of airdate nor in production order. I find production order preferable generally over airdate order unless this violates continuity. The episodes in this collection are included in seemingly random order, and I hope this pattern is not repeated on the second season set. In spite of this defect, Car 54 Where Are You? season 1 on DVD comes recommended to any fans of the Golden Age of television who enjoy high quality comedic actors in high caliber scripts.