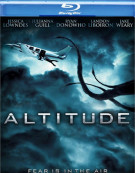 ALTITUDE Blu-Ray
Studio: Anchor Bay
Year: 2010
Rated: R
Film Length: 1 hour, 31 minutes
Aspect Ratio: 2.40:1
Audio: English Dolby TrueHD 5.1
Subtitles: English, Spanish
Release Date: October 26, 2010
The Movie
Altitude is the story of a group of college students who take a small airplane into the void of the unknown. Jessica Lowndes (90210) plays Sara, a young woman and licenced pilot who takes her friends with her on a flight to see a concert in Montreal. Sara's friends are played by Julianna Guill(90210), Ryan Donowho(The O.C.), Landon Liboiron(Degrassi: The Next Generation), and Jake Weary(As The World Turns). Once in the air, they are plagued by what they initially believe to be mechanical problems and which turns out to be something more sinister.
Altitude is the feature film directing debut by Kaare Andrews, who has previously directed music videos as well as provided artwork for comic books such as The Amazing Spider-Man and The Astonishing X-Men. The direction is excellent, given the inherent limitations of filming a story that takes place mostly within and outside an aircraft in flight. Since this is a direct to video film, I had low expectations and was pleasantly surprised. Altitude is reminiscent of some of the things I enjoyed in Final Destination and TV's LOST. Some other reviewers have compared Altitude favorably to the works of H.P. Lovecraft and, while I might not have made that comparison, I cannot say it is inaccurate. As horror/suspense films go, I enjoyed Altitude much more than the average film.
Video
Altitude is presented in a 2.40:1 aspect ratio. Film grain is minimal which is not surprising given the extensive CGI effects used in the film. Edge enhancement and DNR have been applied sparingly and appropriately consistent with the requirements of the special effects
Audio
The Dolby TrueHD 5.1 audio tracks are put to good use in this presentation. Directional effects are used well for the airplane and weather effects. The mix is produced well such that dialogue is appropriately audible in relation to the ambient sound effects.
Special Features
Audio options include an interesting feature-length director's commentary by Kaare Andrews. Also included are the following:
Altitude: Behind The Scenes(49:02): This is a well-produced "making of" feature with interviews of cast and crew with behind the scenes footage.
Green Storm: Featurette with interviews of cast and crew regarding the challenges of filming on green screen.
Trailer(2:02): Trailer for Altitude.
Conclusion
Altitude is a slick, well-produced horror film that transcends its limitations and is a better than average excursion in this genre. The video and audio elements on this Blu-ray transfer are excellent, and the special features provide interesting insights into the making of the film. Judging by his theatrical debut as a director, Kaare Andrews may be one to watch for in the future. If you enjoy horror and suspense films, you might do a lot worse than to see Altitude.