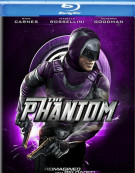 The Phantom Miniseries Blu-ray
Studio: Vivendi Entertainment
Year: 2009
Rated: Not Rated
Film Length: 2 hours, 56 minutes
Aspect Ratio: 1.85:1
Audio: English 5.1 DTS-HD
Subtitles: English SDH  
Release Date: September 7, 2010  
The Movie
The Phantom is the latest adaptation of the long-running comic strip created by Lee Falk in the mid 1930s. The Phantom was previously brought to the big screen in 1996 in a film starring Billy Zane and Christy Swanson. This miniseries originally aired on the Syfy Channel in June of 2010. Unlike the earlier version, which was a period piece set in 1938, this Phantom exists in the present (or the near future). Chris Moore (Ryan Carnes) aka Kit Walker is the last in line of a long line of crime-fighters, each known as the Phantom, dating back to the 16
th
Century. Kit's ancestor Christopher Walker was the victim of piracy on the high seas. After washing up on the tropical shores of Bengalla, Christopher swore an oath to fight piracy, greed, and injustice. Christopher did just that after fashioning a costume of black mask and purple spandex. (This may have influenced Bob Kane's creation of Bat-Man several years later). Each son in succession has carried the mantle of the Phantom, leading his enemies to call him "the Ghost Who Walks" since they believe he is immortal.  
The post-modern Phantom is hunted by his traditional enemies, the Singh Brotherhood, led by Rhatib Singh (Cas Anvar) and assisted by the sinister Dr. Bella Lithia (Isabella Rossellini). The Singh Brotherhood is now a SPECTRE-like organization planning its schemes in modern board rooms instead of secret bases. As Kit Walker discovers his heritage and trains for his mission in life, he takes the battle to his ancestors' enemy and thwarts their latest plans at world conquest with the assistance of modern technology. The Phantom is assisted by his traditional assistant Guran, now a female played by Sandrine Holt, and by Abel Vandermaark (Jean Marchand), the leader of the Phantom's organization existing in opposition to the Singh Brotherhood.  
I was pleasantly surprised by the entertainment and production values, and fidelity to canon of this Syfy miniseries. The producers of this 2 part movie have succeeded in remaining faithful to the original Phantom legend while reinventing it in a modern urban setting. The new Phantom costume, along with the advertising slogan "Reimagined and Reinvented" had me fearing that this version of the Phantom was going to be a travesty similar to Syfy's "reinvention" of Flash Gordon. I am still not a fan of this new costume, pictured on the disc case above, but I found this new miniseries to be very enjoyable, in spite of my reservations about the costume. Most of the traditional trappings of the Phantom legend have been preserved in this new iteration, and the new story of this 22nd Phantom builds logically on the legend established by Lee Falk in the original comic strip. The cast is excellent with Ryan Carnes playing a plausibly young Kit Walker discovering his destiny and Jean Marchand is a standout as the new Phantom's reluctant mentor.  
Video
The 2-part film is presented in 1080p high definition in its original 1.85:1 aspect ratio. Minimal grain is present as expected with a series captured on high definition video, except for a brief prologue that is deliberately grainy and multichromatic. There is no overt DNR and edge enhancement. Except for a few scenes that are deliberately shot to be grainy and/or out of focus, the visual elements are excellent, perhaps even reference (or near-reference) quality.  
Audio
The English 5.1 DTS audio tracks live up to the high standards set by the visual elements on this disc. There are some fade-out sound effects in part 2 that are especially notable in contributing to the ambient sounds of the urban sprawl. This high sound quality is less often encountered in made for TV movies than in theatrical presentations, and is also a pleasant surprise here. Dialogue is appropriately audible over music and sound effects.  
Special Features
Special features are limited to the following:  
Interview With Director Paolo Barzman (6:01): Director Barzman (The Last Templar) comments on the making of this miniseries.  
Interview With Ryan Carnes (11:03): Leading man Carnes talks about the physical and mental challenges of filming this miniseries.  
Trailer (1:50): This brief trailer for the miniseries suffers from compression issues which are thankfully absent during the feature presentations.  
Conclusion
The Phantom is an interesting reboot of the long-running Phantom legend. I was prepared to be disappointed by another so-called "reinvention" that is too hip to take itself seriously with a new costume that the producers presumptuously believe to be so much cooler than the original; instead, I discovered a very interesting and creative reiteration of the original Phantom that remains mostly reverent to its source material. The special features are minimal but the high standard of audio and video presentation on this Blu-ray disc more than make up for the lack of deleted scenes and the like. The Phantom miniseries was produced to be a "back-door" pilot for a regular series. There is certainly enough in this 2-part film to make me interested in a regular series if it ever comes to pass. I am still not a fan of the new costume, but if you can get past that, there is much to be enjoyed in this origin story for the 22nd Phantom.