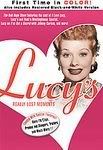 Lucy's really Lost moments is now available on DVD!!! I had been wanting a lost episodes and scenes DVD and this one is pretty good, I also like the feature that you can choose to watch the entire set is color or black and white.. Watching I love lucy in color is GREAT, I always kind of wondered what the show would look like in color with the apartment, clothing and Lucy's bright red hair. And I really enjoyed the rare guest appearance with Bob Hope on the "I love Lucy" show as he played the part as Ricky and Ricky played another cast member because that was an entire "I Love Lucy episode.
This is a great set and I recommend any Lucy fan picking this set up because it is unbelievably good and you get several hours with this set which is well worth the $10 price tag. You can purchase this set anywhere online now, through Amazon or Deep Discount DVD and free shipping through Deep Discount as no minimium amt required like Amazon. I have yet to find this copy in any department store that I have been to so far.
The box reads:
The legendary Lucille Ball as you've never seen her before! Laugh along with Lucy and Desi in these extremely rare television appearances, beautifully restored and in color! Includes a rare appearance of the I Love Lucy cast on the Bob Hope Show and the lost Lucy pilot. A must-have collection of gems from the first lady of comedy!
~The I Love Lucy cast on The Bob Hope Show.
~Rarely-seen Westinghouse special with Lucy and Desi.
~Segment with Lucy on the game show I've Got a Secret with panelist Johnny Carson.
~A long-lost pilot featuring Lucy and directed by Desi.
OVER ONE HOUR OF SPECIAL FEATURES!!
~Six rare trailers featuring Lucille Ball .
~Lucy and Desi guest appearance on What's My Line.
~Desi Arnaz guest appearance on I've Got A Secret, with Lucy on the panel.
~Several TV promos.
~Bloopers and behind-the-scenes footage.