The Weekly RoundUp
The Features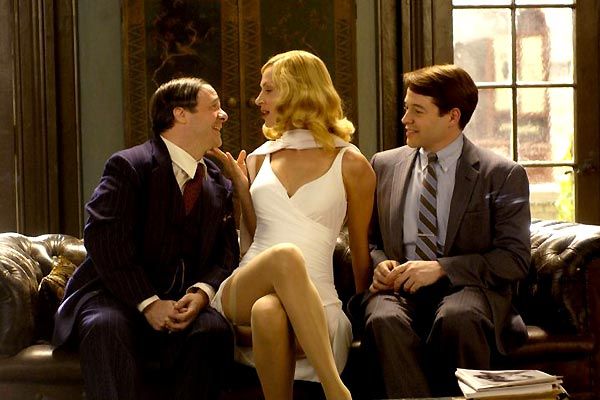 – Nathan Lane, Uma Thurman & Matthew Broderick (The Producers - 2005)
– Cast (The Big Valley: Season 1 – 1965)
– Marlo Thomas (That Girl - 1966)
– Cast (Here Come the Brides - 1968)
– Cast (Six Wives of Henry VIII – 1970)
The Prices
TITLE
Amazon
BestBuy
CrcCity
Target
Costco
Arms of the Man
$11.19
$12.99
$12.99
-
-
Beach Girls
$14.99
$14.99
$15.99
-
-
The Big Valley: Season 1
$27.99
$32.99
$34.99
-
-
Con Air (NR Extended Edition)
$19.99
$12.99
$12.99
-
-
Crimson Tide (NR Extended Edition)
$19.99
$12.99
$12.99
-
-
Devil's Disciple
$11.19
$12.99
$12.99
-
-
Doogal
$21.71
$16.99
$16.99
$16.99
-
**Duma
$13.99
$14.99
$12.99
-
-
Enemy of the State (NR Ext. Ed.)
$19.99
$12.99
$12.99
-
-
Everytime We Say Goodbye
$9.99
$9.99
$14.94
-
-
George Bernard Shaw Coll.
$41.99
$69.99
$49.99
-
-
Grounded for Life: Season 2
$20.99
$20.99
$19.99
-
-
Heartbreak House
$11.19
$12.99
$12.99
-
-
Here Come the Brides: Season 1
$34.99
$44.99
$39.99
-
-
Hill Street Blues: Season 2
$27.99
$26.99
$27.99
$24.99
-
Home Movies: Season 4
$24.99
$24.99
$29.99
-
-
Magic Johnson: Always Showtime
$17.99
$9.99
$15.99
-
-
The Millionairess
$11.19
$12.99
$12.99
-
-
Monarch of the Glen: Series 4
$41.99
$49.99
$49.99
-
-
Mrs. Warren's Profession
$11.19
$12.99
$12.99
-
-
MST3K –Volume 9
$41.98
$41.99
$49.99
-
-
Napolean Dynamite SE
$17.49
$16.99
$14.99
$16.99
-
Napolean Dynamite Coll. Set(s)
-
$34.99
$29.99
-
-
New Police Story
$20.19
$19.99
$19.99
-
-
**The Producers
$16.96
$19.99
$16.99
$16.99
$18.99
Pygmalion (1973)
$11.19
$12.99
$12.99
-
-
The Ringer
$20.99
$19.99
$14.99
$19.99
-
Shooting Livien
$14.99
$14.99
$17.99
-
-
Six Wives of Henry VIII
$48.99
$59.99
$69.99
-
-
**Something New
$19.49
$19.99
$16.99
$19.99
-
Supernanny: Season 1
$26.99
$22.99
$24.99
-
-
TMNT: Vol. 3.7-Hun on the Run
$11.19
$11.99
$12.99
-
-
That Girl: Season 1
$25.56
$29.99
$34.99
-
-
Walt Disney: Small World Fun-Vol. 1
$14.99
$9.99
$12.99
-
-
Walt Disney: Small World Fun-Vol. 2
$14.99
$9.99
$12.99
-
-
When A Stranger Calls
$18.98
$16.99
$14.99
$16.99
-
The White Countess
$18.99
$19.99
$19.99
-
-
Winter Passing
$20.99
$19.99
$19.99
$19.99
-
The Disclaimer
Standard disclaimer: All prices are taken from the websites of each chain, or from their printed Sunday advertisements. All prices are subject to change by each chain. Prices and inventory in-store may or may not match the website price.

"LP" in the RoundUp table means a store's Sunday flyer says "Low Price". That means I could not locate a definite price for the item, and the ad is all I have to go on. Retailers use these phrases in advertisements so that they do not violate MAP (Minimum Advertised Price) agreements with the studios. Doing so can cost them thousands or even millions of dollars in co-op advertising funds.

I, obviously, cannot include EVERY title released in a given week in the RoundUp. The titles included are those that I am interested in...as well as those which I consider will be of interest to a majority of consumers (and sometimes I'll miss one!). I don't get paid for this, and I don't have the time to list every DVD.

So, please don't complain!

If there is a title not included in the RoundUp that

you

want to see, just look it up yourself, and be nice enough to post and share the results with everyone!

Note that I cannot include Wal-Mart/Sam's Club prices in the RoundUp. They set prices at individual stores based on nearby competition, so there is no way I can say here what price you'll find at YOUR local Wal-Mart/Sam's Club location. And, as always, Circuit City does not guarantee their sale prices in Hawaii.
The Specials
**BE EXTREMELY CAREFUL!
Duma
AND
The Producers
AND
Something New
are ALL available in
both
OAR and MAR versions...
get the correct one(s)
!
--Lots of heavy-duty season one TV releases this week…with a couple of films thrown in to boot! There are also a couple of different Napoleon Dynamite Collectors Sets of which you should be aware.
--Best Buy, this week, is advertising an EXCLUSIVE NAPOLEON DYNAMITE COLLECTOR'S SET "Pretty much the best collector's set ever".
Flippin' Sweet Collctor's Set includes SE DVD, Exclusive Napolean & Kip head knockers and five removable iPod sticker covers. Minimum 24 per store. No rainchecks.
--Save $5, instantly, at Best Buy when you buy The Ringer with either Grandma's Boy or Big Momma's House 2. OR, Save $10 when you buy all three titles.
Must be purchased on same receipt.
--Best Buy is promoting its "Our Lowest Advertised Price" of $12.99 on four titles this week: The Aristocrats, Lord of War, Saw II & Waiting….
--Circuit City has its own EXCLUSIVE NAPOLEON DYNAMITE COLLECTOR'S SET this week!
Includes 2-disc SE DVD, "vote for pedro" t-shirt and a talking figure with 18 different lines.
--I like this promotional tie-in! It gets points for being clever!
Circuit City is giving an EXCLUSIVE FREE CIRCUIT CITY 30-MINUTE CALLING CARD with the purchase of When A Stranger Calls on DVD.
While supplies last. Minimum 25 per store.
--Circuit City is now also doing a FREE BONUS MOVIE TICKET TO SEE THE Da Vinci code (in theaters May 19) with the purchase of any of the following 12 DVDs for $9.99 apiece (Regular $14.99).
Valid 5-14-06 thru 6-30-06. Up to a $10 value.
Spiderman/Spiderman 2, Stealth, The Exorcism of Emily Rose, The Legend of Zorro, Monty Python & the Holy Grail, The Mask of Zorro, The Silence of the Lambs, A River Runs Through It DE, Legends of the Fall DE, The Caine Mutiny (!), The Guns of Navarone and Philadelphia.
--Target is advertising SEVEN FREE MUSIC DOWNLOADS with its copies of the Napoleon Dynamite SE DVD.
Quantity limited, no rainchecks.
--Target is also advertising an EXCLUSIVE RELEASE of Bridezillas: Season 2 for $19.99.
Only at Target!
The Markdowns
The latest markdowns according to
DavisDVD
:
EFFECTIVE: May 16, 2006 (Studio/Titles/New SRP)
None to report.