The Weekly RoundUp
The Features
– William Holden (Stalag 17 - 1953)
– Phillip Seymour Hoffman (Capote - 2005)
– Chicken Little (Chicken Little - 2005)
– Busby Berkeley & Dancers (The Busby Berkeley Collection)
The Prices
TITLE
Amazon
BestBuy
CrcCity
Target
Costco
21 Jump Street: Season 5
$23.99
$23.99
$29.99
$24.99
-
42nd Street
$14.99
$14.99
$15.99
-
-
Adventures of Brer Rabbit
$17.19
$21.99
$19.99
$14.99
-
Batman Beyond: Season 1
$18.99
$19.99
$19.99
$19.99
-
Bewitched: Season 3
$27.99
$27.99
$27.99
$27.99
-
Billy Wilder Collection
$24.99
$29.99
$29.99
-
-
Busby Berkeley Collection
$41.99
$59.99
$49.99
-
-
Capote
$18.78
$17.99
$19.99
$19.99
-
Chicken Little
$14.96
$16.99
$13.99
$15.99
$18.99
The Confessor
$16.99
$22.99
$24.97
-
-
>
Dames
$13.99
-
-
-
-
Dear Wendy
$16.99
$19.99
$17.99
-
-
**Derailed (R & NR)
$17.96
$16.99
$17.99
$17.99
-
Dimples
$9.99
$12.99
$12.99
-
-
**Dreamer: Inspired/True Story
$17.96
$19.99
$17.99
$15.99
$18.99
The Dying Gaul
$16.98
$19.99
$24.97
-
-
Ed, Edd & Eddy 2
$9.69
$12.99
$12.99
$9.99
-
Everything is Illuminated
$19.99
$19.99
$19.99
$19.99
-
The Flying Nun: Season 1
$27.99
$27.99
$29.99
-
-
Footlight Parade
$13.99
-
-
-
-
Gidget: Complete Series
$27.99
$27.99
$29.99
-
-
Gold Diggers of 1933
$13.99
-
-
-
-
Gold Diggers of 1935
$13.99
-
-
-
-
House of the Dead 2
$18.99
$22.99
$17.99
$19.99
-
Huff: Season 1
$27.99
$29.99
$29.99
$29.99
-
**In the Mix
$19.99
$17.99
$16.99
$15.99
-
JammX Kids: Can't Dance…
$13.49
$12.99
$12.99
-
-
Justice League (Anim.): Season 1
$30.99
$32.99
$34.99
-
-
Keane
$18.99
$22.99
$19.99
-
-
A League of Ordinary Gentlemen
$18.99
$22.99
$19.99
$19.99
-
The Little Colonel
$9.99
$12.99
$12.99
-
-
The Littlest Rebel
$9.99
$12.99
$12.99
-
-
Loggerheads
$17.99
-
-
-
-
A Lover's Revenge
$18.99
$24.99
$19.99
-
-
Mind of Mencia: Season 1
$16.96
$16.99
$17.99
$17.99
-
Over There: Season 1
$27.99
$29.99
$27.99
$29.99
-
Paradise Now
$18.19
$24.99
$19.99
-
-
Ring Around the Rosie
$16.99
$22.99
$24.97
-
-
Roach Approach: Slingshot Slugger
$9.99
$12.99
$12.99
-
-
Roseanne: Season 3
$25.56
$27.99
$34.99
$24.99
-
Shirley Temple Coll. Vol. 3
$20.99
$24.99
$24.99
-
-
Show Me
$22.49
$19.99
$19.99
-
-
South Park: Season 7
$34.99
$29.99
$29.99
$29.99
-
Squid and the Whale SE
$18.96
$19.99
$19.99
$19.99
-
Stalag 17 CE
$12.99
$14.99
$17.99
-
-
Tales from the Crypt: Season 3
$27.99
$29.99
$34.99
-
-
Ten Commandments: 50th Anniv. Ed.
$16.19
$16.99
$14.99
$19.99
-
Unsolved Mysteries (Best of…)
$20.99
$24.99
$24.99
-
-
The White Shadow: Season 2
$27.99
$29.99
$34.99
-
-
The Young Riders: Season 1
$41.49
$39.99
$49.99
-
-
See below for some special Best Buy Reward Zone Program Prices on selected TV titles!
Individual titles included in box sets listed above:
Billy Wilder Collection:
Stalag 17 CE, Sunset Boulevard, Sabrina (1953).
Busby Berkeley Collection:
Dames, Footlight Parade, Gold Diggers of 1933, Gold Diggers of 1935, 42nd Street..
Shirley Temple Collection – Vol. 3:
Dimples, The Little Colonel, The Littlest Rebel.
The Disclaimer
Standard disclaimer: All prices are taken from the websites of each chain, or from their printed Sunday advertisements. All prices are subject to change by each chain. Prices and inventory in-store may or may not match the website price.

"LP" in the RoundUp table means a store's Sunday flyer says "Low Price". That means I could not locate a definite price for the item, and the ad is all I have to go on. Retailers use these phrases in advertisements so that they do not violate MAP (Minimum Advertised Price) agreements with the studios. Doing so can cost them thousands or even millions of dollars in co-op advertising funds.

I, obviously, cannot include EVERY title released in a given week in the RoundUp. The titles included are those that I am interested in...as well as those which I consider will be of interest to a majority of consumers (and sometimes I'll miss one!). I don't get paid for this, and I don't have the time to list every DVD.

So, please don't complain!

If there is a title not included in the RoundUp that

you

want to see, just look it up yourself, and be nice enough to post and share the results with everyone!

Note that I cannot include Wal-Mart/Sam's Club prices in the RoundUp. They set prices at individual stores based on nearby competition, so there is no way I can say here what price you'll find at YOUR local Wal-Mart/Sam's Club location. And, as always, Circuit City does not guarantee their sale prices in Hawaii.
The Specials
**BE EXTREMELY CAREFUL!
Derailed
AND[/i] Dreamer: Inspired By a True Story AND[/i] In The Mix are ALL available in both MAR and OAR versions...[u]get the correct one! Also, the OAR version of Derailed is available in both rated and unrated versions.

--Amazon has different pricing on the OAR and MAR versions of BOTH Derailed and Dreamer: Inspired By a True Story. They've got the WS versions for sale for $17.96 and the FS versions for $20.99. That might change closer to release date.

--I am also very confused about the status of the individual titles in the Busby Berkeley Collection. Amazon, Best Buy & Circuit City all show prices and a release date of 3-21 for 42nd Street. However, Best Buy and Circuit show nothing for either Gold Diggers titles, Dames or Footlight Parade. Amazon shows all four with 3-21 release dates…but no artwork. I'm sure some RoundUp readers will weigh in with the scoop.

--Best Buy, this week, has a number of EXCLUSIVES. Let's start with EXCLUSIVE BONUS MOVIE CASH with their copies of Derailed ($16.99) to see Scary Movie 4. In theaters 4-14-06. Up to $12 value. Minimum 38 per store. No rainchecks. 38?

--Best Buy also has an EXCLUSIVE "MotherLoad" disc available with its copies of South Park: Season 7 OR Mind of Mencia: Season 1. Indulge in over 45 minutes of exclusive content straight from MotherLoad, Comedy Central's online video player.

--Best Buy has TWO FREE Chicken Little PEZ DISPENSERS (even though they picture three in their flyer ad), instantly, with the purchase of Chicken Little on DVD. Minimum 24 per store. No rainchecks. In store only.

--Best Buy also has a poorly worded, confusing deal on Disney titles this week. I think I know what they mean—but I'm not certain. I'll give you the exact wording and "you make the call". Save $3 instantly, when you buy Bambi II ($16.99) and Chicken Little ($16.99) or any other Disney title. Must be purchased on same receipt. My [u]guess
is that the deal really applies to Bambi II (since it is mentioned first) and ANY other Disney title—including Chicken Little. You would
think
the deal would be on Chicken Little and any other Disney DVD.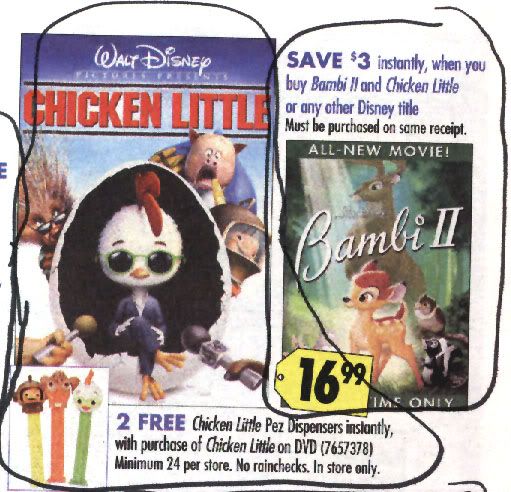 --Worth mentioning that Best Buy is advertising special prices on EIGHT TV Shows on DVD for members of its Reward Zone program. They are:
[c]Batman Beyond: Season 1 -- $17.99
Huff: Season 1 -- $24.99
Justice League (Animated Series): Season 1 -- $27.99
Roseanne: Season 3 -- $22.99
Over There: Season 1 -- $24.99
Tales from the Crypt: Season 3 -- $24.99
The White Shadow: Season 2 -- $24.99
The Young Riders: Season 1-- $34.99
[/c]
--Best Buy is also advertising that it will have a FREE demo disc of the PS2 video game of The Godfather with its copies of The Godfather Trilogy at its stores ($44.99)
Minimum 6 per store. No rainchecks.
--I am working without a net again this week as my local papers have failed to supply me with an early Circuit City flyer. My CC information has been culled from various internet sources—including circuitcity.com.
--Circuit City has a similar deal on Chicken Little and Bambi II as Best Buy. Not
quite
as confusing however.
At CC, save $6 when you buy Chicken Little ($13.99) with either Bambi II ($19.99) OR Lady and the Tramp ($19.99).
Must be purchased on same receipt.
--Circuit City also has a different deal for Chicken Little, however. Save $5 with the purchase of BOTH the Chicken Little soundtrack CD ($11.99) AND the Chicken Little DVD ($13.99).
--Target has its usual $5 GiftCard to offer with the purchase of Bewitched: Season 3 or Roseanne: Season 3.
Quantity limited; no rainchecks.
The Markdowns
The latest markdowns according to
DavisDVD
:
EFFECTIVE: March 21, 2006 (Studio/Titles/New SRP)
None to report.