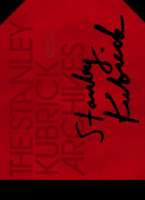 Hi all,
I didn't know of another place to post this, and as the booket set includes a CD it is somewhat appropriate.
In March 2005 - the first book to explore Stanley Kubrick's archives (also the most comprehensive study of the filmmaker to date) will be released for purchase. It is written by Alison Castle.
$200 US/£100 GBP/150 EUR.
Made in cooperation with Jan Harlan, Christiane Kubrick, and the Stanley Kubrick Estate.
**BONUS**
• books in the first print run will each include a twelve-frame film strip from a 70mm print of 2001: A Space Odyssey owned by Stanley Kubrick!
I've pieced together some more details
HERE
if anyone is interested. I've pre-ordered mine and hoping for the Star Child sequence !!!
Best,