At this solemn moment, in the presence of this tribunal, which is the representative of human justice, before France, before the whole world, I swear that Dreyfus is innocent! By all that I have won, by all that I have written to spread the spirit of France, I swear that he is innocent. May all that melt away; may my name perish if Dreyfus be not innocent. He is innocent.
–Paul Muni as Emile Zola (The Life of Emile Zola – 1937)
I believe God made me for a purpose, but He also made me fast. And when I run I feel His pleasure.
–Ian Charlesom as Eric Liddell (Chariots of Fire – 1981)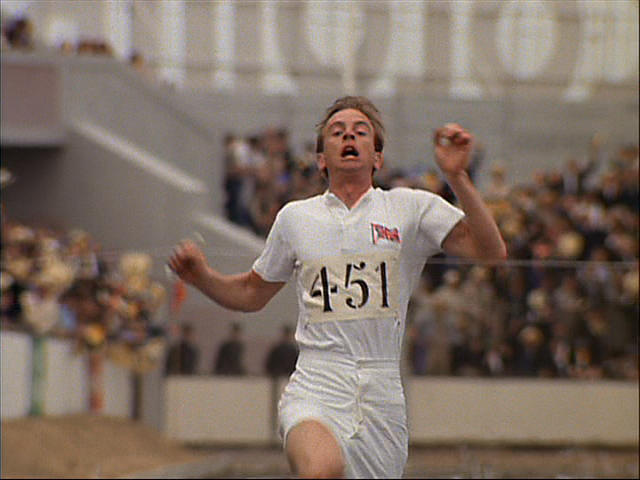 The Weekly RoundUp
| | | | | | |
| --- | --- | --- | --- | --- | --- |
| TITLE | Amazon | BestBuy | CrcCity | Target | Costco |
| 3 Steps to Heaven | $26.99 | $24.99 | $24.99 | - | - |
| Bad Girls: Ext. Ed. | $9.98 | $6.99 | $9.99 | - | - |
| Balto III: Wings of Change | $17.98 | $14.99 | $17.99 | $14.99 | - |
| Bodyguard SE | $14.97 | $14.99 | $12.99 | - | - |
| Bopha! | $10.49 | $12.99 | $12.99 | - | - |
| Brak Show: Volume 1 | $22.48 | $22.99 | $24.99 | - | - |
| Broadway Melody of 1929 | $13.98 | $14.99 | $15.99 | - | - |
| Carolina (2003) | $20.99 | $24.99 | $24.99 | $17.99 | - |
| Chariots of Fire SE | $18.89 | $19.99 | $19.99 | $15.99 | $18.49 |
| Charmed: Season 1 | $34.99 | $29.99 | $32.99 | $32.99 | - |
| Cheers: Season 4 | $27.29 | $34.99 | $34.99 | - | - |
| China/Panda Adventure (IMAX) | $13.47 | $12.99 | $12.99 | - | - |
| Class Action | $9.98 | $6.99 | $9.99 | - | - |
| Degrassi Jr. High: Season 1 | $27.97 | $28.99 | $29.95 | - | - |
| Frasier: Season 4 | $27.29 | $31.99 | $34.99 | - | - |
| The Grudge | $20.27 | $15.00 | $14.99 | $15.99 | - |
| The Hidden Dimension (IMAX) | $13.47 | $12.99 | $12.99 | - | - |
| I Love Lucy: Season 3 | $38.49 | $46.99 | $69.99 | - | - |
| Karate Kid Collection | $25.87 | $24.99 | $24.99 | $24.99 | - |
| La Commare Secca (CC) | $20.96 | $24.99 | $22.99 | - | - |
| Laughing Policeman | $9.98 | $6.99 | $9.99 | - | - |
| Life of Emile Zola | $14.98 | $14.99 | $15.99 | - | - |
| Mark Twain's America 3D (IMAX) | $13.47 | $12.99 | $12.99 | - | - |
| **Mr. 3000 | $20.99 | $17.99 | $19.99 | $19.99 | - |
| Mulan II | $20.99 | $19.99 | $17.99 | - | - |
| New Jersey Drive | $11.69 | $9.99 | $9.99 | - | - |
| Night and the City (CC) | $27.96 | $34.99 | $34.99 | - | - |
| Oz: Season 4 | $45.49 | $49.99 | $44.99 | - | - |
| Palm Beach Story | $11.69 | $9.99 | $9.99 | - | - |
| Penn & Teller/Bullsh*t: S2 | $24.49 | $24.99 | $29.99 | - | - |
| Pompeii: The Last Day | $10.49 | $12.99 | $12.99 | - | - |
| Ray/1-disc | $20.99 | $15.99 | $14.99 | $15.99 | - |
| Ray/1-disc DVS | $20.99 | $24.99 | $24.99 | - | - |
| Ray/2-disc SE | $31.49 | $36.99 | $32.99 | - | - |
| School Daze SE | $13.96 | $14.99 | $12.99 | - | - |
| Sealab 2021: Season 2 | $22.48 | $22.99 | $22.99 | - | - |
| Secrets and Lies | $9.98 | $6.99 | $9.99 | - | - |
| Shall We Dance? (1995) | $20.99 | $19.99 | $24.99 | - | - |
| **Shall We Dance? (2004) | $20.99 | $17.99 | $17.99 | - | - |
| She Hate Me | $22.46 | $19.99 | $24.97 | - | - |
| Star Chamber | $9.98 | $8.99 | $9.99 | - | - |
| Taxi: Season 2 | $27.29 | $34.99 | $34.99 | - | - |
| Thieves Highway (CC) | $27.96 | $34.99 | $34.99 | - | - |
| Trippin' | $9.09 | $9.99 | $9.99 | - | - |
| **Vanity Fair | $20.99 | $19.99 | $19.99 | $19.99 | - |
| Where the Buffalo Roam | $9.09 | $9.99 | $9.99 | - | - |
| Wind in the Willows | $10.46 | $12.99 | $14.94 | - | - |
| Wonderfalls: Comp. Series | $27.99 | $29.99 | $34.99 | - | - |
(CC)

listed after a title in the above grid = new Criterion Collection release.

Individual Titles contained in collections listed above:

Karate Kid Collection:

The Karate Kid, The Karate Kid Part II, The Karate Kid Part III, The Next Karate Kid.

Standard disclaimer: All prices are taken from the websites of each chain, or from their printed advertisements, the Sunday of the week of release (so as to catch any week-of-release sale prices). All prices are subject to change by each chain. Prices and inventory in-store may or may not match the website price. If a price is marked "$_N/A_" in the grid, it means that this title is not shown as available on that chain's website or perhaps in their ads...but it COULD still be in-stores!

$_"LP" means the advertisement says "Low Price", and $_"HP" means the advertisement says "Hot Price". Use of either of these in the Roundup grid indicates that I could not locate a definite price for the item, and the ad is all I have to go on. Retailers use these phrases in advertisements so that they do not violate MAP (Minimum Advertised Price) agreements with the studios. Doing so can cost them thousands or even millions of dollars in co-op advertising funds.

I only include the titles I feel like including (or the ones Dave tells me he's looking for ;o)). In fact, the titles are pretty much the ones I'm personally interested in, with few exceptions. I don't get paid for this, and I don't have time to devote to doing every DVD.

So, please don't complain.

If there is a title not included in the Roundup that you want to see, just look it up yourself, and be nice enough to post and share the results with everyone...like Dave & I do!

Note that Circuit City does not guarantee their sale prices in Hawaii. Also note that I cannot include Wal-Mart/Sam's Club prices in the standard Roundup: they set prices at individual stores based on nearby competition, so there is not a way I can say here what price you'll find at YOUR local Wal-Mart/Sam's Club location. When it comes to Wal-Mart/Sam's Club prices mentioned at all, just remember that "Your Mileage May Vary".
**BE EXTREMELY CAREFUL! Mr. 3000

AND

Ray

AND

Vanity Fair

are all available in

both

OAR and MAR versions...

get the correct one

.

And to further add to the confusion,

Ray

is available in the following forms: 1-disc OAR, 1-disc MAR, 1-disc OAR with DVS/Blind & Low Vision Enhanced, and 2-disc SE OAR only.

--Amazon is still featuring free shipping on orders over $25. Restrictions apply.

--Best Buy is offering a deal on a Best Buy Exclusive DVD.

Genius: A night for Ray Charles as seen on CBS. A tribute to Ray Charles with performances by today's top artists, including Usher, Elton John, Norah Jones, Mary J. Blige, Stevie Wonder and more.

Buy Genius: A Night for Ray Charles ($15.99) on the same receipt with Ray ($15.99) and get them 2/$25.

--Best Buy is offering another 2/$25 deal if you buy The Grudge ($15.99)and Ju-On ($15.99) on the same receipt.

--For those of you who are planning on getting both Mr. 3000 ($17.99) and Shall We Dance? (2004) ($17.99), Best Buy will let you save $6 if you buy them both on the same receipt.

-------------------------

The latest markdowns according to

DavisDVD

:

EFFECTIVE: February 1, 2005 (Studio/Titles/New SRP)

20th Century Fox

44 Minutes, Bad Girls, Bulworth, Class Action, Laughing PolicemanSecrets and Lies, The Star Chamber ... $9.98

Barton Fink, Bend It Like Beckham, Broadcast News, Die Hard With a Vengeance, Die Hard 2, The Dreamers (R-rated), The Dreamers (unrated), The French Connection, Garage Days, The Good Thief, Hoffa, The Hunting of the President, The Last of the Mohicans, Miller's Crossing, The Order, Phone Booth, Raising Arizona, Speed, There's Something About Mary, To End All Wars ... $14.98