Well it's a large size room IMO at about 20X25 with sloped cathedral-type ceiling and open floor plan.
My father asked me to help him install surround sound in this room with two requirements...
It has to be pretty cheap to do and only in-wall or in-ceiling speakers will do.
My main concern is... I have to use in-ceiling speakers for the front sound stage for aesthetic reasons and I'm not sure that's going to sound to good.
I've made a quick graphic to help illustrate the room layout.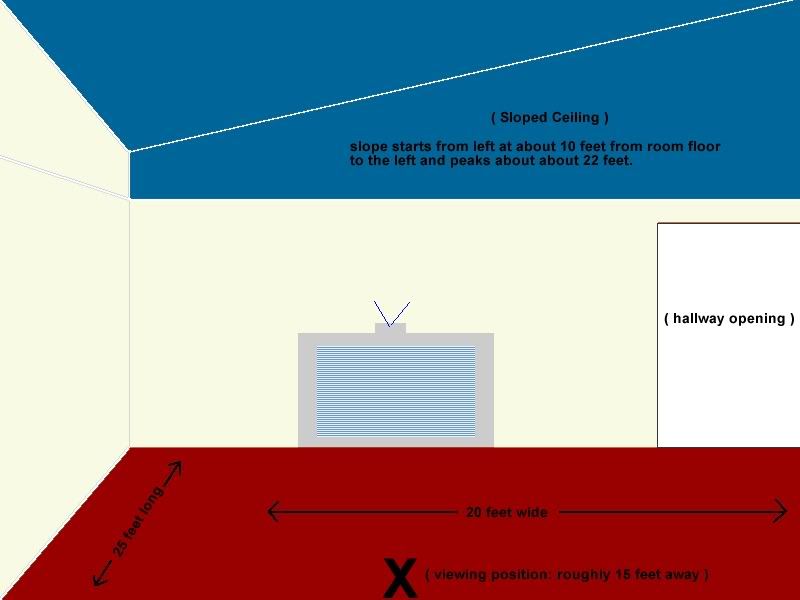 The back of the room does have a partial wall that comes down from the ceiling so I could place in-wall speakers there but that would be for the back surround speakers.
My many questions begin here:
Can I closely reproduce a decent surround sound stage given the limitations I listed above?
If not, do you think there still would be much improved audio presence with say, 4 in-ceiling speakers in such a room?
Will I be able to compensate acoustically with the right front in-ceiling speaker being 12 feet up as compared to the right front speaker being 22 feet up?
(The receiver will have individual speaker delay adjustments)
I'm looking at the Audio Source in-wall/ceiling speakers from Best Buy, any experiences with these?
I appreciate any opinions and suggestions.
Thanks,
Brian