We live in a great time for comic book movies. What was once difficult to put on screen and have look right can now be done with ease. We've had Superman, Batman, Spider-man, X-Men, Daredevil, The Hulk and a few other superhero comic book movies and most of them were pretty good. Last night while watching Daredevil with a friend I imagined Spider-Man suddenly appearing in the movie as a cameo. Then a question began to brew in my mind:
Will they ever make a movie in which just about every comic book character meets up in one movie?
I don't mean in a Freddy vs Jason sense, although there would probably be some fighting between the heros. Imagine a huge 3-4 hour movie(perhaps 2 parts?) in which the X-Men, Spider-Man, Daredevil, Hulk and more are all in the same movie, possibly fighting for the same cause. Comic books do this all the time. It's common for characters to appear in different comic books.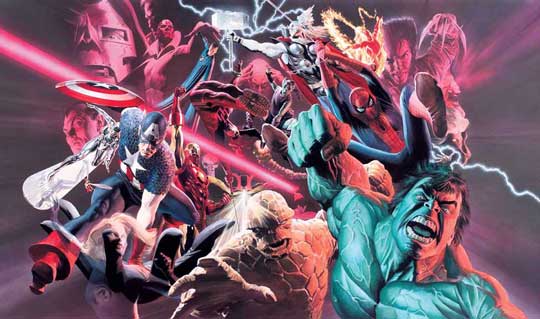 I know the rights issue could be the biggest stumbling block in a project this big, besides the money, but since Marvel owns the most popular comic book movies I'd think it could actually be done with the right producers. I suppose it would
really
be asking too much to include the biggest DC properties like Superman and Batman. Then it would be really mind blowing!
So do you think we'll ever see a BIG comic book movie with a whole bunch of characters from different comic book universes in our lifetime or is it just a pipedream?